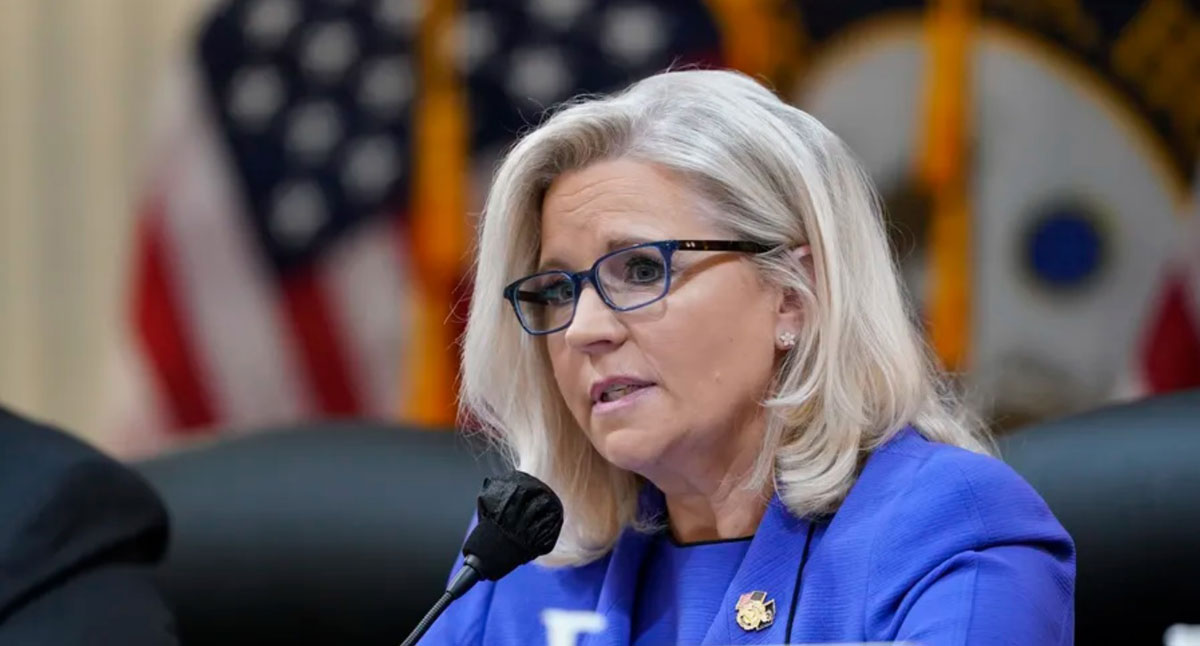 WASHINGTON—Pressure is growing for a criminal indictment of former Republican Oval Office occupant Donald Trump for inciting the Jan. 6, 2021 coup d'état attempt, invasion of and insurrection by Trumpites at the U.S. Capitol, among other offenses.
The latest and strongest prediction that Trump would face criminal charges for the insurrection came from Rep. Liz Cheney, R-Wyom., vice-chair of the House Select Committee probing the invasion, who planned it—and other Trump coup schemes—and its aftermath.
The insurrection was the last, desperate step by Trump and his minions in a long seven-part process to prevent Democratic nominee Joe Biden's official victory in the 2020 election. The insurrection disrupted the formal electoral vote count, which gave Biden the win, for hours.
The invasion itself is just one section of the evidence being piled up by the House panel showing Trump illegally obstructed government processes—the electoral vote count—defrauded the U.S., is tampering with witnesses, and committed wire fraud, among other offenses. Trump also incited the insurrection and oversaw its planning, in direct violation of his oath of office and the Constitution.
After testimony the prior week by former top White House aide Cassidy Hutchinson revealing Trump's motives, actions, statements, and intent, ABC News Chief Washington Correspondent George Karl asked Cheney on This Week: "So it's possible there will be a criminal referral?" to the Justice Department about Trump.
Cheney's initial one-word answer was "Yes."
Then she elaborated, slamming her party's Trumpite officials, even as Karl noted the Justice Department could go ahead and indict Trump without waiting for the committee to send over its evidence.
"Just think about it from the perspective of what kind of man knows that a mob is armed and sends the mob to attack the Capitol and further incites that mob when his own Vice President is under threat when the Congress is under threat. It's just—it's very chilling and I think certainly we will, you know, continue to present to the American people what we found," Cheney said.
One real problem, Cheney warned, is what happens if the Justice Department ducks.
"I have greater concern about what it would mean if people weren't held accountable for what's happened here," she said. "I think it's a much graver constitutional threat if a president can engage in these kinds of activities and, you know, the majority of the president's party looks away or we as a country decide, you know, we're not actually going to take our constitutional obligations seriously. I think that's a much–a much more serious threat."
That statement, in turn, lays blame not just on Trump and the invaders but on congressional and state Republican officials and candidates who have prostrated themselves to Trump's Big Lie starting even before the election and continuing since. Cheney is the most-prominent exception, but one of the few.
Cheney isn't the only committee member discussing that wider picture. Rep. Jamie Raskin. D-Md., a constitutional law professor on leave and lead House prosecutor in the second impeachment of Trump—for inciting the insurrection–said much the same thing the week before: Enough evidence to indict, but also the key reason is to protect the Constitution and the U.S. governmental system.
His main concern, Raskin told ABC's Martha Raddatz on This Week the week before Karl interviewed Cheney, is "'Our democracy is on the line here. Our Constitution is at stake."
"I think that he (Biden Administration Attorney General Merrick Garland) knows, his staff knows, the U.S. attorneys know, what's at stake here," Raskin said later on CNN. "They know the importance of it, but I think they are rightfully paying close attention to precedent in history as well as the facts of this case."
Another anti-Trump lawmaker, Sen. Mitt Romney, R-Utah, hit the same themes in an op-ed piece in The Atlantic. "If we continue to ignore the real threats we face, America will inevitably suffer serious consequences," Romney wrote.
"President Joe Biden is a genuinely good man, but he has yet been unable to break through our national malady of denial, deceit, and distrust. A return of Donald Trump would feed the sickness, probably rendering it incurable."
Trump has been making noises and raising money—much of which has gone into his own pocket—for another presidential run in 2024. Romney was one of the seven Republican senators who voted to convict Trump in the trial Raskin conducted. All 48 Democrats and both independents also did so. The other 43 Republican senators voted "no."
A Trump indictment is up to Biden Administration Attorney General Merrick Garland, and he's moving methodically up through the levels of coup conspirators, from individual invaders to their leaders among white supremacists to top Trump aides. Many invaders, on tape or social media, said they invaded because Trump ordered it.
In the Sunday talk shows, Garland got another push from his old mentor at Harvard Law School, noted constitutional law professor Laurence Tribe. "He's an honest man, and he said he'd go to the top if that's where the evidence points and that's certainly where it's pointing now," Tribe told CNN's Wolf Blitzer.
Tribe, too, referred to Hutchinson's testimony about Trump's personal words, schemes, and mindset while the invasion and insurrection occurred. But he added Garland's DOJ is gathering other evidence. Tribe cited the DOJ's seizure of Trump lawyer/political advisor John Eastman's phone and other materials as "strong evidence that the Justice Department is not stopping with the foot soldiers. It's going to the generals, and the biggest general of all of course is Donald Trump."
Concocted a prior coup plan
Eastman concocted a prior coup plan: Having Vice President Mike Pence throw out the electoral votes of key swing states that went for Biden, including Arizona, Michigan, Pennsylvania, Wisconsin, and Georgia. That would either throw an undecided election into the U.S. House, where on a one-state one-vote basis, Trump would win or back to the states, whose Republican-dominated legislatures could then "certify" replacement Trump electors.
As a result of all this plotting, "I do think the odds are he will be indicted, If I had to guess, that would be my guess," Tribe said.  He also warned Trump's troops could mount another invasion.
"I certainly recognize that indicting a former president would generate lots of social heat, perhaps violence," Tribe said in the interview. "But not indicting him would invite another violent insurrection."
Trump also faces two other investigations, both occurring, right now, behind closed doors.
Georgia Secretary of State Brad Raffensperger testified recently for five hours to an Atlanta grand jury about Trump's infamous and taped telephone call demanding Raffensperger "find" 11,780 more Trump votes to make him the victor over Democratic nominee Joe Biden in the Peach State. The testy call, where Raffensperger refused, lasted an hour.
On June 19, former Watergate prosecution team member Nick Ackerman told Newsweek the phone call is conclusive (prima facie) evidence Trump broke the law by demanding election fraud.
"What is significant with those tapes is that when you put it in context of all of the evidence the January 6 committee has uncovered—you put that together, Donald Trump has zero defense in Georgia," he said. "If I had to put my money on one prosecution that's going to go forward here that will send Donald Trump to jail—it's Georgia. No question about it."
New York State Attorney General Letitia "Tish" James (D) won judicial approval for her demand that Trump, his accountants, and his kids—who technically now run the Trump Organization—testify to a grand jury there about lies concerning Trump's taxes and property valuations, plus false information he provided to leading banks to get multi-million dollar loans to buy golf clubs and skyscrapers.
Trump tried to get James's subpoenas for his records and testimony, tossed. A state Supreme Court judge in Albany County—which includes the state capital—rejected that demand on May 27.
Trump minions also tried other pressure on Raffensperger and his elections staff, so much so that the secretary's chief operating officer, Gabe Sterling, stood before microphones in December 2020 and told Trump to back off or else: "Somebody is going to get hurt. Somebody is going to get killed."
His dire prediction came true on January 6. Five police officers died and 140 were injured, many severely. One died of his injuries the day after the insurrection. The four others, distraught and extremely depressed that they couldn't stop the invaders—who outnumbered them, were coordinated and were heavily armed—committed suicide.
Many of the rest, including one, Caroline Edwards, who was knocked unconscious and injured, and who testified to the committee about "a war scene" at the Capitol, are still recovering.