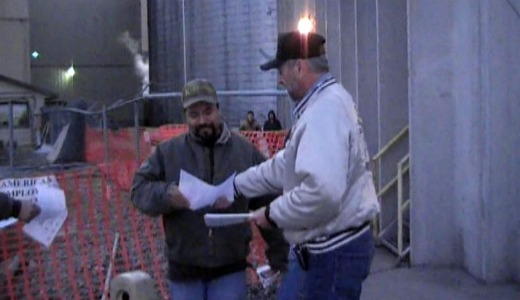 EAST GRAND FORKS, Minn. – The City Council here voted unanimously Wednesday to send a letter urging American Crystal Sugar to return to negotiations with its locked-out workers.
"The council recognizes the importance of the facility and the people who work there to our city," city administrator Scott Huizena said. "Obviously, it's a very important part of our economy in East Grand Forks."
The council took the vote after a presentation by AFL-CIO spokesman Mark Froemke who, a night earlier, had asked the City Council in Grand Forks, N.D., to do the same thing. The Grand Forks council did not take an official position but Froemke said several of its members told him they would individually write letters to the company urging it to end the lockout.
Froemke said the union – the Bakery, Confectionery, Tobacco Workers and Grain Millers – is asking all the city councils in the affected region to call for an end to the lockout. American Crystal Sugar has barred more than 1,300 workers from coming to work at the company's seven facilities in East Grand Forks, Moorhead, Crookston and Chaska, Minn., in Hillsboro and Drayton, N.D., and in Mason City, Iowa.
The lockout began when workers voted overwhelmingly on July 30 to reject a contract offer from the company that their union says would gut health care, benefits and job security.
Scabs – company-hired replacement workers – are on the job at all seven facilities. A union shop steward locked out of the Moorhead plant told the People's World that the company had planned the lockout all along.
The union campaign to get support from town councils follows major demonstrations by union members and their supporters.
Hundreds of union members and those backing them turned out for a rally last Thursdsay in Moorhead.
Local newspapers have been flooded with letters of support for the locked out workers. Typical headlines on the letters read, "If the sugar industry is protected, why aren't workers?'" and "What are Crystal executives thinking?"
Workers say they rejected the company's contract offer not because of money but because of job safety and job security concerns and because they are afraid of being saddled with excessive health care costs, especially during tough economic times.
Those fears have already been realized for at least one of the locked out workers who lives in Grand Forks.
John Durkin, who has worked for American Crystal for 34 years, is in the hospital where doctors have diagnosed him with Stage 4 lung cancer.
He told a local TV station that, as a result of the lockout, he has no health insurance but must now pay for 18 rounds of chemotherapy that he cannot afford.
The company says he can apply for COBRA coverage, which would cost him $1,350 per month. "That coverage only lasts a few months and it will eat up my savings. What do I do after that?" Durkin asked from his hospital bed.
He said his son had hoped to come to work at the plant "but after seeing how the company discards people who give their lives to it, he is not so sure any more."
Photo: AFL-CIO spokesperson Froemke distributes leaflets. Bernard Pollock – AFL-CIO // CC 2.0