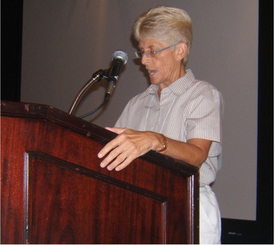 SAN DIEGO — Nearly 200 members and allies of Pride at Work, AFL-CIO, met for its national convention this past weekend. In a pre-convention interview, PAW Executive Director Jeremy Bishop described the purpose of the meeting, titled "No Turning Back in 2006," as both educational and a moment to relax before the election season struggles.
The convention was a time, Bishop remarked, for lesbian, gay, bisexual and transgender (LGBT) union members and their allies "to come together and just relax and recharge their batteries with people who understand the struggle and understand what they go through."
California State Assemblyperson John Laird (D-Monterey), one of six openly gay state assemblypersons, described Pride at Work as an important bridge between labor and the LGBT communities. Coming from a union family and with years of experience in labor, Laird said, "I have always believed in coalitions as important to winning struggles for LGBT civil rights. Labor has always been an important part of the fight."
Laird said the next fight for California's LGBT community is for marriage equality, which is tied to the 2006 election. Democratic gubernatorial candidate Phil Angelides has promised to sign a marriage equality bill if elected. For this reason, the defeat of Arnold Schwarzenegger is key, Laird added.
Nancy Wohlforth, Office and Professional Employees International Union (OPEIU) secretary-treasurer and PAW co-president, echoed Laird's sentiments in her remarks. "I don't think I've seen any union group do better at building coalitions than Pride at Work," Wohlforth said. "We're an organization that speaks out for social justice and peace for everybody, not just us," she added.
Wohlforth concluded, "We are up against a powerful religious right with a theocratic agenda. We're up against an administration that has launched an attack against our civil rights and liberties."
Pride at Work and LGBT civil rights organizations have been fighting to change this country and are having an impact "because of the guts and decency of tens of thousands of people all over the country," she said.
Marsha Botzer, a co-chair of the board of directors of the National Gay and Lesbian Task Force, Newspaper Guild member and PAW board member, recalled how solidarity in the labor movement was an important factor in her gender transition. Speaking for thousands of working persons in a similar situation, Botzer said, "All they want is everyone to be treated with fairness and equality in the workplace."
AFL-CIO Executive Vice-President Linda Chavez-Thompson, a longtime supporter of Pride at Work, expressed her pride in having been named an honorary lesbian and praised PAW's commitment to the struggles of working people.
She pointed to the Bush administration and the Republican-controlled Congress as the major source of woe for working people. Their policies have damaged the country, and "every day working people are working harder and harder for less and less," she said. Though health care is being stripped, pensions are being taken away and wages have stagnated, Bush and the Republicans are refusing to listen to working Americans, she said. They have allowed "big business to cut and run from America."
Chavez-Thompson called on labor to support candidates for Congress who will lead in government to turn the direction around for working people.
Workshops and seminars included discussions on the campaigns for marriage equality and educationals on how to bargain effectively for better contracts, including domestic partnership benefits and health care for transgender persons. Some workshops addressed the 2006 election specifically, providing know-how and resources for responding to right-wing divisiveness.
PAW delegates also called for impeachment of President Bush and for universal health care, women's reproductive rights and an end to workplace and hiring bias against transgender workers. They also backed immigrant rights and establishment of a César Chávez national holiday.
Before the convention, PAW took another stand for workers by denouncing a partnership between Wal-Mart and the National Gay & Lesbian Chamber of Commerce, calling the deal shameless marketing.
Joel Wendland (jwendland@politicalaffairs.net) is managing editor of Political Affairs.