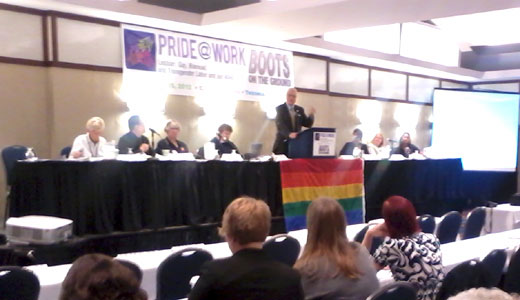 CLEVELAND, Ohio – Some 200 delegates to the triennial convention of Pride@Work – the Lesbian, Gay, Bisexual, and Transgender affiliate of the AFL-CIO – put their theme of "Boots on the Ground" into action as they wound up their four-day conference here with a door-to-door voter registration canvass in suburban Lakewood.
They were inspired by a cascade of powerful speeches from national labor leaders, warning that the fight for equality and the very survival of unions was at stake in the November Presidential election.
"This is the most important election we have ever been faced with," said Lee Saunders, the new President of AFSCME, the public employee union. The blatantly homophobic Republican ticket of Mitt Romney and Paul Ryan "once used to whisper what they wanted to do to labor. They aren't whispering it any more. It's right in their platform. They want to destroy us – the whole progressive movement – and organized labor is our last line of defense."
While the Democratic National Convention affirmed respect for unions, civil rights, women's rights, and LGBT equality, he said, "the Republican National Convention was all lies and no solutions. It was an unreality show. They are for taking our freedoms and giving our pensions to the top one percent craving more wealth and power. The 99 percent have to stand up and say, 'hell, no!'
"If Romney is elected, all progress for LBGT rights will be dead in its tracks – anti-discrimination laws – gone; anti-bullying laws – gone; marriage equality – gone. That is what Romney and Ryan openly promise."
President Obama and running mate Vice President Biden say, 'We're not a you're-on-your-own nation. We're an in-this-together nation.' Equality for LBGT Americans will make a stronger [nation]. Our voices are stronger united than divided. We need to stand up together and fight for our unions and our country."
Randi Weingarten, the openly gay President of the American Federation of Teachers, who came to the convention fresh from the battle lines of the Chicago Teachers' strike, pounded home the same message.
"This year, the Democratic Party is fighting for our dignity," she said. "We have a special responsibility. When a party takes a risk to act, to stand up for rights for us, we have to do everything possible for that party."
The Democrats are not perfect, she said. "We've had issues with the Administration over education policy. But there is a big difference between someone who bargains hard and someone who wants to eviscerate our voice and wants us not to exist."
The austerity programs espoused by the GOP, including cutting funds to public schools, are making are making it harder for kids to get a decent education, she said.
"They say 'tough luck – just keep testing.' They blame you, then fire you and put all responsibility on the backs of teachers without giving them the tools or giving the kids what they need to succeed….If we had the tax rates that we had under [former] President Clinton, there would be no austerity.
"You know what to do – vote! And you know who to vote for – Obama!"
Clayola Brown, President of the A. Phillip Randolph Institute, noted that Bayard Rustin, an openly gay man, was the co-founder with Randolph of her group but had to fight to have LGBT people included in its leadership as well as in other African American groups.
"We can't have oppression inside our own organizations," she declared. "There is now an official LGBT committee of the NAACP," even though a difficult fight had to be waged against conservative preachers on its board. The same was true in the labor movement, but now there is now an understanding of the need to include partner benefits and job discrimination protections in union contracts.
"Don't stop fighting. We have to fight for equal rights for all."
Karen See, President of the Coalition of Labor Union Women, cited the progress made by the Obama Administration, including bans on discrimination against women under the Affordable Care Act, and the Lilly Ledbetter Fair Pay Act. This is all in jeopardy because of the Republican "War on Women," she said.
"They have introduced over one thousands bills in state legislatures to restrict women's right to abortion. I was raised in the Mormon Church and their position is that this a private matter between a woman and her doctor."
But Mitt Romney, also Mormon, wants to outlaw abortion, she said. "He needs to see his bishop and do some confessing."
"Could the difference between the two candidates be more extreme?' asked Liz Shuler, National Secretary-Treasurer of the AFL-CIO. "Mitt Romney wants to keep you in the closet as second-class citizens. He thinks discrimination is okay. Not in our labor movement! We're better than that. We want full equality and economic justice.
"I was proud when President Obama embraced marriage equality, ended 'Don't Ask, Don't Tell' in the military and refused to support the 'Defense of Marriage Act' despite pressure event from some Democrats."
"Let's hit the streets and put our boots on the ground," she said as walk packets for canvassers were distributed.
"We're targeting addresses with unregistered voters and youth," said Harriet Applegate, Executive Secretary of the North Shore (Cleveland) AFL-CIO. "The is what we call the 'rising American electorate.'" Lakewood, she noted is represented by Nickie Antonio, the only openly gay member of the Ohio legislature.
Pride@Work, the newest constituency group in the AFL-CIO, was formed in 1997 and has 30 chapters in 15 states and the District of Columbia.
Photo: Rick Nagin/PW