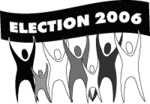 Primary elections were held in nine states (Arizona, Delaware, Maryland, Minnesota, New Hampshire, New York, Rhode Island, Vermont and Wisconsin) and the District of Columbia, Sept. 12. Here are some of the results.
Arizona: Democrat Gabrielle Giffords will take on ultra-conservative Republican Randy Graf in the closely watched 8th Congressional District for a seat left vacant by retiring GOP Rep. Jim Kolbe. Graf is so extreme that national Republicans jumped in to support a more moderate rival, worried the seat might go Democratic if Graf won. A recent Arizona Daily Star poll showed Giffords beating Graf, 46-36 percent, with the rest undecided.
Maryland: Looks like Democrats chose Rep. Ben Cardin over Kweisi Mfume, former head of the NAACP, for the nomination to run for Sen. Paul Sarbanes' seat. The winner will face GOP Lt. Gov. Michael Steele.
Activist Donna Edwards, who is African American, was in a virtual tie with Congressional Black Caucus member Rep. Al Wynn, with a substantial number of votes still to be counted. Edwards billed Wynn "the Joe Lieberman of Maryland" because of the Democratic incumbent's many pro-Bush votes.
Minnesota: Progressive and antiwar state legislator
Keith Ellison edged out three rivals to win the Democratic nomination for a Minneapolis-area district, raising his chances of becoming the first Muslim member of Congress in November and the first African American in Minnesota's congressional delegation.
Democrat Amy Klobuchar will face Republican Rep. Mark Kennedy and first-time candidate Robert Fitzgerald of the Independence Party for the open Senate seat held by retiring Sen. Mark Dayton (D).
New York: Democratic Sen. Hillary Clinton beat antiwar candidate Jonathan Tasini to face former Yonkers Mayor John Spencer for Senate.
New York City Councilwoman Yvette Clarke, daughter of Jamaican immigrants, won the Democratic nomination in a tough fight for Brooklyn's open seat left by retiring Rep. Major Owens.
Democrat John Hall will face GOP Rep. Sue Kelly. Hall, who founded the 1970s band Orleans, has been campaigning for ending the war in Iraq, universal health care and energy independence.
Rhode Island: GOP Sen. Lincoln Chafee won the GOP primary race, which attracted national attention and money. Republican leaders backed Chafee, worried his loss could allow Democrats to pick up the Senate seat. Chafee will face Sheldon Whitehouse, a Bush and Iraq war critic.
Vermont: Sanders won the Democratic nomination for Senate, but plans to run as an independent. Sanders will go up against GOP wealthy businessman Richard Tarrant for the open seat.
(talbano@pww.org)