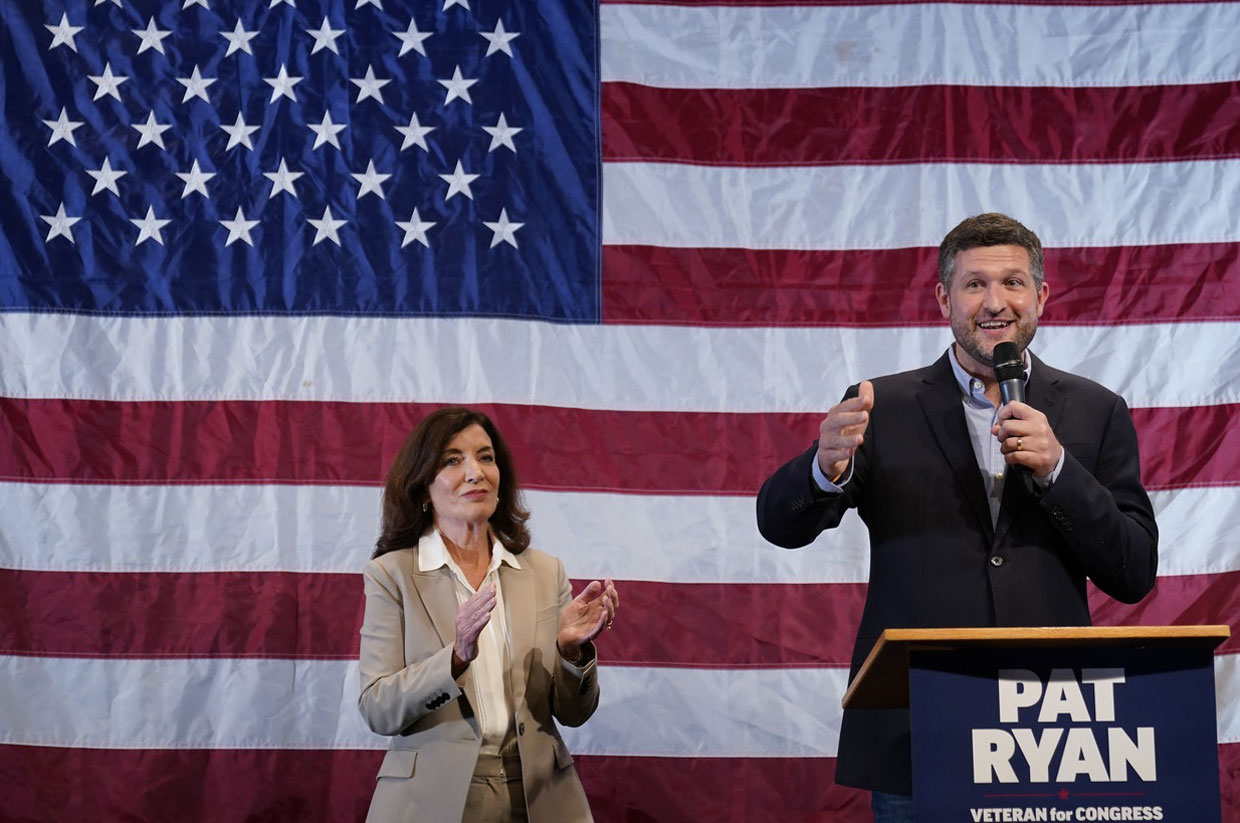 KINGSTON, N.Y.—The constitutional right to abortion and democracy itself took center stage and gave Democratic Ulster County, N.Y., Executive Pat Ryan a win in a special congressional election in a swing U.S. House seat in New York's Hudson Valley.
The unexpected win by a pro-abortion rights candidate in his race against a popular Republican, Marc Molinaro, is being felt like an earthquake by GOP powers that be across the country. Biden racked up victories in some 228 congressional districts across the nation in 2020 that were often bigger than his margin in the swing district where a Republican went down to defeat in New York yesterday. The result is that, according to almost all pollsters, the once-vaunted Republican lead in the Midterms has all but evaporated.
With all votes counted in New York's 19th Congressional district, Ryan defeated Marc Molinaro, the Republican Dutchess County Executive, who ducked the issue of abortion entirely and focused instead on inflation and alleged Democratic responsibility for high crime. Even more worrisome for Republicans is the fact that Molinaro is far from being among the worst of the rabid right wingers who have taken over the GOP. He was considered a Republican "moderate," if there is such a thing these days. Republicans to his right, the party fears, may do even worse when confronted by Democrats on the issues of abortion rights and preservation of democracy.
Ryan's  3,000-vote win—65,943-62,952—was the latest victory for abortion rights forces nationwide, following on the heels of a widely watched referendum in deeply red Kansas, where retaining abortion rights in the state constitution won almost 60% in a turnout that rivaled presidential elections.
And a USA Today poll, released just before the primary, showed abortion rights has become a key issue for 64% of all voters, with almost 60%—including 40% of Republicans—supporting the constitutional right. In many polls the preservation of democracy itself is also now a leading issue in the election, overtaking the economy and crime, both of which the Republicans had hoped to use against Democrats.
Ryan also won even though the House Republicans' campaign finance committee poured $1.2 million into ads supporting Molinaro, more than offsetting a $300,000 spending edge Ryan had over Molinaro in their own campaigns.
The two vied for an open seat due to Democratic Rep. Anthony Delgado's resignation to become New York's lieutenant governor. Ryan takes the seat immediately. He's running in the general election in November for the redrawn 18th District, which is also a swing district in the Hudson Valley. Ballotpedia reports the current 19th has a generic R+4 edge, while the new 18th is R+1.
The upstate New York race was in a district that now includes Dutchess and Ulster Counties, which face each other across the Hudson River, plus nearby areas of Orange County. Other results in primaries in New York and Florida included:
New York Democratic Rep. Jerry Nadler clobbered colleague Carolyn Maloney by almost two-to-one when redistricting by a right-wing judge threw them together in one Upper Manhattan district bridging Central Park for the first time ever and pitting the West Side (Nadler) versus the Upper East Side (Maloney).
New York's largest union, the United Federation of Teachers, decided to "wait until after the primary," for an endorsement. Other big New York City unions, including Office and Professional Employees Local 153, AFSCME District Council 37, and Transport Workers Local 1000, were silent.
Considered more progressive
Though their 30-year voting records are similar, Nadler, the House Judiciary Committee chair, is considered a more outspoken progressive and activist than Maloney, the Oversight Committee chair, whose current—and dismembered—district is the late progressive Republican John Lindsay's old "Silk Stocking" turf. Unlike Maloney, Nadler backed the Iran nuclear deal and he opposed authorization of the war in Iraq.
Even as a State Assemblyman, Nadler took on rogue developer Donald Trump—and did so during two impeachment investigations of the later Oval Office occupant, too. Nadler also successfully battled disruptive Trumpite House toadies Republican leaders dumped on the Judiciary Committee. And in his earlier political years, Nadler frequently was arrested during citizen protests against South Africa's now-dead apartheid regime.
Maloney, as Oversight Committee chair, is a staunch advocate of women's rights. At least one progressive group endorsed both incumbents. But Maloney is also more corporate oriented and prone to compromise. The latest example was when she gained Republican support for this year's Postal Service reform law, pushed by postal unions. The GOP's apparent price for agreeing: Retaining Trumpite and GOP big giver Louis DeJoy as Postmaster General, along with his controversies and conflict of interest.
Maloney was one of two New York City House Democratic incumbents to lose. First-termer Mondaire Jones lost to attorney Daniel Goldman, a Trump impeachment lawyer backed by the New York Times. Goldman's an intimate of the ruling family of the Times. Jones, too, had been redistricted out of his chair and had to move to a new district. Goldman is a first-time candidate.
In the other marquee state, Florida, Rep. Charlie Crist (D), a former Republican governor whom current Republican Gov. Ron DeSantis, a Trump clone, redistricted out of his House seat, easily won the party nomination to battle DeSantis.
In his victory statement, Crist alluded to DeSantis's open presidential ambitions—the unopposed governor spent last week campaigning for a fellow Trumpite in Ohio's U.S. Senate race—and promised to bring that train to a halt.
DeSantis's concentration on social issues, the governor's "overreach" of executive powers—according to political activists interviewed—and his willingness to manipulate school systems, teachers, and kids for political gain all make him vulnerable. So do his open presidential ambitions. But he can offset that with money: $140 million and counting.
Also in Florida, Rep. Val Demings, D-Orlando, a former city police chief, coasted in with 94% against a little-known foe for the party's U.S. Senate nomination against incumbent Marco Rubio (R), yet another Trump follower. He was unopposed. Demings, from a powerful political family, if she beats Rubio would be the state's first Black senator and its second female senator.
Opinion polls put the Rubio-Demings race as a virtual tie. She's raised more money than he has but had to spend a lot of it to push other potential contenders out of the Democratic contest.
Abortion became a big campaign issue in the upstate New York race after the Republican-named right-wing U.S. Supreme Court majority eliminated that 49-year-old constitutional right in a 5-4 ruling in late June.
"I fought to defend the freedoms of this country and access to abortion is a fundamental freedom," said Ryan, a tech entrepreneur and former  Army intelligence officer. "Women should make healthcare decisions about their own bodies. Period. I fought to defend the freedoms of this country and access to abortion is a fundamental freedom. This issue will remain front and center of my campaign," he added in a tweet.
Abortion is "very much on the top of voters' minds even in a seemingly safe state like New York, at a time when you're hearing about women who are having their lives compromised, being forced to carry unviable pregnancies to term, risking their life or their fertility in the process. I would say that was a huge motivating factor for voters," Otsego County, N.Y., Democratic chair Caitlin Ogden told the CHNI News Service, which covers upstate for several papers there.