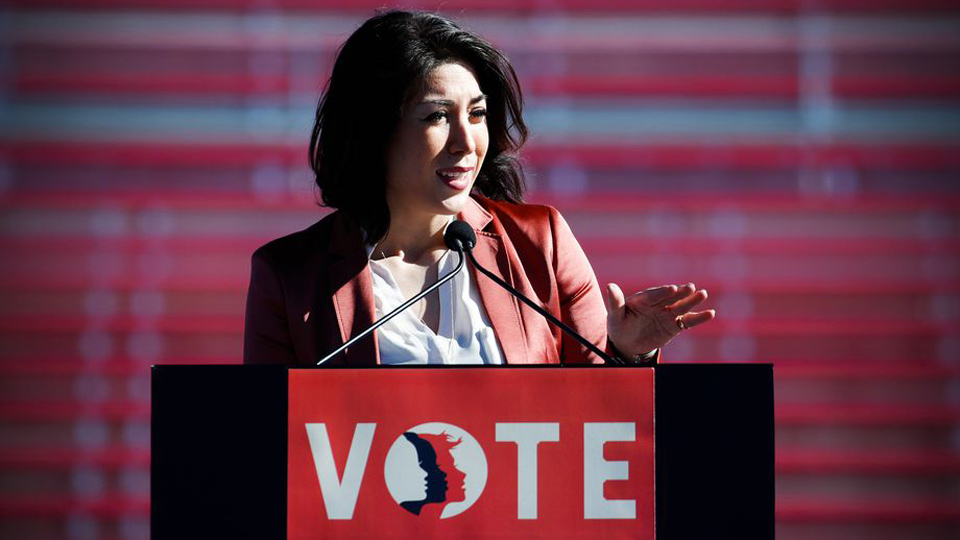 The raft of primaries on May 15 produced wins for four progressives in Pennsylvania, and one each in Idaho – running for governor — and Nebraska. But looking down the road, not all is sweetness and light.
The four winning Pennsylvanians are expected to triumph this fall. Indeed, three, including the first African-American woman state delegate hopeful from the Pittsburgh area, are unopposed.
But over in Allentown, the most-progressive candidate, African-American pastor Greg Edwards, ran third with 26 percent of the vote in a U.S. House primary for an open seat. He lost to a local female prosecutor, Laura Wild –  backed by Emily's List – after the party establishment tried to push him out of the race. She won 33 percent and a conservative Democrat took 30 percent.
Meanwhile, Idaho gubernatorial nominee Paulette Jordan is in a deep-red state. If she wins, Jordan, a state legislator, would be the first Native American elected governor of a "Lower 48" U.S. state. But her foe is the incumbent lieutenant governor, backed by the party establishment. And the weakest GOPer, U.S. Rep. Raul Labrador, a rabid Tea Partyite, finished third in that party's primary on May 15.
"Congrats to my Native sister Paulette Jordan for winning her gubernatorial primary election!" tweeted Hawaii state legislator Kamiela Ing, a Democratic Socialist seeking an open U.S. House seat in Honolulu in the Aloha State's Aug. 11 primary. "A record number of Native candidates are running for office in 2018. Amazing to see my Native sisters and brothers telling our truth and winning elections."
And the party establishment is no fan of the Nebraska winner, Kara Eastman, who ran on a progressive platform including medicare for all. The kingmakers at the Democratic Congressional Campaign Committee (DCCC), who also tried to push Edwards out of the Allentown-area race, backed former one-term Rep. Brad Ashford, a Republican-turned-Democrat with a conservative voting record. The district, dominated by Omaha, leans Republican. Eastman beat Ashford, 51 percent-49 percent.
Three of the four Pennsylvania winners won't have to worry this fall. Like Ing, all four are members of the Democratic Socialists, and would join a Virginian DSA member who won a House of Delegates seat in an upset last year – after the party establishment ignored and disparaged him. All four Pennsylvanians won on progressive platforms. The Progressive Change Campaign Committee backed them.
Summer Lee and Sara Innamoroto won party primaries in the Pittsburgh area, ousting two veteran incumbent state legislators, distant cousins who are members of a prominent local political family.  Area unions backed the incumbents, who had strong pro-labor records but were more socially conservative.
"It's time for a new voice, a new vision and a Pennsylvania for us all," Innamoroto tweeted just before the balloting. "It's not just about winning," she told supporters at her victory celebration. "It's about who is now engaged in the civic process that felt excluded before."
Lee made history not only because of her views and her DSA membership but by becoming the first African-American woman in the state legislature from the Pittsburgh area. Her defeated foe, State Rep.
Paul Costa, complemented her by saying her campaign outworked his in getting people out to vote.
That's the hope of the Progressive Change Campaign Committee, which backed both, building on the nationwide resistance to the GOP Trump administration – resistance which has brought women out as candidates in record numbers this year. Meanwhile, DSA's 500-person Pittsburgh chapter engaged in a large door-knocking campaign for Lee and Innamoroto.
Arielle Cohen, co-chair of the Pittsburgh DSA chapter, told HuffPost that she feels a "monumental shift" after the victories, noting DSA's growing membership since Trump's election. "We won on popular demands that were deemed impossible. We won on health care for all, we won on free education. We're turning the state the right shade of red tonight," she added.
In the Philadelphia area, DSA members Elizabeth Fiedler and Kristin Seale won Democratic primaries and Fielder is unopposed this fall. Seale faces incumbent GOPer Christopher Quinn.
Lee and her colleagues also symbolize the resistance to Trump and his anti-woman, anti-worker, anti–health care policies — and the thousand-plus first-timers the resistance has drawn into politics.
"If your politicians are not serving you, get rid of them," Lee said at her victory fete. "And if you don't have anyone to vote for, run."
In Nebraska, "Kara Eastman taught the Democratic establishment a lesson: The way to inspire voters in 2018 is to campaign on a bold progressive agenda of Medicare for all, higher wages for workers, and other economic populist ideas that help working families and challenge corporate power. This is how Democrats can win in red, purple, and blue districts and maximize a wave in 2018," Progressive Change Campaign Committee co-chair Stephanie Taylor said in a statement.
That establishment-versus-progressives struggle will get a test on May 22, too, in the runoff for the Democratic nomination in Texas' open 7th congressional district in the Houston suburbs.
In that case, the establishment – the DCCC – went even farther against progressive author, former journalist and activist Laura Moser than it did against Pennsylvania pastor Edwards. DCCC actually launched negative advertising against Moser before the initial primary, accusing her of being "a Washington insider who begrudgingly moved to Houston to run for Congress." That angered Moser, progressives and Bernie Sanders supporters nationwide. It also didn't work in March, as Moser made the runoff against establishment-backed attorney Lizzie Pennell Fletcher.
Progressives and unions seem to be united for Moser, and opposing the DCCC. Moser's backers include Democracy for America, Our Revolution – the successor to Sanders' campaign — Moms Demand Action: Gun Sense Candidate and VoteProChoice. But they also include the Texas and Harris County (Houston) AFL-CIOs, National Nurses United, and area locals of the Teamsters, the Seafarers, the Food and Commercial Workers and the Communications Workers. The first union to back Sanders' presidential run, NNU represents thousands of registered nurses in Houston and is known for its progressive political activism nationwide.