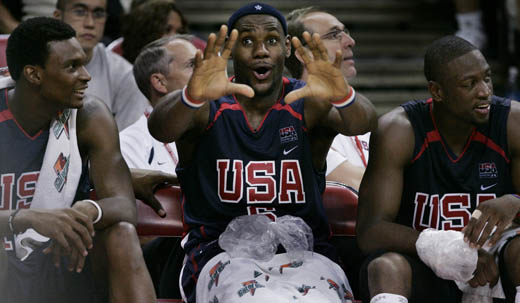 And the decision is in … basketball star LeBron James will announce his much anticipated decision about where he will play, live on ESPN Thursday night. People were out of their minds if they thought the "kingpin" of the free agency was going to make a decision this past Monday, the first day of free agency. James is one of the top free agents.
Sources say that James proposed a deal that they would be able to sell sponsorship for the television event. The proceeds would go to the Boys and Girls Club of America.
ESPN is on board, pending James's OK.
During the free agency period, James has met with many teams including the favored Chicago Bulls, the New York Knicks, the New Jersey Nets, the Los Angeles Clippers, the Miami Heat, and, of course, the Cleveland Cavaliers.
The Bulls have a strong chance of signing James with antics such as sending him a "mystery package," which included a pair of Michael Jordan's first signature shoes and above it read "You're a king, but can you live up to a legend? The fans of Chicago have a question for you. Do you dare fill these shoes?" It was later followed by a case with seven empty ring boxes one more than Jordan has won throughout his career and it read, "Can you fill these boxes."
The New York Knicks are still in the race with Amare Stoudemire agreeing to a five-year contract paying him near a $100 million. James and Stoudemire could make a strong duo.
The Miami Heat is now the most highly-favored team James will sign with. As of today, Dwayne Wade confirmed during an interview with ESPN that he will remain in Miami, and will be joined by Chris Bosh who was also a part of the interview. "We've wanted to play with each other and we have a golden opportunity to do that. We're going to take advantage of it." Bosh said during the interview.
No one knows what the "king" is going to do but tune in tomorrow night as we come to a close on this drama-filled free agency.
Photo: Can this "Dream Team" become a reality in Miami? Laura Rauch/AP