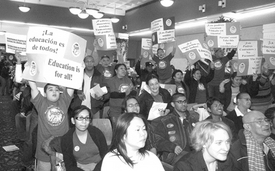 NEW YORK — Students, parents and teachers fed up with the Bloomberg administration's drive to privatize public education took over Second Avenue for an evening rally Feb. 27, to protest plans by Mayor Bloomberg and Schools Chancellor Joel Klein to reorganize the school system from the top down once again, without addressing real problems.
"Once again, they got the whole thing backward," Bertha Lewis, co-chair of the Working Families Party, told some 2,000 people rallying at St. Vartan's Church on Second Ave. and 35th St. "If they were serious about engagement, they would have come here tonight, listened to what these people had to say, and engaged them in the process of developing a plan to make things better," she said.
Speakers pointed out that "empowerment zone schools," "charter schools" or "magnet schools" all boil down to dismantling the public schools and weakening the unions.
A dozen community organizations organized the rally to send a message to the chancellor that they are tired of top down edicts and control of the schools. They included the Coalition for Educational Justice, NY Immigration Coalition, New Yorkers for Smaller Class Size, Urban Youth Collaborative, the United Federation of Teachers and the Working Families Party.
City Councilmember Robert Jackson called on the mayor and chancellor to disprove recent figures showing only 37 percent of all city seniors graduating on time. Adilka Pimentel, a student at Bushwick School for Social Justice, said students "are tired of being treated like criminals, stopped and asked to open our school bags; this is an everyday occurrence. We need more teachers' aides, not policemen."
UFT President Randi Weingarten said, "I hope that tonight we will help the Department of Education learn that both the creation of good policy and the execution of it are achieved by engaging people who have a stake in the outcome."
A bill introduced in the state Assembly could force Chancellor Klein to spend a quarter of new state school funds won in the Campaign for Fiscal Equity lawsuit on lowering class size. Called the "Class Size Reduction Act," the bill transported an ongoing spat between Klein and Weingarten to Albany, where both were slated to testify on Governor Spitzer's budget proposal. The chancellor has often said that improving teaching should take precedence over reducing class size, while the UFT leader is an avid supporter of smaller classes.
gfalsetta @ cpusa.org