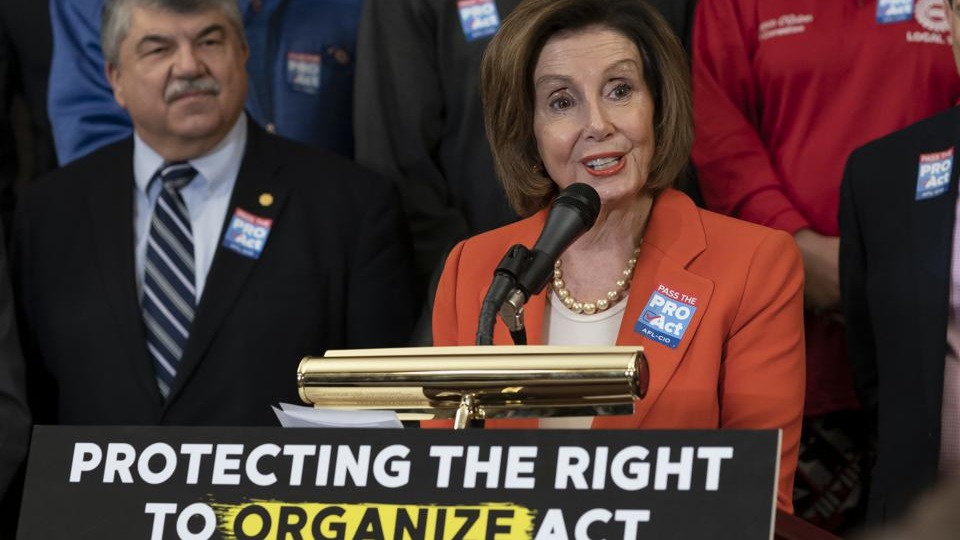 WASHINGTON—The narrowly Democratic U.S. House will vote during the week of March 8 on the nation's most wide-ranging, pro-worker labor law reform in decades, the PRO (Protecting the Right to Organize). Democratic Majority Leader Steny Hoyer announced the scheduled vote on March 3.
His schedule statement comes as unions, led by the AFL-CIO, are stepping up e-mail and telephone pressure on lawmakers to approve the bill, HR842.
The PRO Act, organized labor's top legislative goal, would "protect workers' right to organize and bargain for fairer wages, better benefits, and safer workplaces," Hoyer said. In reality, it does a lot more than that.
The measure would make organizing easier, ban such common corporate tactics as mandatory anti-union meetings, and make union recognition elections faster.
It also would force the sunlight of disclosure on so-called "persuaders," a.k.a. union-busters, increase fines for corporate labor law-breaking, make it easier to get court orders against such tactics, and order arbitration if, after the union wins and is recognized, the two sides can't reach a first contract in a reasonable time.
President Joe Biden endorses the PRO Act and has his own proposed addition to it: Perp walks and prison time for chronic labor law-breaking corporate honchos.
But there's a problem: House Democrats hold only a nine-vote margin and the Senate is split 50-50, with 60 votes needed for passage. That's led unions to urge members to hit the phones and e-mails to lawmakers on both sides of Capitol Hill.
"Build Back Better with Unions—Pass the PRO Act!" the federation declares in a banner heading its webpage and incorporating Biden's governing theme. "Call your members of Congress and tell them to pass the PRO Act now!" it urges.
After the Democratic-run House passed the PRO Act last year, then-Senate Majority Leader Mitch McConnell, R-Ky., refused to even allow committee hearings or a debate on it. So, "undeterred, working people fought to elect pro-worker lawmakers to the Senate, House, and White House. And we won," the federation said.
"Lawmakers gave us their word they would make the PRO Act a top priority. It's time for them to keep that promise."
H.R. 842, the PRO Act's official designation, would "empower workers to organize and bargain, hold corporations accountable for union-busting, and repeal 'right to work' laws, which were created during the Jim Crow era to keep white and Black workers from unionizing together," the fed said.
"Stronger unions mean higher wages, safer working conditions, and dignity for all people who work. The PRO Act is our first step to get there."
Individual unions are also chiming in, urging their members to lobby lawmakers.
"The right to form a union without the threat of company intimidation or interference is denied to workers today," IAM President Robert Martinez said. "This bold legislation modernizes federal laws and establishes a process for mediation and arbitration to help the parties achieve a first contract. It protects workers' right to organize a union and bargain for higher wages and better benefits."
He added two more reasons for unionists for HR842. One is to overturn the Supreme Court's 83-year-old legalization of employer hiring of scabs. Another is the PRO Act "would create pathways for workers to form unions, without fear, in newer industries like Big Tech."
Retail, Wholesale, and Department Store Union President Stuart Appelbaum said the two-year saga of workers who wanted to unionize at Housing Works shows the need for the PRO Act. The 605 Housing Works employees voted overwhelmingly for RWDSU in December. The measure would also outlaw many of Amazon's tactics against the RWDSU campaign among 5,805 workers at the firm's big Bessemer, Ala., warehouse.
"Housing Works workers will finally be able to address the issues they faced, including poor pay and benefits, unmanageable caseloads, lack of training, discrimination and harassment, and health and safety problems. Finally, through a union contract and a voice on the job, these workers will be able to improve their jobs, their lives, and the care received by Housing Works clients," he said.
The workers "never wavered in this unnecessarily long process, which was stalled by their employer at every turn…The fact that it took two years––amid countless delays and obstacles by their employer––can only be described as a shame.
"It shouldn't take workers who want to exercise their right to join a union two years to accomplish their goal. Employers shouldn't be allowed to continually game the system to try to squeeze the life out of organizing drives…The PRO Act would help ensure workers aren't denied their rights and employers aren't allowed to abuse the system to run out the clock.
"After decades of the playing field leaning further and further to employers' favor, now is an opportunity to restore some balance in the fight for workers' rights and give more workers a chance at winning a union voice," he said.
TAKE ACTION:

> Make an easy automated phone call to your members of Congress and tell them to support the PRO Act—CLICK HERE.

> Send an email to your members of Congress telling them to pass the PRO Act—CLICK HERE.