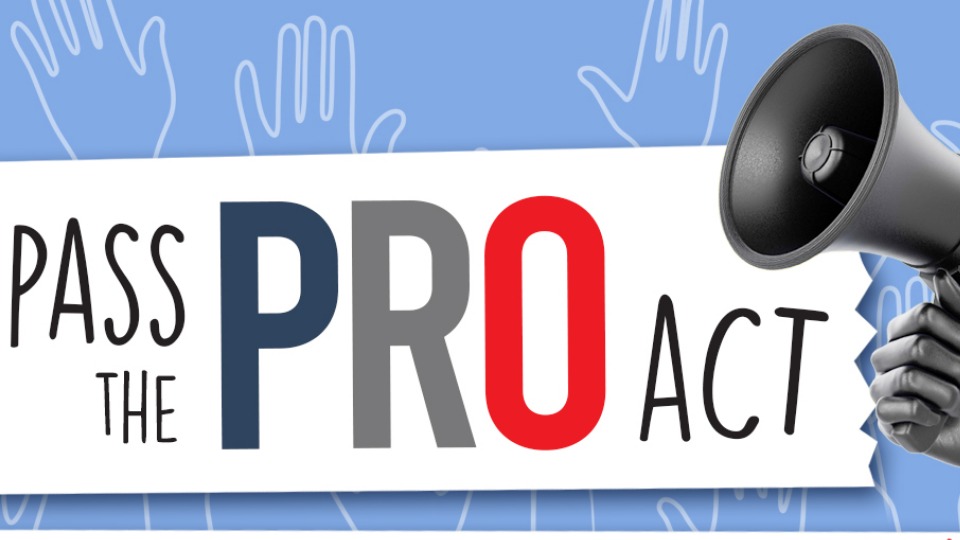 WASHINGTON (PAI)—The National Consumers League, the nation's oldest and one of its most-respected consumer organizations, has formally endorsed the Protect the Right to Organize (PRO) Act, along with two other pieces of pro-worker legislation.
And NCL isn't the only prominent pro backer of the PRO Act to sign on in the first week of May. So did the unions for major league baseball, hockey, basketball, and football players.
"Decades of industry lobbying have made it increasingly difficult for workers to organize," said NCL Executive Director Sally Greenberg, in announcing her organization's backing for the PRO Act (HR842), the Farm Workforce Modernization Act, and the Public Service Freedom to Negotiate Act.
"Employers enjoy unprecedented and unfair advantages" over workers, which also hurts consumers, she explained.
The PRO Act would be the most extensive and most pro-worker rewrite of labor law since the original National Labor Relations Act of 1935. Organized labor is picking up NCL and other allies in its escalating drive to get the 50-50 U.S. Senate to vote on the measure, despite GOP filibuster plans.
The House passed it in the last Congress, too, but then Senate Majority Leader Mitch McConnell, R-Ky., wouldn't even allow hearings on it, or on the other two bills, either.
The PRO Act would make it easier for workers to organize and join unions, ban bosses' intimidation through mandatory anti-union meetings, impose heavy fines on company labor law-breakers, and mandate arbitration between labor and management when bosses won't agree to a first contract.
"Consumers are recognizing they are harmed when workers do not have a strong voice. Industry abuses are more likely to go unchecked, resulting in unsafe and dangerous products making it to the marketplace. And when workers are fairly compensated on the job, they can afford to buy the products they create, stimulating further demand that benefits the economy."
The PRO Act also has the strong support of Democratic President Joe Biden, even if it doesn't include his own proposed addition: Sending convicted chronic labor law-breaking corporate bosses to jail. In his April 28 address, he demanded Congress pass it and send it to his desk.
The four players' leagues signed on to a tweet issued by the strongest of them, the Major League Baseball Players Association, whose strength took off after the players hired the late Marvin Miller, then the Steelworkers' counsel, as their executive director. Another of the four groups, representing pro football players, is an AFL-CIO member union.
"Now is the time to overcome decades of increasing obstacles to working people who choose their right to organize a union and bargain collectively," their tweet said. "We have all experienced first-hand the benefits a union can bring, and we believe all workers should have the same fair chance to band together to improve their pay, benefits, and working conditions."
NCL also backed two other pro-worker pieces of legislation, the Farm Workforce Modernization Act, and the Public Service Freedom to Negotiate Act. The FMWA, a top cause of the United Farm Workers and the Farm Labor Organizing Committee, passed the Democratic-run House earlier this year by a larger margin—247-174, including 30 Republicans—than the PRO Act did.
It would empower 2.4 million of the nation's most-exploited and most-essential workers, most of them people of color, and half of them undocumented, who sow and reap the food we eat, Greenberg said.
"America's farms and food systems depend on immigrants who pick our crops. But because so many don't have legal status, they live in fear of deportation and cannot challenge illegal or unfair treatment in their jobs or in their communities. FWMA provides a path to lawful permanent residency for these workers.
"Under the bill's provisions, farmworkers would be able to improve their wages and working conditions and seek enforcement when their rights are violated. It also makes America more food-secure by ensuring that farmers have workers to harvest their perishable crops."
The House passed the public service workers' bill, too, in the last Congress. It has yet to be introduced this time. That legislation would mandate that state and local governments must bargain with their workers' unions, overriding absolute bargaining bans in North Carolina, Texas, and other Republican-controlled states. If they refuse, the federal government can step in.
It's a top cause of AFSCME and the Fire Fighters. That union began lobbying for it in the months after the Sept. 11, 2001, al-Qaeda attacks, including the destruction of New York's Twin Towers, which killed 343 New York Fire Fighters who were trying to rescue people, and their priest. But the GOP stopped the public workers' bargaining rights bill even after 9/11.