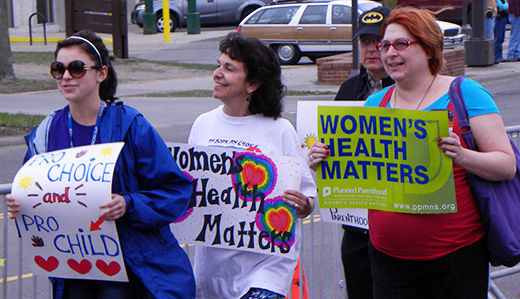 Women's and reproductive rights groups are condemning the Obama administration's decision to exclude abortion coverage from a new high-risk insurance plan created under the health reform law. Planned Parenthood, the National Organization for Women, the Center for Reproductive Rights, and NARAL Pro-Choice America have all assailed the move.
Nancy Northrup, president of the Center for Reproductive Rights said the White House, in taking this action, had gone "out of its way to propose denying necessary health care coverage to the most vulnerable American women."
The policy was announced July 14 by the Department of Health and Human Services. It said abortions will not will not be covered in the newly created Pre-existing Condition Insurance Plan (PCIP), "except in the cases of rape or incest, or where the life of the woman would be endangered."
The Pre-Existing Condition Insurance Plan is a transitional program to provide coverage between now and 2014 to people who have been denied health insurance because of pre-existing health conditions. In 2014 new insurance exchanges will open that will bar such coverage denials.
But those who are in need of this special plan are the very ones most vulnerable to high-risk pregnancies where abortion is indicated, women's advocates say.
"The high-risk pools were designed as temporary coverage through 2014 for individuals who cannot afford insurance due to serious health problems," Northrup said in a statement today. "Now, women who join the high-risk pools will not be able to access abortion coverage, even when a pregnancy puts their health at further risk. Yet women in these pools are far more likely to have high-risk pregnancies."
Planned Parenthood President Cecile Richards pointed out that "the very women who need to purchase private health insurance in the new high-risk pools are likely to be more vulnerable to medically complicated pregnancies." The new policy, she said in a statement, "flies in the face of the intent of the high-risk pools that were meant to meet the medical needs of some of the most vulnerable women in this country."
The proposed restrictions are not required by any law, including the recently enacted health reform law, Richards and Northrup said. The action "adds insult to injury by imposing restrictions that reach beyond those agreed upon by lawmakers," Northrup said. "Excluding abortion coverage from the high-risk insurance pools was not part of the negotiations during health care reform, and nothing in the bill compels this result."
Planned Parenthood sent out an e-mail alert calling the proposed restriction a "Stupak-like ruling." That is a reference to the amendment introduced by Reps. Bart Stupak, D-Mich., and Joe Pitts, R-Pa., that would have barred coverage of abortion even where women paid with their own money. The compromise included in the final health reform bill imposes complicated restrictions but does allow women to purchase abortion coverage if they pay for that separately.
"The decision announced by the U.S. Department of Health and Human Services on Thursday goes beyond even these restrictions" by flatly excluding abortion coverage from the high-risk insurance plan except for limited cases, Planned Parenthood said.
"The high-risk insurance pools are for some of the most medically vulnerable women in the country – those with pre-existing conditions such as breast and ovarian cancer, AIDS, diabetes, and other conditions that may make pregnancy extraordinarily dangerous," the group points out. "These women will be locked out from abortion coverage, even if they pay for it out of their own pockets."
"We need to make sure the Obama administration knows this is unacceptable."
Women are having abortions whether politicians like it or not. According to NARAL Pro-Choice America, abortion is the most common surgical procedure for women, and Planned Parenthood says that more than 1 out of 3 women in the U.S. have an abortion by the time they are 45 years old.
Planned Parenthood points out that its primary goal is reducing unintended pregnancies, especially the alarmingly high number of teenage pregnancies in the U.S.
"At the same time," it says, "to protect their health and the health of their families, women facing an unintended pregnancy must have access to safe, legal abortion services without interference from the government. Decisions about childbearing should be made by a woman in consultation with her family and doctor – not by politicians."
Planned Parenthood and NARAL Pro-Choice are urging the public to contact the White House and tell the administration to reverse this decision. The groups have put up web pages where people can send that message: Click here: Planned Parenthood . Or click here: NARAL Pro-Choice America.
Photo: http://www.flickr.com/photos/fibonacciblue/4484876062/