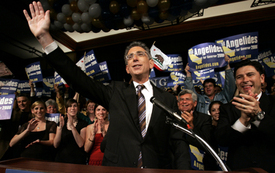 Labor and progressive forces scored significant victories and mounted important challenges in California's June 6 primary election.
A strong grassroots campaign by labor and its allies was the biggest factor in State Treasurer Phil Angelides' 48-43 percent victory over his nearest competitor, State Controller Steve Westly, to be the Democratic Party's nominee for governor. Six other candidates split the balance of the vote.
"Our unions will help Phil Angelides defeat [Gov. Arnold] Schwarzenegger and bring our state the kind of governor we need — someone committed to creating more good jobs, expanding access to affordable health care, and fully funding our schools," California Labor Federation head Art Pulaski said in a post-election statement. In last year's special election, an all-out drive by a united labor movement ensured a resounding defeat for Schwarzenegger's anti-people ballot measures.
In the 50th Congressional District, north of San Diego, where Republicans hold a 45-30 percent registration advantage over Democrats, anti-immigrant lobbyist Brian Bilbray barely edged Democrat school board member Francine Busby by 49-45 percent. This was a special election to replace recently imprisoned Republican Randy "Duke" Cunningham. Though Bilbray will take office soon to fill the vacancy, Busby will mount another challenge in November. Bilbray utilized vicious anti-immigrant and anti-Busby attack ads, chilling the political climate. Turnout was only 35 percent.
In northern California's 11th CD, longtime incumbent Richard Pombo was challenged in the Republican primary by former Congressman Paul N. "Pete" McCloskey Jr., who garnered nearly 32 percent of the vote. McCloskey, who as a congressman opposed the Vietnam War and helped write the Endangered Species Act, came out of retirement to oppose Pombo's drive to undo environmental regulations and his close association with corruption scandals that have rocked Washington Republicans. Wind power expert Jerry McNerney won the Democratic primary. McNerney racked up nearly 104,000 votes against Pombo in 2004 — the most so far by any Democratic challenger.
At press time, with mail ballots still being counted, former Democratic Congressman Ronald V. Dellums led the Oakland mayor's race with 50.2 percent of the vote to 33 percent for City Council President Ignacio De La Fuente. If Dellums' tally stays above 50 percent, he will become mayor without facing a November runoff. Dellums ran with strong labor support, on a program to bring all sections of the community together to make Oakland a "model 21st century city."
In San Jose's mayoral race, City Councilmember Cindy Chavez, a former political director for the South Bay Labor Council, will face fellow Councilmember Chuck Reed in a November runoff. Chavez — strongly targeted late in the race by the San Jose Silicon Valley Chamber of Commerce — had 23 percent of the vote to Reed's 28 percent, in a field of 10 candidates.
Two state ballot propositions — Prop. 81 for a bond issue to fund libraries and Prop. 82 to tax the wealthiest Californians to make preschool available to all California 4-year-olds — went down to defeat.
Rosalio Muñoz contributed to this article.