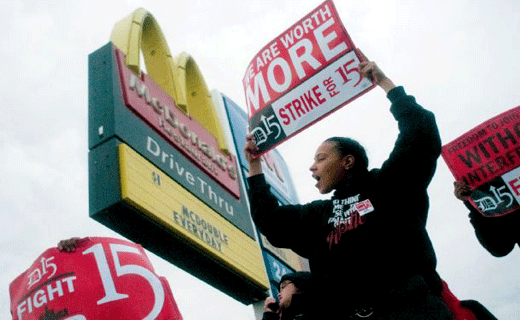 WASHINGTON – Unions are not targeting organizing campaigns to African-Americans, one of the nation's more pro-union groups, or to millennials, two pro-union panelists contend. And they should do so because diversity is the future of the labor movement, like that of the workforce, they add.
The two, Marc Bayard of the Black Labor Scholars – and a former worker at the AFL-CIO Solidarity Center – and Tarn Puvapiromquan, now an international rep for civic and community engagement at IBEW, threw out those challenges at an early August symposium on the 21st century workforce, held at a progressive D.C. bookstore.
That workforce, census data show, will look more like them, and less like your father's labor movement. It will be majority-minority and either 50-50 male-female or majority-women. And unions must appeal and win minorities, young workers and women if they're to grow, Bayard and Puvapiromquan said.
Federal data produce a mixed bag for unions in those areas. Unions represent 11.3 percent of all workers, but 14.8 percent of African-American men and 12.3 percent of African-American women. Those groups are the two most densely unionized racial groups, but both density and absolute numbers of African-American unionists declined from 2011.
Bayard says the declines were due to public sector job firings, which disproportionately hurt African-Americans. He contends unions could do even better.
On the other hand, only 4.2 percent of all workers aged 16-24 are unionized, easily the lowest union density of any worker group. That's down from 4.4% in 2011. That low density, too, poses a problem for unions, Puvapiromquan said.
Drawing on interviews with unionists, surveys and his experience for the Solidarity Center, Bayard says generic campaign appeals to "workers" are not enough to win more African-Americans. By using the generic term, "You miss the things that motivate people" – African-Americans specifically – "to join unions."
To organize African-Americans, unions can concentrate on specific issues that would benefit them and their families. Low income heads the list. But other issues include workplace flexibility – especially for African-American women — paid vacation and leave, and protection from racial discrimination on the job.
He also said unions "made a strategic decision" as a labor movement, "not to organize in the South," due to the region's ingrained anti-unionism and its so-called right to work laws. Bayard did not mention that Southern employers, historically and up through present organizing drives, frequently try to pit the races against each other.
"The ramification" of the movement's decision, he said, is to write off organizing many African-Americans, since 50 percent of them still live in the South.
Another reason unions lag in organizing African-Americans, he added, is "the demographics of unions' leadership structure haven't changed," though membership has. Federal surveys calculate there are 2.01 million African-American unionists, 1.98 million Latino unionists and 661,000 Asian unionists, out of 11.31 million overall. The AFL-CIO has mandated that member unions make their leadership more diverse, but has not penalized those who are not.
"These issues can be overcome. Diversity is a great strength," Bayard added.
Bayard took pains to state that "we're not trying to separate African-American workers from the rest. We're all in this integrated economy together." But the reasons resonate more if organizing drives emphasize their situation. "There's been a lot of industry analysis" for organizing drives, "but not a lot of worker analysis," he said.
Puvapiromquan pointed out the "millennials" – people born after 1978 – now outnumber the "baby boom" generation, 86 million-78 million. Millions are still too young to work, but as baby boomers retire, a workforce edge will mirror the population edge.
They also want to work and they're pro-union: Puvapiromquan said surveys show 44 percent of millennials want to work longer hours on the job, and that 61 percent view unions favorably.
They're not getting jobs, though. The most recent unemployment statistics show 23.7 percent of 16-19-year-old workers, and 41.6 percent of black teens, are jobless.
Unions can help millennials, and recruit them, Puvapiromquan said, first by helping them find well-paying jobs they might not otherwise consider. She used her own training as an apprentice and journeyman with IBEW as an example. Then unions can keep them involved and active by providing leadership and mentoring opportunities.
The AFL-CIO has its own young workers initiative, led by Secretary-Treasurer Liz Shuler, herself a younger IBEW member. It emphasizes mentoring, a young workers advisory board to the AFL-CIO leaders, two-way bottom-to-top communications – rather than top-down – and using new media, such as Facebook and Twitter.
But Puvapiromquan also said there's a key difference: The millennials want a cause. "Young people are starting to infiltrate social justice movements, and that and workers' rights go hand-in-hand," she stated. "Once a millennial is dedicated to a cause, her loyalty will not be shaken."
Photo: Young workers strike for higher wages at a McDonald's in Flint, Michigan. Studies show young workers are overwhelmingly pro-union and the labor movement is being urged to reach out more to them, and to African-American workers, who are also identified as being strongly pro-union. Jake May/AP & The Flint Journal