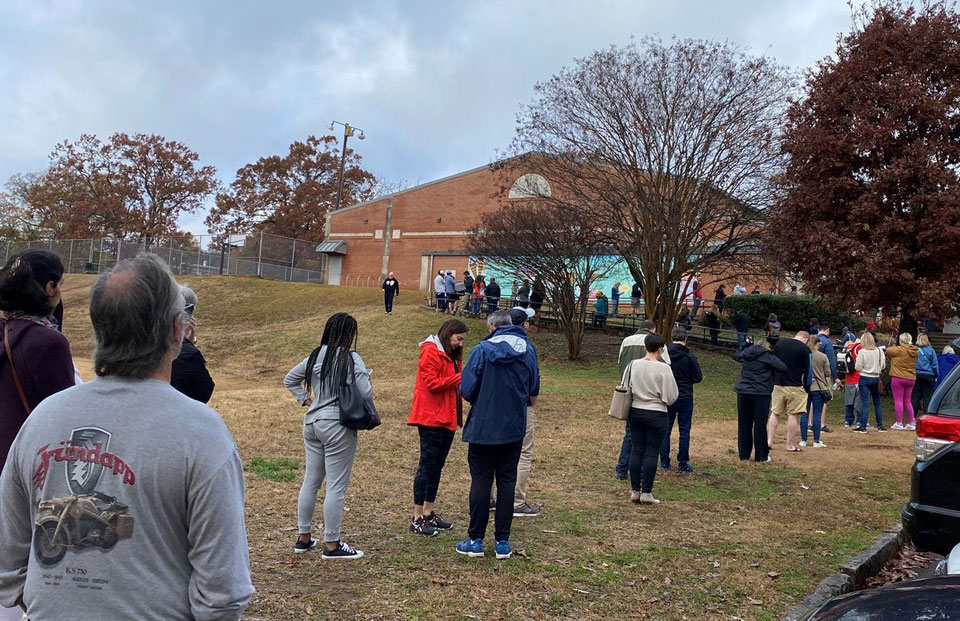 SANDY SPRINGS, Ga.—When Raquel Mogollon knocked on the door of a large house in the upscale Atlanta suburb of Sandy Springs, Ga., she got a welcome surprise.
Mogollon was going house-to-house—mansion to mansion is more like it, she says—in the progressive and integrated community, seeking and confirming supporters for Sen. Raphael Warnock (D) in his runoff Georgia U.S. Senate race against Donald Trump-anointed Republican nominee and right-winger Herschel Walker, a former Georgia football star. Election Day for the runoff is Dec. 6.
"Nobody answered my first two knocks," says the former Service Employees member and current National Domestic Workers Alliance supporter, whom Unite Here recruited from her Tucson, Ariz., home to be one of several hundred people it sent to the Peach State to campaign for Warnock.
On her third knock, a young man followed by two women opened the door to Mogollon. There were six adults, all of South Asian ancestry and all citizens, in the house. Mogollon started talking to them about why early voting is important in the runoff—early voting in Georgia ends this week—when one interrupted.
"Oh, we all just voted!" and for Warnock, one of the women said. "Wow, you win the prize!" Mogollon replied and wished them a good day when the man burst out: "Herschel Walker is a terrible person!" Commented Mogollon: "I just tell people voting early is crucial."
Mogollon and the hundreds of other union canvassers for Warnock in Georgia, along with their allies from progressive groups, plus phone-banking both in-state and out-of-state, must be getting through. State officials reported a one-day record, 301,000, for early voting occurred on Nov. 29. The total is near 500,000 ballots. By comparison, there were 2.5 million total votes in the regular Nov. 8 Senate race.
And that's the way the campaign has been going for Mogollon and other pro-Warnock workers as they canvass voters in the runup to the runoff. Enthusiasm is so high that even long lines at early polling places don't deter the preacher/senator's supporters.
In another instance Mogollon cited, a woman, faced with two-hour-plus lines when she went to the early voting site twice, decided that she couldn't wait that long even in the beautiful weather of a Georgian autumn. "This is ridiculous," she told Mogollon. "I'll just go on Tuesday," Election Day, Dec, 6. Mogollon's colleagues reported similar long, patient waits by voters all over the Atlanta metro area.
And in a third, after Mogollon and her canvassing partner, a well-dressed Black man, managed to bypass guards into a gated community, one woman, young daughter in tow, came up to them, and said "Oh, I'm so glad you got to here. My parents are end of the block. Tell them I sent you." The woman also volunteered to help distribute literature.
There also are crossover voters. Another woman, "a Republican most of her life" raised in a Republican family, voted for Warnock. "'I still have the same Republican values I had, but they're not the values the Republican Party now has,'" she told Mogollon.
She wasn't alone. Nov. 8 saw a lot of Georgian ticket-splitting.
There are still occasional negative notes, though. With Daylight Savings Time gone, canvassing lasts after darkness hits, often finishing around 7:30 p.m., Mogollon says. And after dark, business suit or no, some white pro-Warnock voters are leery of her Black colleague, so she takes the lead.
Nevertheless enthusiasm for Warnock from the voters is genuine, Mogollon reports.
It's also needed in a race which features a clash of personalities as well as issues in red-turning-purple Georgia. Warnock, who rose from childhood poverty in Savannah to hold Dr. Martin Luther King's pulpit at Atlanta's historic Ebenezer Baptist Church, excites the blue half of the state's voters with his issue stands, his commitment to working for all of Georgia and his rolling speeches, often laced with Old and New Testament references.
But half of Georgia is still "red"—deeply Republican. Warnock (49.4%) narrowly led former Heisman Trophy winner Walker (48.5%) on Nov. 8. Libertarian Chase Oliver took the rest , denying either major-party candidate the needed absolute majority of ballots.
Hewing to Republican dogma, Walker continues to nationalize the campaign. He ties Warnock, whom independent evaluators single out for his willingness to work across the aisle, to Biden and other national Democrats, complete with denunciations of progressive policies.
Walker opposes abortion in any circumstance—even rape, incest or to save the woman's life—though he paid two former girlfriends to have abortions. Playing to the Trump-loving Republican core, first-time candidate Walker wants voters to elect him "to save our country and the great state of Georgia from President Biden's disastrous agenda which has led to higher prices, out-of-control crime, dangerous open borders, and 'America Last' foreign policy."
And Walker pushes home and family issues though one of his own sons calls him a terrible father and even though, in the campaign's closing days, questions arose whether he lives in Georgia, or in Texas, where he claimed a "homestead exemption" on his tax returns.
More importantly, national Republicans are desperate to win the seat back—Warnock was elected in a 2020 special election—and maintain the current Senate's 50-50 split. So even though Warnock has spent three times as much money ($168.7 million) in this election cycle as Walker has ($48.9 million), so-called "independent expenditures" by outside groups, most of them far right wing, tilt Walker's way, by a $135.1 million-$77.7 million margin. Many of their TV ads are personally nasty.
As a result of the ground game for Warnock and the air attack by Walker's supporters, the race is still tied, with polls showing leads for both men within the margin of error. So is the Senate, and a Warnock win gives Democrats an outright lead. It's a point Mogollon and other Warnock canvassers point out.
If he retains the Senate seat, Warnock would give Democrats and the two Democratic-leaning independents a 51-seat bloc, allowing them to seat one more senator on every committee than the Republicans do, and have definite power to advance Biden's progressive agenda, which she supports.
A Reuters analysis of the difference between a 51-49 Democratic lead and a 50-50 tie—which Democratic Vice President Kamala Harris has had to break 28 times—is the difference between hamstringing progressive legislation or bringing it up for votes. It's the difference between a one-seat edge on committees which handle bills and nominations or complicated maneuvers to overcome ties.
And, as Reuters pointed out, a positive edge for the Democrats also lets them energize their backers in advance of the 2024 vote.
The politically savvy Mogollon is thinking along the same lines.
The Democrats and their worker allies, she said, would be able to bring up, and maybe even pass key legislation without having to constantly woo—and trim expectations—to meet the demands of the two Democrats who defect most-often: West Virginian Joe Manchin and Mogollon's home-state senator, Kyrsten Sinema. Both face the voters in 2024, and Tucson resident Mogollon wants to defuse her senator's power to gum up the works. Some Arizona progressives plan a primary challenge to Sinema.
But while issues such as curbing health care costs and Biden's Inflation Reduction Act are talking points for the Warnock canvassers, Georgian voters don't often bring them up, Mogollon admits. Instead, they talk voting rights. That's important because Georgia's Republican-run state government last year enacted tough restrictions on voting rights, starting with this election.
"They tell me they have to get Warnock in to get voting rights" protected, Mogollon says.