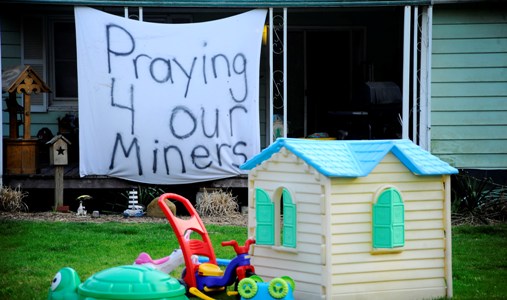 WASHINGTON (PAI) – Top federal mine safety officials say the government's investigation of what happened – and why – at the Upper Big Branch mine in West Virginia, where a huge explosion and fire killed 29 miners on April 5, has a ways to go.
And the probe, one of four there, lacks key evidence so far, including exactly what happened near one particular site – Tailgate 22 and Headgate 22 – where nine of the miners' bodies were found, adds Mine Safety and Health Administrator Joe Main.
"Yesterday, we met with the families" of the dead miners, "and updated them on the progress of our investigation," one of four at the Massey Coal Company's mine, Main – a former Mine Workers union safety and health official – told a telephone press conference on August 11.
MSHA's probe, so far, has covered just over half the mine, he said. But there are still some key areas unexplored, due to danger from methane gas. Other observers have speculated a massive buildup of methane – due to inadequate ventilation – contributed to the fatal explosion.
Main cautioned against jumping to that conclusion, saying testing of methane monitors recovered from the mine is continuing, and two have yet to be found.
The agency, working jointly with the state of West Virginia, has conducted 166 interviews so far, mostly of miners and other hourly workers, about events before and during the blast. The United Mine Workers is also probing the explosion, even though Massey is aggressively non-union and Upper Big Branch was a non-union mine. The UMWA was invited in to represent the miners.
Massey is also probing the explosion and putting out statements about its causes and findings that Main called inaccurate. The U.S. Department of Justice is concurrently investigating Massey to see what laws and regulations were broken, rather than waiting until MSHA finishes its probe and makes its report.
The Justice Department and the state, however, have had to move from calling witnesses voluntarily to subpoenaing them and formally taking testimony. And company executives and managers have yet to be called. Massey CEO Don Blankenship, a West Virginian who aggressively defends his firm's safety record, has contested all past MSHA citations.
It still is, drawing a sharp rebuke from MSHA Administrative Law Judge Margaret Miller on July 30. She criticized the firm's motives and said that "instead of focusing on the issue at hand and submitting legal authorities that entitle it to an expedited hearing, it uses this venue to attack the investigative techniques of MSHA."
The company's "documents exaggerate and misrepresent the facts, and make little attempt to address the legal issues that are being raised. Instead, it treats this court as a forum for grandstanding and, in doing so, attempts to interfere with the ongoing investigation" of Upper Big Branch, Miller added.
Main said, "We have not reached any conclusions about the cause of the disaster." That's because MSHA is "still testing the equipment" found in the mine, including electrical systems and monitoring devices, such as the methane-measuring meters, he added. "And parts of the mine are still inaccessible." MSHA's mapping teams still can't get to waterlogged key parts of the mine or measure coal dust levels.
The mine will be inaccessible to Massey, too, Main said. Blankenship recently said he wants to reopen the undamaged part of Upper Big Branch and resume coal extraction there, but Main made it clear MSHA won't allow that.
Main also reiterated his past contention that the Upper Big Branch blast – and other fatal coal mine blasts – are preventable.
"If you look historically, explosions at these mines are preventable," said Main, who has investigated other huge fatal mine accidents, such as the one at the Jim Walter Mine that led to strengthening MSHA. That concept of preventability "has been the underpinning of all the investigations following these explosions," he added.
Photo: AP/Jeff Gentner