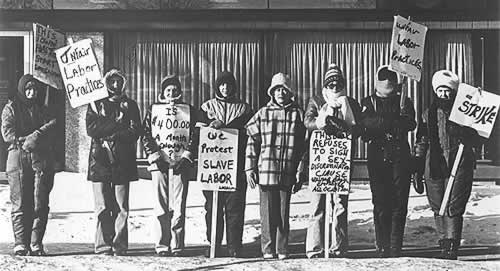 WILLMAR, Minn. – In December 1977, eight women went on strike against Citizens' National Bank in Willmar, Minn. Their goals were straightforward. They wanted equal pay for equal work. They wanted equal treatment. They never got what they wanted.
More than 30 years later, however, people still remember The Willmar 8. Their goals and their impact still resonate. They still hear examples of how, by taking a stand in a small, Minnesota town, they changed working conditions for women they never knew in places they had never heard of.
"It's still pretty unbelievable how far it went," says striker Teren Novotny. "There were a lot of people standing up for their rights. But it obviously got pretty big – bigger than we probably will ever realize."
The strikers, who all were bank tellers or bookkeepers, didn't consider themselves feminists. They weren't taking a stand for women's liberation. "It was just us against the bank, period," says striker Sandi Treml. "As time went on, it became bigger than all of us." That hasn't changed.
Every year, high school and college classes invite members of The Willmar 8 to speak. "We don't go out looking for opportunities," Treml says. "They come to us." In the classroom, students can't believe what they hear.
"They have absolutely no concept of what women were up against," Treml says. "They have expectations that they have every right on the job that everyone else has. So when they see the documentary, it's kind of like, 'How can that be? How could they treat women differently than men?'
"We feel we can educate these girls so they don't get out of high school thinking they're going to be on an equal level – because they're not," says striker Irene Wallin. "The door is not open all the way.
"Yes, they're making more per dollar than we did. Now, it's like 80 cents on the dollar. But, sad to say, we're still second-class citizens."
The Willmar bank strike had been brewing for months. In May 1977, the bank's female employees had filed a gender discrimination claim. The women were tired of being paid less. They were tired of having no chance at promotions. They were tired of training men who had no banking experience, but would become their bosses and make more money on day one than the women ever could.
More than anything, the women were tired of the attitude summed up by Willmar Bank President Leo Pirsch, who responded to their demands by saying: "We're not all equal, you know."
"A lot of people just felt that's the way it should be," Wallin says. "You don't need to make that much money, and you don't need to make as much money as a man."
Even when the federal Equal Employment Opportunity Commission ruled there was "reasonable cause" to believe the bank discriminated against women in promotions and pay, nothing changed.
"It would have been a simple fix," Treml says. "All they would have had to do is post the job openings and write down the qualifications. None of us would have qualified and that would have been the end of it."
But, Novotny says, "They weren't going to let a bunch of female employees tell them what to do."
So, on Dec. 16, 1977, Novotny, Treml and Wallin went on strike. Five more women – Doris Boshart, Sylvia Erickson, Jane Harguth, Shirley Solyntjes and Glennis Ter Wisscha – joined them. Five other women kept working.
The strikers called themselves Willmar Bank Employees Association Local 1. Within hours, media swarmed the town. Within weeks, 'The Willmar 8' were known around the world. Over the next two years, they appeared in newspapers coast to coast.
The women received thousands of cards, letters and cash contributions, at least for a while. They appeared in national magazines such as People. Phil Donahue – then the biggest name in talk shows – featured them. Actress Lee Grant made a behind-the-scenes documentary about them. NBC made a not-very-accurate TV movie.
The strike split the town. Some businesses, Wallin says, blacklisted the women for years. But the bank lost substantial deposits and customers. It eventually was sold, then sold again. The strikers made huge personal and financial sacrifices.
"We were such a small group that we were not going to let each other down," Novotny says.
Unions sent mixed messages. Many individual unions and union members rallied to support The Willmar 8. Willmar unions let the women set up strike headquarters at the local Labor Home. Unions made financial contributions. Members from other unions – most notably United Auto Workers Local 879 – made very visible visits to join the women on the picket line.
But despite lofty rhetoric about The Willmar 8's fight being "everybody's fight," no established labor union came forward to take the strikers in. "There were a lot of reasons," Wallin says. "Most of them thought it was too hot an issue."
"The unions, to them, it was a woman's issue," Treml says. "And the women's movement saw it as a union issue. And we were in the middle."
Then, the National Labor Relations Board doomed the strike. The EEOC had negotiated a token cash settlement of the gender discrimination claim. But the pivotal rulings came from the NLRB in 1979. It ruled the bank indeed had committed unfair labor practices in dealing with the women. But it also said those labor law violations did not cause the strike. Instead, it ruled the women were striking for economic reasons.
The rulings meant the women could not get back pay. In fact, they could not get their jobs back, unless vacancies occurred at the bank. Economic strikers can be replaced. "We knew we had no leverage left after that," Wallin says. "There was money and there was power, and we had neither one."
The women moved on with their lives. The bank eventually rehired four of them, including Wallin. Only Boshart stuck it out. "There was no future there," Wallin says. "Even Doris, after all the years she stayed there, was still a teller."
Wallin took a job at an optical company, working for 25 years before retiring.
Treml went to work at Job Service, then at Willmar Community College. Novotny went to school, worked at a lumberyard, and then got hired at Willmar Area Vocational Technical Institute. In 1997, the technical institute and community college merged to create Ridgewater College. Once again, Treml and Novotny worked at the same place.
Coincidentally, Wallin's daughter, Susae Klavetter, also works at Ridgewater.
"Being 17 at the time, I don't know if I really understood everything," Klavetter says. "But my mom always stood up for what her beliefs were. Even today, people recognize her name. 'Oh, your mother!' – and they just brag about her.
"That's good to hear. People remember. They have not forgotten."
Michael Kuchta is vice president of the International Labor Communications Association. Image courtesy Workday Minnesota.