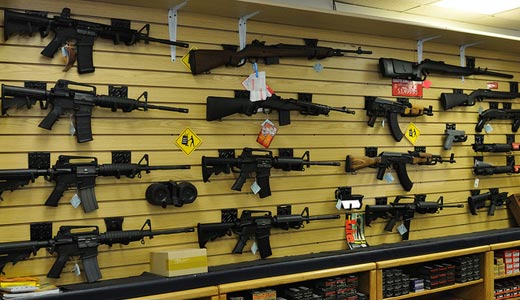 Bushmaster, manufacturer of the semi-automatic rifle used to kill 20 small children and six teachers and staff at Sandy Hook Elementary School in Newtown, Conn., on Dec. 14, is a multi-million-dollar firm.
Bushmaster is one of 15 firearm and ammunition manufacturers owned by the giant Wall Street "private equity" and hedge fund firm Cerberus Capital Management. Cerberus in 2006 created a holding company called Freedom Group to acquire the gun firms. Others in the Freedom Group include Remington, the famous maker of sniper rifles and shotguns, and Advanced Armament, which makes silencers.
Dan Primack, a columnist in pro-business Fortune magazine, wrote Dec. 17, three days after the Sandy Hook shooting: "For many gun enthusiasts, semi-automatic rifles like the .223 Bushmaster [used in the Newtown massacre] is about sport and individual liberty. For Freedom Group, they are about profit."
Some 24 companies manufacture the AR-15, the type of semi-automatic weapon used by Adam Lanza in Newtown. In addition to Bushmaster they include famous names Colt and Remington. Also among them is another Freedom Group company, DPMS (Defense Procurement Manufacturing Services) Panther Arms.
The Freedom Group companies are not the only ones owned by a Wall Street group. "It is often overlooked, but some of the biggest gun makers in the nation are owned by private equity funds run by Wall Street titans," New York Times financial reporter Andrew Ross Sorkin noted this week.
These include Colt Defense, which markets submachine guns and other weaponry to the military and private security firms, and Bushnell Outdoor Products, which makes "Tactical Red Dot: First Strike" laser gun scopes, loaders for AK-47s, and multi-round bullet magazines. A Bushnell subsidiary markets its Hot Lips 10-Round Magazine this way: "Put 10 rounds through your 10/22 faster than the blink of an eye, and reload with amazing ease." Colt Defense is owned by Sciens Capital Management, a fund advised by the prominent Blackstone Group and another fund run by Credit Suisse. Bushnell is owned by MidOcean Partners, a private equity firm that once owned the diet company Jenny Craig.
The sole reason for existence of such Wall Street firms is to make fast maximum profits for investors. They typically make these profits at the expense of workers and communities – including the working class hunters and gun owners whose liberty and safety the gun industry and its lobbyists claim to champion.
For these Wall Street firms and gun manufacturers in general, increasing sales is vital to their profit mission. Military sales have been a big piece of their business. Gun firms like Bushmaster, Colt, DPMS and others market heavily to the Pentagon. But the gun industry faced big worries as the end of the Cold War in the 1990s brought a big downturn for the defense industry as a whole. Thus along with pushing military spending, sales to civilians took on added importance for gun firms. A New York Times report in November 2011 noted, "For companies like the Freedom Group, the challenge is to expand the market." The article concluded: "The issue is whether the Freedom Group, and Cerberus, can persuade more Americans to buy more guns."
In its 2012 third-quarter financial report, Freedom Group noted that: "Changes in regulation could materially adversely affect our business by restricting the types of products we manufacture or sell or by imposing additional costs on us or our customers in connection with the manufacture or sale of our products. Regulatory proposals, even if never enacted, may affect firearms or ammunition sales as a result of consumer perceptions."
Thus it's no surprise that the firearm industry's trade group, the National Sports Shooting Foundation, actively mobilizes public opposition to any and all restrictions on guns.
And it seems hardly coincidental that over the past decade, the gun industry and "citizen" anti-gun-control groups like the National Rifle Association have become increasingly intertwined.
From 2004 to 2010, the NRA's "revenue from fundraising – including gifts from gun makers who benefit from its political activism – grew twice as fast as its income from members' dues," Bloomberg Businessweek reported last January.
In 2005 the NRA started its Ring of Freedom program to solicit money from corporations and other big donors. The same year, "NRA lobbyists helped win passage of a federal law that limited liability claims against gun makers. Former NRA President Sandy Froman wrote that it 'saved the American gun industry from bankruptcy.'"
"More than 50 firearms-related companies have given at least $14.8 million" to the NRA under this program, Bloomberg reported.
The NRA's top corporate contributor is Missouri-based MidwayUSA, Inc., which sells ammunition, high-capacity magazines and other gun-related products. Midway's website heavily promotes the NRA. "No company in America is more dedicated to, and more supportive of, the goals of the National Rifle Association than MidwayUSA," the company boasts. "Inside the MidwayUSA facility, most employees have NRA member and life member stickers beside their name plate on the cubicle walls. Most departments host a sign that says '100% NRA Department.'"
MidwayUSA founder and CEO Larry Potterfield and his family are "regular contributors" to the NRA Foundation, and his wife Brenda Potterfield is vice president of the foundation's Board of Trustees.
Ronnie Barrett, owner of Barrett Firearms Manufacturing, is a member of the NRA Board of Directors. Barrett manufactures AR-15 weapons.
Cerberus executive and Freedom Group CEO George Kollitides is a trustee of the NRA Foundation and a director of the New York State Rifle and Pistol Association.
In the wake of the Newtown massacre, these companies and their lobbyists have been on the defensive to an unprecedented degree.
On Monday the California State Teachers' Retirement System, a major investor in Cerberus and the Freedom Group, sent shockwaves when it said it was reviewing these investments.
On Tuesday, Cerberus said it plans to "immediately engage in a formal process to sell … Freedom Group."
Evidently, Cerberus fears profits from guns are at risk. But Cerberus is not shutting down the gun and ammunition makers. Instead it's seeking to make money by selling them. Who will buy these firms, and how will the new owners expand their profits? As long as there's profit to be made by selling guns, there will be an incentive to build the market. Perhaps it's time to look at "shutting this thing down."
Photo: Mike Saechang // CC 2.0