WASHINGTON—With the end of September looming, a combination of factors—including an unelected parliamentarian's ruling, so-called Democratic "moderate" threats and votes, party leaders seeking compromise rather than twisting arms and, of course, right-wing Republicans' hate—threatens the entire progressive agenda on Capitol Hill.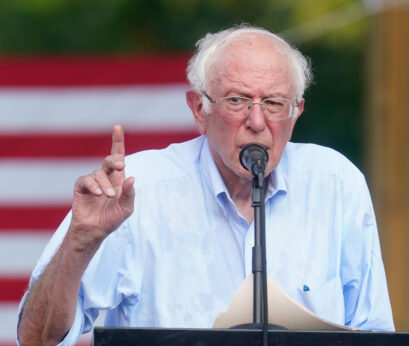 And if the foes of that agenda succeed in killing most of it, at least one progressive, Sen. Bernie Sanders, Ind-Vt., threatens to sink their favored scheme, a stripped-down infrastructure bill, too.
The legislation is important to everyone. It includes aid to families through an expanded child care tax credit, permanent paid family and medical leave, and expanding Medicare coverage.
It also includes new taxes on oil companies, programs to combat climate change—which a United Nations report last week said is accelerating—rehabbing and modernizing old school buildings, replacing lead-lined water pipes, and vastly higher fines on labor lawbreakers, among other items.
"Right now, our $3.5 trillion budget bill is under serious attack from Big Oil, Big Pharma, and the corporate titans who dominate our political system," says Our Revolution, which Sanders supporters founded five years ago. The $3.5 trillion plan is itself a compromise by progressives, down from the original $6 trillion they wanted to spend over the next ten years.
"That's why our movement is squaring off against the corporate Democrats who are intent on watering down—or even tanking—this transformational legislation, at the bidding of their wealthy benefactors."
The outlook is complicated as lawmakers return on Sept. 20 for a jam-packed home stretch through the end of the month.
Immigration reform—"moral and economic imperative"
The "Build Back Better" agenda of Democratic President Joe Biden includes not just the programs listed before but comprehensive immigration reform, featuring an eventual path to citizenship for the estimated 10 to 11 million undocumented people in the U.S. It's incorporated, so far, in the detailed legislation congressional committees are drafting to fill in the $3.5 trillion 10-year "reconciliation" resolution lawmakers passed in August.
But unelected Senate parliamentarian Elizabeth McDonough ruled on Sept. 20 that immigration is too big, too complex, and has too many policy changes to fit reconciliation's rules, which say the measure is only supposed to cover taxes and spending.
McDonough used the same excuse to bounce raising the federal minimum wage to $15 an hour from the last reconciliation bill, passed earlier this year. Rather than take on McDonough's ruling head-on, by forcing a vote to overturn it—or by firing her—Majority Leader Charles Schumer, D-N.Y., issued a tepid statement about it.
"Senate Democrats have prepared alternate proposals and will be holding additional meetings with the Senate parliamentarian in the coming days," he said.
"Fixing our broken immigration system is a moral and economic imperative… Our economy depends more than ever on immigrants. Despite putting their lives on the line during the pandemic and paying their fair share of taxes, they remain locked out of the federal assistance that served as a lifeline for so many families. We will continue fighting to pursue the best path forward to grant them the ability to obtain lawful status," Schumer said.
The GOP was gleeful.
"Democrats will not be able to stuff their most radical amnesty proposals into the reckless taxing and spending spree they are assembling behind closed doors. This just illustrates how radical Democrats' aspirations are and how unmoored their far-left wish list has become from the procedures they want to use to ram it through," Senate GOP leader Mitch McConnell of Kentucky said.
The sheer hypocrisy of the Republicans is exposed by the fact that they have, in the past, even fired the Senate parliamentarian when that person did not want to include their tax cuts for the rich in a legislative package. They did this when GOP Sen. Trent Lott was in charge in 2001.
Schumer is also being disingenuous. With Vice President Kamala Harris in charge of the Senate, the Democrats are perfectly within their rights to replace the unelected parliamentarian with someone who, reflecting the will of the majority of voters, will give the Build Back Better reconciliation package the green light.
To put pressure on lawmakers, a coalition of pro-migrant groups, including Service Employees Local 32BJ and United We Dream, will stage a mass march in D.C. on Sept. 21. "We demand Congress ensure a pathway to citizenship stays in the budget reconciliation package, as well as investments in the care economy, and green infrastructure that will help fight climate change are delivered," their statement said. Participants are expected from the entire West Coast, Colorado, Arizona, Minnesota, Kansas, Texas, Florida, North Carolina, Illinois, Wisconsin, Michigan, the entire Northeast, and other states.
Another mass rally, including the Laborers, Labor's Council on Latin American Advancement, and Rep. Ayanna Pressley, D-Mass., a "Squad" member, will follow to urge lawmakers to protect one specific group of migrants, those on temporary protected status (TPS).
Adding to the sabotage of the Build Back Better agenda last week were three defecting House Democrats—Reps. Kathleen Rice, D-N.Y., Kurt Schrader, D-Ore., and Scott Peters, D-Calif., who joined all 26 Republicans on the key Energy and Commerce Committee to defeat another major part of the progressive plan, a move to force prescription drug prices down by mandating Medicare negotiate such price cuts with Big Pharma.
The mandate failed on a 29-29 tie. Two of the three, Peters and Schrader, have taken tens of thousands of dollars of campaign contributions from Big Pharma.
The third, Rice, was placed on the committee by House Speaker Nancy Pelosi earlier this year over the objection of House progressives who had pushed for naming Rep. Alexandria Ocasio-Cortez, another "Squad" member, to that committee. Presumably, Pelosi now wishes she had listened to them.
Schrader is so right-wing he was one of only three Democrats to vote against the Protect the Right to Organize (PRO) Act when the House approved it in the last Congress. The Oregon AFL-CIO cited that, and his corporate support, in backing his 2020 primary foe, a local mayor. She lost.
The other panel that deals with Medicare, Ways and Means, kept its identical drug pricing mandate in its version of Medicare sections of the legislation. It also approved expanding Medicare coverage to vision, dental, and hearing treatment, though the dental coverage wouldn't start until 2028.
An excuse to let big oil off the hook
Seven Texas Democrats, all influenced by the state's dominant oil industry, demanded Democratic leaders drop the new taxes reconciliation plans for Big Oil. Their votes are important because the Democrats hold only a 220-212 House edge.
"Budget reconciliation should not unduly disadvantage any industry, and oppose targeting U.S. oil, natural gas, and refining with any increased taxes and fees, and the exclusion of natural gas production from clean energy initiatives," they wrote. They claimed such measures would cost U.S. jobs and energy independence.
Rep. Henry Cuellar, who represents a majority-Latino/Latina border district, authored the letter. He's the most conservative House Democrat and barely staved off a progressive primary challenger last year, only after top party leaders campaigned for him.
Two more pro-corporate Senate "moderates," Joe Manchin of West Virginia and Kyrsten Sinema of Arizona, contend the $3.5 trillion bill is too big, though they won't say what they would cut from it.
The Poor People's Campaign planned another event in front of Manchin's offices in Charleston, W. Va., to demonstrate how the Building Back Better program would help West Virginians, since the Mountaineer State's poverty rate—under a measure that desperately needs to be adjusted upwards—is 17.5%, third-worst in the U.S. McConnell's Kentucky is fourth (16.67%).
If the final detailed version of legislation to implement reconciliation cuts too much and leaves out too much societal change, the progressives threaten to walk, sink the infrastructure bill, or both. Sanders told Time magazine he'd be the lead walker, and his vote, just like those of the two "moderates," is vital in the 50-50 Senate. At least 16 House progressives told Our Revolution they'd likely vote against the separate $978 billion infrastructure legislation—the moderates' favorite—unless the big bill passes.
The House faces two more deadlines at the end of the month. One is for a temporary money bill, called a continuing resolution, to keep the government going, or risk shutting it down again. The other is to raise the federal debt limit, which is needed to pay for past spending.
The U.S. is the only developed nation where lawmakers vote on a debt limit, which provides a great opportunity for demagoguery—and a great risk the U.S. could default. That would tank not just the U.S. economy, but risk bringing key payments—such as Social Security checks—to a halt.
McConnell is engaging in such demagoguery, again. The last time he did so, during the Obama administration, the U.S. almost defaulted. His price then was to junk much of Obama's agenda. His reasoning then, as Steelworkers President Leo Gerard later told his union's legislative conference, was because Obama is Black.
Biden isn't Black, but McConnell wants to tank him, too. The debt limit is a vehicle. "Let me be crystal clear about this: Republicans are united in opposition to raising the debt ceiling," he told a Sept. 14 press conference.
"The debt ceiling needs to be suspended to pay the bills from existing programs, including those that passed with Republican support, after more than $8 trillion in new debt was added during the Trump administration," Our Revolution said.
Not raising the ceiling is equivalent of an individual simply deciding not to pay for the latest round of credit card bills he or she receives in the mail, bills for money already spent.
"Republicans know their actions could lead to serious damage to our economy—possibly including canceled or delayed Social Security checks and pay for our military—but they are pushing us towards the first-ever default because, as McConnell said earlier this year, 100% percent of their focus is on stopping the Biden administration."