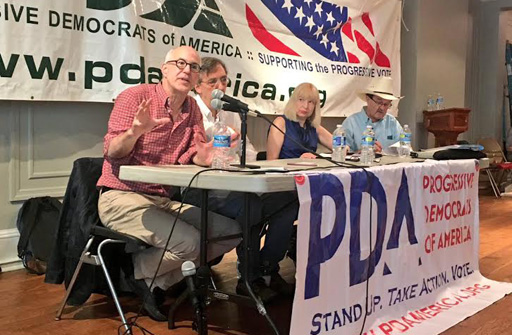 This article is part of a series on the Democratic National Convention.
PHILADELPHIA – Progressive Democrats of America, an independent political organization celebrated its 12th anniversary in a downtown LGBT Community Center here yesterday. A cavalcade of progressive all-stars made appearances throughout the day: Rep. Alan Grayson, the Rev. Jesse Jackson, and Jim Hightower were among them.
PDA sees itself as having to hold a lot of discussions about tons of work that have to be done. Yesterday one of the hot topics was "down ballot revolutionaries" and how to utilize the energy that has been brought into politics by Bernie Sanders on the local level.
First to speak was Michael Lighty, political director of National Nurses United. Aside from his work with the union, he highlighted his role with Reclaim Chicago, a "people-led movement devoted to reclaiming our city, county and state governments from the grip of corporate interests.
"We find people who are angry," he said. "We take them from angry and disorganized to angry and organized. It's a block by block process to identify people door to door and identify their issues."
Among the endorsed candidates of Reclaim Chicago in the past few cycles were Kim Fox who defeated embroiled State's Attorney Anita Alvarez and Jesus "Chuy" Garcia who went on to get 40 percent of the vote against "one of the most machine Democrats you can imagine" Rahm Emmanuel, Chicago's mayor.
"If you can raise money, the DCCC will support you. For us, it's about if you can build your base then you're the candidate," said Lighty.
Mary Ellen Balchunis is one of the grassroots candidates who has proven she could build her base. She is running for Pennsylvania's 7th Congressional District, a run preceded by hard work and failure.
"When I ran last cycle, they said you're not going to win so make good contacts. 2016, that's the year. So I was shocked when the DCCC ran a candidate against me," said Balchunis, "My opponent did six mailers and was on TV all the time."
Those contacts the party had told her to build on her first dry-run for Congress paid off.
"The DCCC united the party behind me because they thought I deserved it and earned it. I've been to the picnics; I've been to the dinners. I really helped the party and now they've helped me. I just got the endorsement from the Congressional Progressive Caucus and Democracy for America."
Both Lighty and Balchunis highlighted the need for perseverance. Balchunis, a political science professor, provided the statistic that most people who hold office have to run twice to get that all-important name recognition.
"President Clinton lost, Governor Rendell lost. At his inaugural he told his wife about how he was so depressed after losing and would never run again, but three landslides followed it. Persistence is the key to life," she told the attendees.
Radio host and liberal populist Jim Hightower, who was also in attendance, put it like nobody else could: "You're not going to win the first time out. The early bird might get the worm, but it's the second mouse who gets the cheese."
Hightower had served in the Texas Department of Agriculture as a raging liberal during the throes of the Reagan Revolution. He said he got there by being honest and standing for something.
"You've got to have a spine, mainly. You don't make progress by standing on guard, but by attacking and getting hammered yourself," said Hightower, "Offices are meant to be used, that chair isn't meant for you to sit in, but to use and to hurl at the bastards."
Whether or not the "down ballot revolutionaries" receive a boon from the energy of Bernie Sanders' insurgent campaign for President has yet to be seen. One thing is for sure – judging from that room: The confidence of progressives seems to be at an all time high going into November, 2016.
Photo: Patrick J. Foote/PW