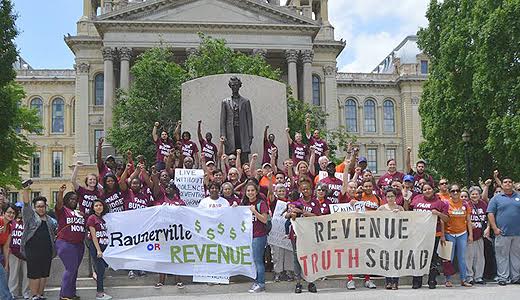 SPRINGFIELD, Ill. (PAI) — Two documents on budget priorities and governing presented in Springfield, Ill., and Washington, D.C., in recent weeks stress helping everyday people instead of the rich and powerful.
The April 1 wave of strikes and protests In Chicago show there is massive support for solving the Illinois budget crisis without resorting to Republican Gov. Bruce Rauner's "slash and burn" cuts. The strikers say alternate income sources such as those proposed in these documents are the way to solve Illinois' problems.
In Illinois, the Grassroots Collaborative offers what it calls a new vision to put people back on the agenda in state government. Released late last month, the People's Agenda proposes a plan for the prosperity of Illinois families across the economic spectrum.
Illinois is not spending too much, the report says, but too little. Illinois has the 5th-largest economy in the country and is the 13th-wealthiest state, but it ranks 47th in spending across K-12 education, higher education, health care, public safety, and human services.
"Right now, families are hurting all across Illinois," stated Amisha Patel, director of the Chicago-based nonprofit advocacy group, a coalition that includes the Service Employees, the Chicago Teachers Union, the American Friends Service Committee, and eight other organizations working for the homeless, the hungry, the poor and neighborhoods.
"For over a decade, the state of Illinois has been disinvesting from the vital public services needed to provide opportunity to low and middle income families, create jobs, and bolster the Illinois economy," Patel said.
To bring Illinois in line with other Midwest states, the People's Agenda calls for generating new revenue from those most able to afford it. Its package would close corporate loopholes and pass a graduated income tax, a millionaires tax, and a financial transactions tax.
Together, these proposals would generate billions of dollars for state operations. The report also offers examples of how such new revenue could be invested, such as providing universal pre-K child-care assistance, reducing violence, and ending homelessness.
The People's Agenda shows current funding needs would support $323 million in
additional activity in other parts of Illinois' economy. If its more ambitious investments were enacted, these investments would support $4.2 billion in additional economic activity.
Spending on public services would grow the economy and improve lives, backers said.
"I was homeless and if it hadn't been for a group home and my family I would be dead," said Stefano Medansky with the Chicago Coalition for the Homeless. "Due to being placed in the health system, I was able to get sober and stay that way. Because of the assistance I received, I have a healthy, happy and productive life. I got married last year and have now been sober for eight years."
The People's Agenda reform package would, sponsors say, invest in communities and create jobs, create an adequate and equitable funding structure for education, provide for real needs in education and human services, modernize the state tax structure, "end protections and preferential treatment of corporations and Wall Street over working families" and "end predatory financial deals" by reforming bank and financial industry regulation.
The Democratic-run state legislature may consider the People's Agenda, even if Republican Gov. Rauner ignores it. But the agenda's national counterpart, from the Congressional Progressive Caucus, is almost sure to be voted down in the GOP-run U.S. House, if those solons ever get around to voting on a budget at all. Their own right wing is rebelling against what it calls too much spending on human services.
The CPC's People's Budget For Fiscal 2017 features a $1 trillion commitment to rebuilding America's infrastructure that includes billions of dollars to replace lead-contaminated water lines in Flint, Mich. It says overall infrastructure spending would create "3.6 million good paying jobs to push our economy back to full employment, which will provide the necessary economic conditions to spur across-the-board wage growth for hardworking Americans."
The CPC also wants to increase spending in virtually every major domestic category, including education, housing and anti-poverty programs. And it would include major strides toward a green energy-based economy to fulfill U.S. commitments at last year's Paris climate change accords. That's a key cause of the labor-created BlueGreen Alliance.
Like Illinois' Grassroots Collaborative, progressives' People's Budget once more proposes making the tax code fairer than it is now. It would raise the tax rate on investment income to be equal to the tax rate on earned wages, and would add tax brackets of between 45 percent and 49 percent for earnings of more than $1 million.
To help fund infrastructure maintenance and improvements, the People's Budget embraces President Barack Obama's proposal to levy a per-barrel tax on oil as an alternative to increasing the gas tax at the pump. And it would close corporate tax loopholes, including ones that encourage corporations to hide profits in foreign tax havens.
The CPC also wants to raise the federal minimum wage, which has been $7.25 an hour for years, mandate paid sick leave, strengthen labor-rights protections, and enact criminal justice reforms. Congress' ruling Republicans have defeated minimum wage hikes and ignored paid sick leave and worker rights bills. Right wingers are delaying criminal justice reform.
"The budget is designed to be a fiscally responsible, economically sound, and common-sense blueprint for how progressive policies can spur economic growth and spread the benefits of economic recovery to communities and families not yet reached by it," said Isaiah Poole of the Campaign for America's Future. "House Democrats in particular will be judged by their willingness to support the budget-at least as a statement of solidarity with its goals."
Bill Knight, The Labor Paper
Photo: Springfield, Illinois, protest against Gov. Rauner, Grassroots Collaborative, Facebook