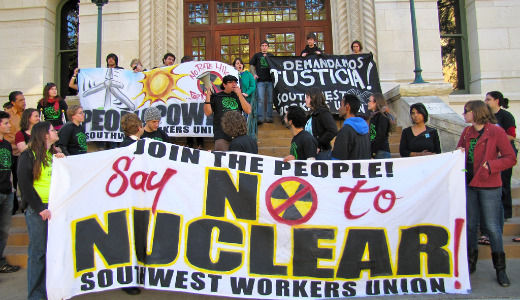 SAN ANTONIO, Texas – The Southwest Workers Union's living quarters, called "Solidarity House," was sprayed with 15 rounds of semi-automatic rifle fire early Sunday, July 11. A 23-year-old man, James Domingue, was severely injured. His pelvis was shattered by bullets. He remains in critical condition in the hospital.
Six other summer interns fortunately escaped the bullets because they were sitting and eating below the path of gunfire. A member of the group said that if it had been 5 minutes earlier they would have been standing and everyone would have been hit.
Twenty-five shell casings were found in the street by members of the organization and police.
A vigil for the victim was held on Monday at SWU headquarters.
Genaro Rendon, director of the group, said the shooting was not a mistake: "It feels like an attack," he said.
"We think it is related to our beliefs and what we stand for," said one of the group's organizers.
The Southwest Workers Union is a grassroots organization that works for social change from the "bottom up." It recently organized a "Liberation Caravan" of five vans and at least 30 Texans who drove through the night to Arizona to support a May 29 demonstration against the anti-immigrant law SB 1070 passed by the Arizona Legislature. They left at 3 a.m. from the SWU building here to join in the protest against the law, which opponents say would profile people of color and was meant to make life so miserable that immigrants would leave the U.S..
The SWU was started in 1988 in Hondo, Texas, as a community organization to empower workers, poor people and people of color, women and youth to speak out for themselves. They initially organized public school workers for whom the state of Texas denied collective bargaining rights. They organized in other districts for better wages and dignity in the workplace. They have built leadership in the Mexican communities and in the border areas and have developed leadership to empower youth with summer internship programs of which James Domingue was a participant.
SWU's work along the border has focused on the problems resulting from unfair trade agreements such as NAFTA that have driven Mexicans off their land and produced a mass migration of people to the U.S. The organization has fought against the increased militarization of the border and for fair immigration laws. They helped organize 70,000 people in a march in 2005 for immigrant rights.
Recently they have unified with other groups such as Fuerza Unida, which was formed by the women laid off when the Levi jeans plant was moved to Mexico. They have joined with Native Americans from the Indigenous Peoples Council to speak out against the Arizona's unfair and maybe unconstitutional law and to prevent a copycat law in Texas when the Legislature resumes in January,2011.
The fact that this shooting took place at this hub of progressive activity and immigrant struggle when many elected officials and hate groups are trying to outdo each other with immigrant bashing is seen as a dangerous sign.
Activists here say the police and mayor will have to do a thorough investigation of the shooting, and protect the community.
Photo: An climate justice energy action by the Southwest Workers Union earlier this year. (swujustice)