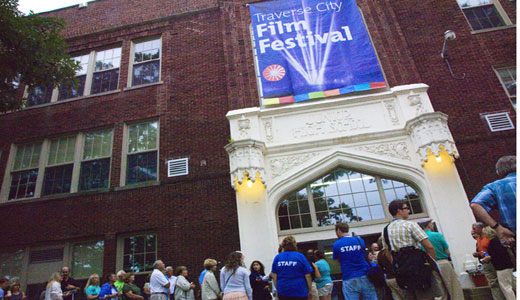 This is the fifth and last in a series about the 2012 Traverse City Film Festival. See parts 1, 2, 3, and 4.

"The Story of Film: An Odyssey" is one of the most astounding artistic achievements in the history of cinema. The fifteen-hour extravaganza by Mark Cousins, shown at the 2012 Traverse City Film Festival (and last year at the Toronto International Film Festival) is not just another chronological TV documentary – it's poetry. It's an artistic film about the art of cinema.
Cousins shares his joy and excitement over cinema through a lilting Irish brogue. Although he's a professor with multiple degrees in art and philosophy, his respectful narration never condescends. Cousins says, "In the whole fifteen hours, I never used technical jargon. I tried to speak in a way that would be accessible. I believe you can express complex ideas with relatively simple language without dumbing down or cheapening the ideas. Cinema is a more democratic art form and it would be wrong to make it hard to access."
Cousins, who was born in Belfast, Northern Ireland, but now lives in Scotland, is the ultimate passionate film lover. He watches at least two movies a day when possible and always sits in the front row of the theater. And he's done this since he was a child when he first sneaked into movie theaters to escape the harsh realities of his warring country … and discovered the world.
The Story of Film consists of 15 episodes that do not have to be seen in sequence. Each segment is a joyous work of art unto itself covering films from all corners of the globe. In Traverse City they showed the first two hours one day and the last two hours another day. Then, on the weekend, they showed the first eight episodes, followed the next day by the remaining seven sections. Everyone was pretty much awestruck at the immensity and power of the project.
Cousins claims there have been at least 500,000 films made, and he used clips from 1,000 films in the entire project. One committed fan actually listed all the titles with links to each film on Wikipedia.
Cousins hosted a TV series for years about film and interviewed many noted filmmakers, which he carried over into this project. He also wrote a book on the same subject, but obviously talking about film clips and showing the actual clips is quite a different effect. There is not a single still in the entire series, and no clips were altered from the original.
What makes Cousins' approach unique is his focus on innovation; films that revolutionized the industry, from around the world – de-emphasizing Hollywood. He explains that the series "was made out of anger and love. I was furious that African cinema was sequestered or marginalized. That Middle Eastern cinema was underrepresented, and women filmmakers were ignored."
Cousins is a brilliant scholar with allegiance to working people, who are represented with respect throughout the entire series. He also believes images and ideas drive movies, not money, and his focus is always on content and artistry, rather than box office numbers.
His exuberance overflows with innumerable superlatives: "the best film from the '80s, the greatest film from India, the most amazing image in cinema." He defends this mannerism: "I've never been afraid of saying 'I think this is as good as it gets.' I know there's a danger of being overstated but I'd rather do that and put some heat into the discourse rather than being too cool and professorial and trying to get academic about it. I'd rather err on that side than on the other."
Cousins' charm, passion, and knowledge of film was in high demand at the Traverse City Festival, as a panelist discussing the future of cinema, digital vs. film, as the emcee for Wim Wenders screenings (Wenders is one of the many directors interviewed in The Story of Film), and he was constantly called upon to spread his infectious optimism,
"I'm hopeful," he says. "I think there is something so innately splendid in cinema. I ended The Story of Film in Mauritania, Africa, to show where cinema is so important and just beginning, partly because of literacy levels in the country." He goes on to proclaim cinema is essentially a social experience, recalling his lifelong joy of sharing feelings and emotions with fellow filmgoers, and suggests ways to develop communal screening areas in neighborhoods and collective dwellings.
Michael Moore introduced Cousins at the festival as a person who "understands this incredible art form, that isn't really that old. This man has made a love poem to cinema, and it's fifteen hours long. He spent six years of his life putting this together (plus two more for editing), to, through his eyes, show us cinema in a way that's just profound, moving, and thought-provoking. He has made one of the best documentaries of all time."
The Story of Film won the special Founders Kubrick Prize at the festival. The film will be available on DVD in November for as low a price as possible, according to Cousins.
As I complete my coverage of the 2012 Traverse City Film Festival, You've Been Trumped, a David and Goliath film about Donald Trump's attempt to build a giant golf complex in pristine Irish countryside, is premiering in New York City. This brilliant film was featured and awarded at the 2011 Traverse City Film Festival. It took about a full year for this timely, provocative tale to get to public theaters. Another good reason to check out your local film festival.
For more information about the 2012 Traverse City Film Festival go to www.traversecityfilmfest.org
Photo: Traverse City Film Festival