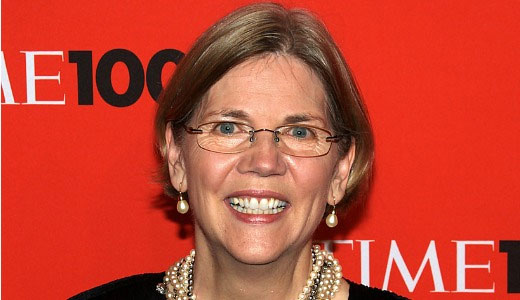 WORCESTER, Mass. – Many here and around the commonwealth were unhappy to see Republican Scott Brown win the late Ted Kennedy's Senate seat in 2010. Now they are throwing themselves into the campaign to elect former Assistant to the President Elizabeth Warren, who announced Sept. 14 she would run for Kennedy's seat.
While many Democrats veered right after the Republican Party swept the 2010 congressional elections, Warren has continued to tack left. In many ways, she seems the polar opposite of the tea party movement.
Announcing her candidacy, Warren said, "Middle-class families have been chipped at, hacked at, squeezed and hammered for a generation now. And I don't think Washington gets it. Washington is rigged for big corporations that hire armies of lobbyists."
"A big company like GE pays nothing in taxes," she continued, "and we're asking college students to take on more debt to get an education? We're telling seniors they may need to learn to live on less? It isn't right."
Liberals seem to have found a candidate they can support fully. This morning, former Sen. Russ Feingold endorsed Warren and sent an email to members of his Progressives United organization. "In 2005," he wrote, "she stood up against the Wall Street wish list of a bankruptcy bill – a huge corporate giveaway I opposed in the Senate. And after the big banks drove us into a recession, Elizabeth proposed a new Bureau of Consumer Financial Protection, and then fought tirelessly to make sure the Obama administration created it."
Warren was featured prominently in Michael Moore's Capitalism: A Love Story. In it, she condemned laws that, she said, benefit Wall Street at the expense of working Americans. "The rules have not been written for ordinary families, for the people who do the work. We have to rewrite those rules."
"I grew up poor in Oklahoma," she continued, "and I got a lot of family who really worked hard. They played by the rules. They did their best, and they got sucked in like lots of other people on this."
Warren actually did grow up poor. To help her family's financial situation, the young Elizabeth found her first job when she was only nine years old, working as a babysitter. When she was 13, she took a job at her aunt's restaurant waiting tables.
Labor is enthusiastic about Warren, so much so that the Massachusetts Nurses Association gave her their endorsement in August, the first time they ever pulled for a candidate who had not even announced their intention to run.
According to MNA President Donny Kelly-Williams, speaking through a press release, "Even though she is not yet an official candidate, the MNA Board has taken the unprecedented step of voting to support her."
"Her dedication to the nation's middle class, which she has demonstrated through her work as a faithful consumer advocate both locally and nationally, reflects one of the MNA's key goals: Restoring a basic standard of living for working people by creating financial remedies that hold Wall Street accountable while protecting those who live and work on Main Street USA," Kelly-Williams, who is also a registered nurse, continued.
The rest of labor seems enthusiastic and ready to support Warren as well. For example, the Greater Boston Labor Council asked her to speak at the annual Boston Labor Day parade, and her speech to their breakfast is on the group's homepage.
Warren has served in official capacities numerous times, most recently as Assistant to the President and Special Advisor to the Secretary of the Treasury on the Consumer Financial Protection Bureau. Before that, she was in charge of Congressional oversight of the Troubled Assets Relief Program.
"I've stood up to some pretty powerful interests," she said in a campaign message. "Those interests are going to line up against this campaign, and that's why I need you."
Photo: David Shankbone // CC 2.0