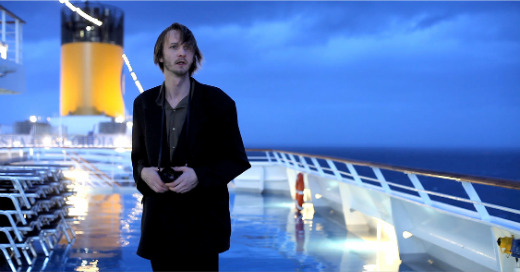 The Toronto International Film Festival is celebrating its 35th anniversary with an exciting array of over 300 films. Held this year Sept. 9-19, the festival will provide cinematic treats to film lovers of all tastes.
For those progressive viewers, this year's selections include new titles from some of the world's great progressive filmmakers. France's master of challenging, intelligent cinema, Jean Luc Godard, offers his latest philosophical treatise on world politics and cinema in the enigmatic "Film Socialism." Already creating controversy for its intentional lack of sufficient English subtitling, the film defines once again the director's ability to raise serious questions about world politics and how art should address the subject.
One of America's most talented progressive filmmakers, John Sayles, has a perfect record of directing valuable and relevant films that have great appeal to the progressive community. From "Matewan" and "Brother From Another Planet," to "Men With Guns" and "Casa de los Babys," Sayles has never failed to offer the most penetrating studies and critiques of American foreign policy. He brings to this festival his latest portrayal of U.S. imperialism. Of course there are many forays to pick from, but here Sayles chooses a lesser-known example – the brutal American occupation of the Philippines in 1900. The film is entitled "Amigo" but in some countries it carries the name "Brother from Another Country," reflecting his earlier classic with a similar title.
Another world master of progressive cinema, the UK's Ken Loach, is bringing his newest film, "Route Irish," to the festival. And yes, it's another example of U.S. imperialism and occupation, this time the Iraq war, and is titled after U.S. occupation troops' nickname for what became the world's most dangerous road, in Baghdad. Social realist Loach has covered many political themes in his long, distinguished career, and he will appear at the festival with his longtime screenwriter Paul Laverty, who has collaborated on Loach films, including "Carla's Song," "Bread and Roses" and "Wind That Shakes the Barley." Multi-Oscar winner cinematographer Chris Menges ("The Killing Fields," "The Mission") continues his long association with Loach also. They shared in the making of two classic working class British dramas, "Kes" and "Poor Cow," back in the '60s. This film promises to be one of the highlights at the festival for progressive viewers.
The Toronto International Film Festival isn't only about great cinema. Adding to the excitement of having world-class filmmakers in attendance, the festival has scheduled several intriguing panel discussions. In a discussion called Politics and Cinema, Loach and Laverty will be interviewed by the acclaimed filmmaker Michael Moore.
Bruce Springsteen will also be in attendance to be interviewed by actor Edward Norton about music and cinema. A new documentary about the making of Springsteen's pivotal recording of "Darkness on the Edge of Town" will be screened at the festival in conjunction with his appearance on the panel.
Another new documentary and a panel discussion entitled Waiting for "Superman" addresses the American crisis in public education and the search for solutions. The film is directed by Davis Guggenheim ("An Inconvenient Truth") and stars, among others, philanthropist Bill Gates, who will be in attendance for the panel discussion.
Last year the Toronto Festival took on a bit of controversy by choosing the Israeli city of Tel Aviv to feature in its City to City Programme. The brutal attack on Gaza had just occurred and it appeared insensitive if not downright politically inappropriate to honor a country that had just committed a major crime against humanity. But this year Istanbul is the honored city, and there should be little controversy. And ironically the festival is showing one of the most intense depictions of a city under siege, in "Tears of Gaza," by Norwegian director Vibeke Løkkeberg. The powerful documentary utilizes raw and shocking unseen footage gathered from Gazan cameras that show why the world was so outraged by the Israeli attack.
There are also at least two other films addressing the tragedies in the Middle East. Julian Schnabel's ("Basquiat") film "Miral" is a diary of a young Palestinian woman growing up in East Jerusalem. The film stars among others, Willem Defoe and Vanessa Redgrave. "Precious Life" is reminiscent of "Heart of Jenin," both films showing heartfelt examples of Israelis and Palestinians working together to save lives.
These are just a few of the films that show promise for progressive viewers. You can read about the whole Toronto International Film Festival at tiff.net
Photo: A scene from "Film Socialism." (tiff.net)