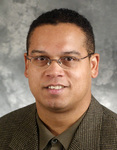 MINNEAPOLIS — If Keith Ellison is elected in November to represent Minnesota's 5th Congressional District, he will bring to the U.S. House of Representatives a fresh progressive voice in tradition of Paul Wellstone. He will also be the first African American congressman from Minnesota and the first Muslim in the U.S. Congress.
This seat, long considered safe by Democrats, is in a district that normally delivers some 75 percent of the vote to the Democratic ticket. Retiring Rep. Martin Sabo (D) held the seat for 28 years.
Ellison is a well-known civil rights attorney and an established progressive leader in the Minnesota House of Representatives. He received the Democratic Farmer-Labor (DFL) Party's endorsement at the district convention in May, enjoys strong support from organized labor, and has been endorsed by the state AFL-CIO.
So why is this congressional race suddenly a hot topic on the state, and even national, level? Ellison faces fierce opposition not only from Republicans, but from several Democrats in the primary election Sept. 12.
Immediately after Ellison's endorsement at the DFL convention, four candidates announced that they would run against him in the primary, an unusual event in this overwhelmingly Democratic district. Negative press began with extensive attention devoted to charges ranging from trivial to slanderous.
Stories purporting to expose Ellison's past, from student organizations to parking tickets, have continued the onslaught. The Minneapolis Star Tribune published several stories suggesting that Ellison's law student political activism at the University of Minnesota in the 1980s was somehow discreditable.
Most serious have been allegations that Ellison had supported Louis Farrakhan and advocated a separate nation for African Americans. Ellison, backed by longtime associates, insists that he never joined the Nation of Islam or supported Black separatism. Ellison only met Farrakhan once when the latter came to Minneapolis to speak, he said. At that event, according to many, Ellison publicly rebuked the anti-Semitism in Farrakhan's remarks. The media has inadequately covered these refutations.
Peace and justice activists have been volunteering in increasing numbers in the Ellison campaign to refocus attention on Ellison's program. Ellison calls for immediate withdrawal of U.S. troops from Iraq, a universal, single-payer health care system, protection and extension of civil rights to all, including gays and lesbians, and responsible stewardship of the environment.
In the Minnesota House, Ellison supported legislation to raise the minimum wage. He has spoken at peace rallies in the Twin Cities area. He pledged to fight all attempts to erode the Voting Rights Act. He founded the Environmental Justice Advocates of Minnesota.
Jack Nelson-Pallmeyer, peace activist and professor of peace studies at St. Thomas University, campaigned for DFL Party endorsement on a peace platform. At the district convention, he threw his support to Ellison. In a recent letter to peace and justice advocates, Nelson-Pallmeyer wrote, "When peace and justice communities help elect Keith Ellison, we will reconnect Washington to grassroots politics and strengthen our voices in the U.S. Congress."