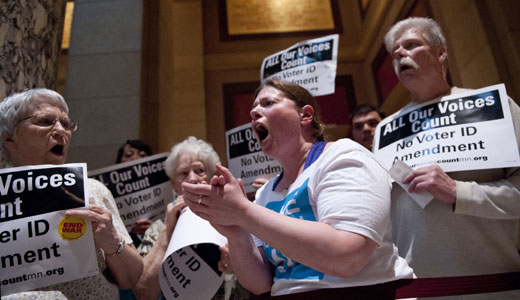 Members of at least five major national progressive organizations and their trade union allies are flooding AT&T headquarters with calls demanding the company stop funding the American Legislative Exchange Council, because of the group's role in pushing discriminatory voter ID laws and "stand your ground" laws like the one that prevented justice for Trayvon Martin in Florida.
Under pressure from massive Internet campaigns initiated by the groups last week Coca-Cola, PepsiCo, Kraft Foods, and Intuit announced they had ended their relationship with ALEC.
"After hearing from us about ALEC's involvement in voter suppression, major corporations like Coca-Cola, Pepsi, and Kraft have done the right thing and decided to stop funding ALEC," said Rashad Robinson, Executive Director of ColorOfChange.org.
"But despite numerous letters, emails and telephone calls from ColorOfChange, AT&T seems unconcerned their dollars are helping to suppress the black vote, support shoot first laws that undermine our democracy. It's time AT&T hears the voices of people all across the country who expect better."
ALEC has drafted and disseminated model legislation that served as the boilerplate for discriminatory voter ID laws launched in 26 states this year, bills that force voters to produce specified types of photo identification at the polls.
ColorOfChange said Trayvon Martin's death, and the law used to prevent the arrest of his killer, was an example of how ALEC's agenda is particularly dangerous to people of color. The National Rifle Association and ALEC have exported the Florida "stand your ground" law to at least 20 other states.
"Through our conversations with corporations supporting ALEC, we've realized that many of these companies are not educated about the dangerous legilslation that ALEC pushes," said Robinson. "Now that we've succeeded in shining a light on what ALEC is really about, these corporations are severing ties. They know they owe it to their customers to do just that."
Among the progressive groups involved in the campaign are ColorOfChage, Progress Now, People for the American Way, CREDO Action, and the Progressive Change Committee.
Unions have also been critical of ALEC and its corporate sponsors for more than a year now. The group is behind hundreds of model anti-union bills including ones that kill bargaining rights and ones that turn states into right to work for less states.
The groups say that AT&T will not be the last corporation they target for its support of ALEC. They intend to end all corporate sponsorship of the right-wing think tank, they say.
Photo: Demonstrators chant "NO!" in response to Voter ID laws. Glen Stubble/AP