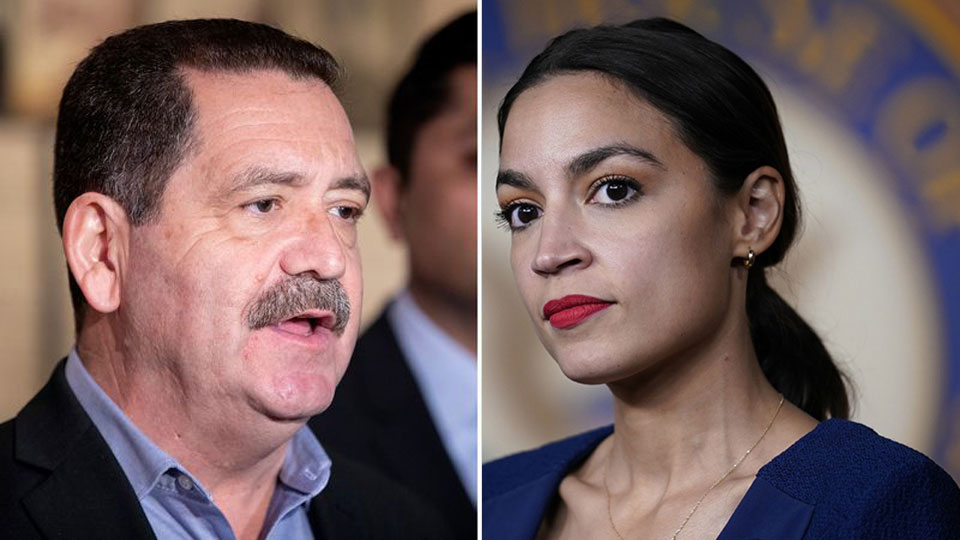 WASHINGTON—Having stumbled in the Democratic-run House, progressives there and other supporters of comprehensive immigration reform are looking to the Senate to insert it into Democratic President Joe Biden's Build Back Better legislation.
There are two problems though: Histrionic, racist Republican opposition, and the Senate Parliamentarian, an appointed official who tossed comprehensive reform out of an earlier "reconciliation" bill—which is what the BBB plan is formally considered.
The answer from the advocates: Disregard and override the parliamentarian, and use reconciliation, which requires only a bare majority to pass: All 48 Democrats plus both independents, with Vice President Kamala Harris to break the Senate's 50-50 tie.
That's what the reconciliation rules allow, and the GOP can't talk comprehensive reform to death.
All that led 91 lawmakers, marshaled by Reps. Alexandria Ocasio-Cortez, Adriano Espaillat, and Grace Meng, all New York City Democrats, Jesus "Chuy" Garcia, a Democrat whose Chicago district is overwhelmingly Spanish-speaking, and Lou Correa, D-Calif., to urge the Senate to act.
The issue is important to the Spanish-speaking community, now the largest group of people of color in the U.S., and to progressives. It's also vital to the economy to fully eventually legalize the estimated 10 million-11 million undocumented people in the U.S.
That would let them come out of the shadows and fully contribute to the U.S., by being covered by minimum wage, overtime, workers comp, and unemployment insurance laws, as well as by the National Labor Relations Act.
Those laws now on the books would boost their job prospects, incomes, families, and taxes, including payroll taxes to help fund Social Security and Medicare.
And even with weak U.S. labor law, the undocumented would, coming out of the shadows, have more protection against employer exploitation and repression. They now suffer from none at all, as bosses can threaten to deport those who speak up or try to organize—or call in ICE agents to deport them.
That exploitation also lets venal and vicious bosses use the threat of using undocumented workers to replace others to drive down wages and benefits and halt organizing campaigns.
The lawmakers' letter to the Senate's leaders touched on some of those issues.
"While the House bill secured protections and work authorization for undocumented individuals, it does not include a permanent pathway to citizenship," said Ocasio-Cortez. "Our community has made clear this is not acceptable.
"Throughout these past few months, Bronx and Queens families, as well as our grassroots immigrant advocates, have been united and unfaltering in their message: Democrats promised a pathway to citizenship, and we must deliver one," she added. She called the Build Back Better/reconciliation bill a "once-in-a-generation opportunity" for "a pathway to citizenship and finally provide Dreamers, TPS holders, farm workers, and essential workers with the stability and equal recognition they deserve."
Garcia emphasized legalization would give undocumented people workers rights and protections.
The BBB bill "delivers urgently needed relief to undocumented immigrants, but falls short of the pathway to citizenship…immigrants deserve," Garcia said. "It means families separated for decades can finally be reunited, workers can speak out against abuses without fear of retaliation, and immigrants can wake up every morning with some peace of mind.
"Immigrants who keep our country running deserve to call America home," he added, referring to their disproportionate presence in "essential"—and often hazardous—occupations during the coronavirus pandemic. Espaillat expanded on that point.
Comprehensive immigration reform produces "a pathway to citizenship for the millions of Dreamers, TPS holders, farm workers, and essential workers who count on us to do the right thing," he said.
"Much work remains in efforts to fix our broken immigration system. If our nation is to fully recover from the challenges and disruptions" of the coronavirus pandemic, "now is the time to provide comprehensive reform and ensure our immigrant communities are unequivocally included in our relief efforts."
Groups involved with immigration reform praised the House for two pro-migrant measures in the BBB: Work permits, covering several years, for millions of the undocumented, and $100 million to hire more immigration judges to speed up the processing of migrants. But the groups vowed to keep pushing for comprehensive reform, with legalization.
"While we are disappointed that a path to citizenship was ultimately omitted from this effort, we applaud the bill's meaningful legal protections for undocumented workers who will be able to work and seek permission to travel without fear of being deported," said Janet Murguía, President of UnidosUS.
"Our North Star is and will remain to secure a path to citizenship for undocumented essential workers, DREAMers, TPS holders, and farmworkers, and the fight for that reality continues with this important first step."
Both her group and Labor's Council for Latin American Advancement, the AFL-CIO constituency group for Spanish speakers, also applauded the extension of the child care tax credit to everyone, including undocumented parents.
"In the coming weeks, LCLAA will closely monitor the development of the Build Back Better Agenda in Congress and advocate for its passage so that thousands of Latino workers and their families can rebuild their lives and enjoy economic stability in the wake of the pandemic," it added.
But whether the Senate will agree is another matter. Majority Whip Dick Durbin, D-Ill., a past crafter and sponsor of comprehensive reform, certainly does.
"Millions of undocumented people live in this country and contribute to our economy. They deserve to live, work, and travel without fear of deportation. President Biden understands this. That's why he included immigration reform in his Build Back Better framework," he explained in late October, despite the Senate parliamentarian's ruling.
"It's been more than 30 years since Congress passed immigration reform. We can't wait any longer. Now is the time and reconciliation is the way."
The Republicans are another matter, though Senate GOP leader Mitch McConnell of Kentucky has been silent so far. In the House debate over the BBB bill, the Republicans snarled like rabid dogs.
Rep. Brian Babin, R-Texas, derided "the Democrats' illegal attempt to include mass amnesty in their multi-trillion-dollar spending package, their so-called Build Back Better bill."
And, crying crocodile tears for workers, Rep. Tom McClintock, R-Calif., tried to stir up racism among the white working class. "How are American workers helped by flooding the labor market with another wave of low-wage labor? How are our children helped by filling their classrooms with non-English-speaking classmates? How are our communities made safer by making it harder to deport criminal illegal aliens and gang members?" he asked.