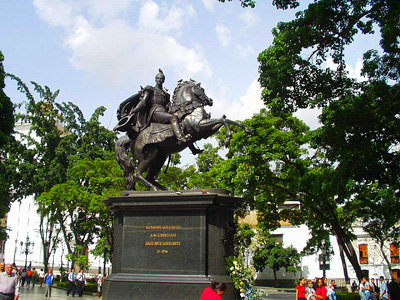 In spite of the death of Venezuela's President Hugo Chavez and other reverses, the "Bolivarian" process of integration in Latin America is advancing.
The effort by the Latin American and Caribbean left to create greater cooperation and solidarity among the region's states and to end U.S. economic, political and military domination is named for South American liberator Simon Bolivar because these were his goals also. Shortly before his death in 1830, Bolivar, discouraged, said, "I have been plowing in the sea". His hope to create one great Latin American nation had been undermined by divisive tendencies. Reversing this trend has always been a goal for the left and now seems closer to realization than ever.
Also, a major part of the project of the Latin American left is to elevate their region to a status of real equality with "the colossus of the North". Left-wing governments of Cuba, Venezuela, Ecuador, Bolivia and some smaller states have taken the lead in this. But governments less to the left have been ready and willing to follow, with the result that the left-led Bolivarian Alliance for Our America (ALBA) is accompanied now by South American Common Market (MERCOSUR) Union of South American Nations (UNASUR) and the Community of Latin America and Caribbean States, CELAC, which, together, include all independent Latin American and Caribbean states.
From July 22 to July 23, ministers of CELAC, met in Merida, Venezuela, to develop plans for the social development of the region. CELAC, founded in 2010 at the initiative of Hugo Chavez, is an association of 33 of the 35 independent nations of the Western Hemisphere. The two countries excluded from CELAC by design are the United States and Canada. This was done to make sure that CELAC does not go the way of the Organization of American States (OAS), which is widely viewed as an instrument of United States domination.
That the right-wing governments are eager to participate in a structure where left governments, including socialist Cuba, play an open leading role is an indication of the degree to which U.S. domination of the region is slipping.
The discussions emphasized the need to improve health care, education, housing and other basic services in the region. Nicaraguan President Daniel Ortega suggested that the CELAC countries study the current economic meltdown in Western Europe as an example of how not to do things, i.e. neoliberal policies of free trade, privatization and austerity should be avoided. Rather, most participants want an increased investment in social welfare. The CELAC planning process focuses on how they can support each other in this endeavor.
Instead of "free" trade on the Washington Consensus model, which disadvantages poorer countries and requires privatization and acceptance of massive taxpayer subsidized imports from wealthy countries, they want to develop trade agreements tailored to be most helpful to poorer countries. The existing example of PETROCARIBE, whereby Venezuelan oil is provided to poorer countries such as Jamaica and Haiti on terms highly favorable to the latter, is seen as a start.
Cuban Foreign Minister Bruno Rodriguez, the chair pro-tem of CELAC, reported the results of the meeting to the United Nations Security Council. The session was opened by Argentine President Cristina Fernandez de Kirchner, Security Council Chair for the month of August, who invited both CELAC and UNASUR to participate. Rodriguez emphasized the social and developmental needs of Latin America:
"We have provided ourselves with institutions which allow us to promote unity within our diversity, integrate ourselves and cooperate; and be in solidarity to one another to solve the pressing problems that still encumber Latin America and the Caribbean. We intend to develop ourselves, live in peace, protect human dignity and preserve and enrich our culture."
Venezuelan President Nicolas Maduro made a proposal that is sure to enrage some in Washington DC, namely that Puerto Rico be invited to be a member of CELAC.
Puerto Rico is the only Spanish speaking, Latin American nation that does not have full independence. The electoral dynamic in Puerto Rico has tended to bounce between people who want Puerto Rico to be a 51st U.S. state, and those who want to maintain the present "commonwealth" ("Estado Libre Asociado") status, with more autonomy. An obstacle to getting public support for an independence option has been the worry that breaking loose from the United States might have a negative economic impact. For Puerto Rico to be able to build its own economic relationships regionally through the Bolivarian integration process opens up interesting possibilities of at least increasing the island's autonomy.
Photo: An equestrian statue of Simón Bolívar, "The Liberator," Plaza Bolivar, Caracas, Venezuela. Kinori, public domain.