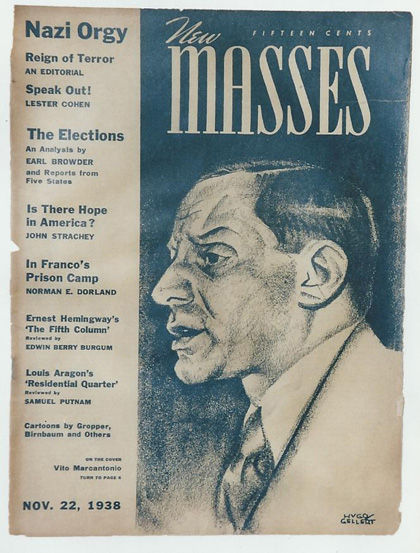 On Sunday, August 28th 2016, members and supporters of the Vito Marcantonio Forum (VMF), an organization dedicated to preserving and publicizing the legacy of the late progressive Congressman, Vito Marcantonio, gathered in commemoration at the site of his untimely death in lower Manhattan.
This, the fourth such commemoration organized by the forum, was opened by VMF co-chair, Roberto Ragone. In his opening remarks, Ragone spoke of how Marcantonio was able to get the ethnically diverse working people of his East Harlem district – Italians, Jews, Puerto Ricans, and Blacks – to work together for their common interests. He said that the program would give a hint of who Marc, as Marcantonio was often called, was.
Following Ragone's opening remarks, the program began with Gil Fagiani reciting his well-known poem honoring Marcantonio, "The Litany of San Vito," with simultaneous translation into Spanish and Italian.
Following the poem were remarks from long-time Puerto Rican activist, Gloria Quiñones, who related how Marcantonio often spoke out in defense of the Puerto Rican people and against the oppression of Puerto Rico. She described how on the floor of the U.S. Congress, as far back as the 1940's, Marcantonio denounced Puerto Rico's status as a quasi-colony of the U.S. and speculated on what he would have done today in the face of the continuing neo-colonial status of Puerto Rico and its present debt crisis.
Prominent elected officials also spoke at the event, including City Council President Milissa Mark-Viverito and Manhattan Borough President Gale Brewer. Viverito reminded the audience that Marcantonio had always been a friend and ally to the Puerto Rican people and also was a champion for the larger immigrant community. She also speculated about how he would have reacted to Puerto Rico's current fiscal crisis. She particularly mentioned how she believed he would have been in the forefront of today's efforts to free Puerto Rican political prisoner Oscar López Rivera, harkening back to Marcantonio's efforts on behalf of Puerto Rican activist Pedro Albizu Campos in the 1930's and 1040's and his later defense of Oscar Collazo.
Brewer spoke of Marcantonio's direct, practical service to his constituents saying that what he did then is what is needed now, and that, to this day, no one has achieved anything close to what he had in this area. She also spoke about his life-long commitment to social justice, exemplified in his involvement in breaking the racial barrier in Major League baseball and his efforts to defeat the anti-labor Taft-Hartley Act.
The keynote address was given by VMF co-chair, Professor Gerald Meyer, who eulogized Marcantonio, relating the details of his death but also speaking of his legacy, revealing many fascinating facts. Meyer spoke about the political organization headed by Marcantonio, the American Labor Party, (ALP), a progressive organization of working people that was able to elect Communist Party members Ben Davis and Pete Cacchione to the NYC Council in the late 40s. As influences on Marcantonio's life and as illustrative of his weltanschauung, Meyer cited Marcantonio's life-partner, Miriam Sanders, director of Haarlem House, and his mentor, the great Italian-American educator Leonard Covello.
Meyer said that although during his time in office Marcantonio was the only Italian-American in the U.S. Congress and has subsequently been written out of history, he was hugely influential, having been cited some 220 times in the New York Times in one year alone. He was headlined in the paper when he stopped an arms appropriation bill as a means to keep funds flowing to the Fair Employment Practices Commission.
Always a champion of the Puerto Rican people, he submitted five bills calling for the independence of Puerto Rico. Meyer related how Marcantonio consistently fought for peace and against imperialism and how in the post-WWII Cold War era he was a subject of vile and intense abuse. In 1948 alone, the Times ran three editorials denouncing Marcantonio and spoke of the importance of defeating him at the polls.
At the time of his death, Marcantonio was eulogized in the People's World (a weekly CP newspaper published in San Francisco from 1938 to 1986). Performance artist, Lulu Lolo Pascale, long-time East Harlem resident and daughter of the legendary community activists Dominic and Rose Pascale, read this eulogy with great emotion.
The program closed with a dramatization by Ragone, whose performance was based on unforgettable remarks made by Marcantonio in Congress during the late 1940's that highlighted his resolute opposition to all aspects of "Jim Crow"-type discrimination.
The outdoor event was followed by a lunch at a local restaurant which, appropriately enough, happened to be housed in the building that had served as the last headquarters of the ALP.
Photo: Congressman Vito Marcantonio, featured on the November 1938 issue of "New Masses" magazine. | Vito Marantonio Forum