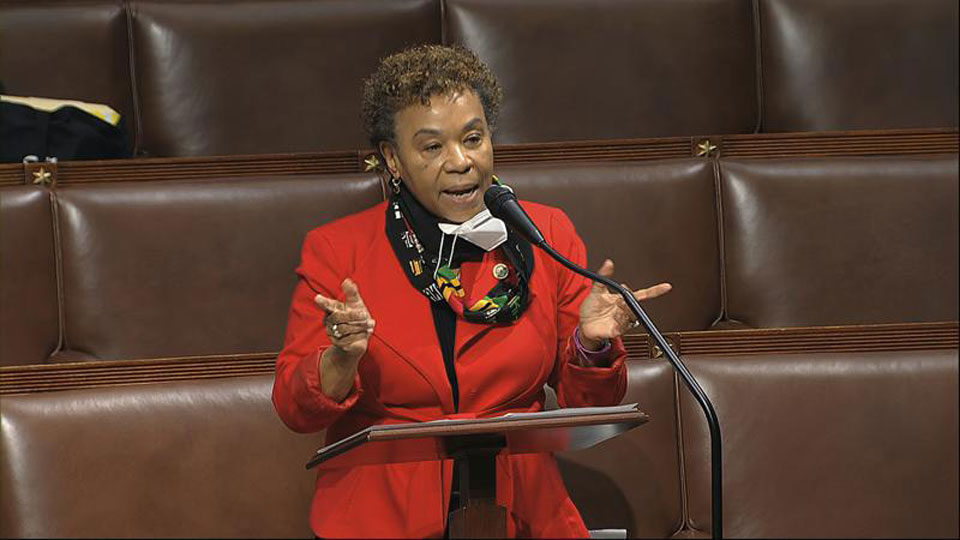 WASHINGTON—Progressive plans to cut the Pentagon's annual spending spree crashed and burned in Congress last week. Pro-labor proposals won, however by a party-line vote.
The huge Pentagon appropriation, which feeds the insatiable armaments producers in the U.S. that are busy supplying weapons for the war in Ukraine and for military adventures around the world, passed with a huge bi-artisan margin but was opposed by a substantial number of House Democratic progressives.
And other policy proposals, including reining in presidential authority to wage wars, and tackling white nationalism's reach within the military, did well, thank you very much. That included mandating Pentagon procurement go to firms which honor workers' rights.
The action occurred July 13-14 as the Democratic-run House waded through the annual legislation allotting funds and setting priorities for the military for fiscal 2023, which starts October 1. In the end, lawmakers passed an $838 billion Pentagon authorization bill, HR7900, on a bipartisan 329-101 vote. More Republicans (62) than Democrats (39) opposed it.
Since that legislation is one of the few measures guaranteed to make it to the president's desk each year, it becomes the proverbial "Christmas tree"—in July—festooned with amendments pushing everything from weapons systems to peace plans to proposals affecting the entire nation, not just the military. This year was no exception.
Amendments ranged from strengthening the campaign against sexual harassment in the military, to repeatedly slamming Vladimir Putin to letting D.C.'s Mayor call out her jurisdiction's National Guard without having to seek presidential permission. All won. The D.C. one was directly related to the Trumpite insurrection at the U.S. Capitol on Jan. 6, 2021.
Mayor Muriel Bowser couldn't call out the Guard that day to help overwhelmed police stop the 1,000-plus Trumpite invaders. They were determined and ordered to insurrection and rebellion to win former Republican Oval Office occupant Donald Trump's coup d'etat. Bowser could summon the Guard only after embattled VP Mike Pence approved it. Trump did nothing.
Related amendments inserted in the legislation demand the Pentagon aggressively pursue, re-educate, and if necessary eject white nationalists from military ranks.
Two tries by congressional progressives to cut Pentagon spending lost. Lawmakers first rejected a $100 billion cut, which would have been an actual reduction from this year's military dollars. Then they defeated a $37 billion cut, which would have returned the department's dough to the $801 billion Democratic President Joe Biden sought for the new fiscal year.
"It is not hard to find places to cut at the Pentagon," said Rep. Barbara Lee, D-Calif., who proposed the larger cut with Rep. Mark Pocan, D-Wis., a Painters Union member. Lee shepherded the second cut try herself.
"Last year, Sen. (Bernie) Sanders commissioned a Congressional Budget Office study that detailed various scenarios for how we could save $100 billion per year without compromising American security. That $100 billion is sorely needed for other key national priorities" such as housing, education, and health care.
"Let's stop rewarding the building of amphibious vehicles that sink, unready projects like the F-35 that still have hundreds and hundreds of deficiencies that have not been addressed, and aircraft carriers that have toilets that cost $400,000 in chemicals to flush when clogged," Pocan urged. "Yes, we flush defense dollars down the toilet. Let's fix this." Lawmakers didn't.
Tries to cut land-based nukes
And Rep. Rashida Tlaib, D-Mich., tried to cut the number of land-based nuclear-warhead-topped Intercontinental Ballistic Missiles below 400. She lost 156-270.
"The policy" of a minimum of 400 nukes "was created and implemented by lawmakers in promotion of companies who profit in the production of these weapons, not in the best interests of our national security," Tlaib told her colleagues.
While the cuts in Pentagon cash failed—the votes were 78-350 on the $100 billion cut and 151-277 on the $37 billion slash—cuts in Pentagon war-making authority succeeded.
One was Lee's annual amendment to repeal the 2002 open-ended Authorization to Use Military Force (AUMF) then-President George W. Bush (R) used to send troops into the U.S.'s longest war, in Afghanistan. As in the past several years, the Democratic-run House Armed Services Committee inserted Lee's AUMF repeal of that presidential blank check into the bill.  Lee is consistent in the cause. She was the only House member to vote against Bush's AUMF.
HR7900 also repeals the 1991 AUMF Bush's Republican presidential father, George H.W. Bush, used to invade Kuwait. The chief sponsor of that curb on presidents wasn't Lee but moderate Rep. Abigail Span Berger, D-Va., a longtime CIA analyst who holds a swing seat.
Pro-worker amendments fared well.  Rep. Mondaire Jones, D-N.Y., denied military contract dollars to companies which flagrantly break labor laws. He won, 227-201 on an almost party-line vote. Three Democrats voted no. Seven Republicans voted yes.
Jones told his colleagues he wants to ban DOD contracts "to companies engaged in illegal anti-union activity." DOD doles out some $400 billion in contracts annually, approximately half of its total spending.
And House Progressive Caucus Chair Rep. Pramilla Jayapal, D-Wash., got the Armed Services Committee to include a provision starting debarment proceedings against any federal contractor with "two or more Fair Labor Standards Act violations"—wage and hour, child labor, and overtime pay lawbreaking—"within the last five years."
"Every worker in this country deserves a living wage, a safe workplace, and the opportunity to join a union if they so choose," said Jones. "We know some companies spend millions of dollars illegally fighting employee unionization efforts and get rewarded with government contracts." He didn't name names.
"Companies that engage in unfair labor practices—including threats, bribery, coercion, spying, and punishing workers for their attempts at unionization—are not barred from receiving these lucrative government deals. This amendment would change that."
The Republicans screamed. Rep. Rick Allen, R-Ga., said Jones's amendment would encourage unionization, characterizing that outcome as negative.
Claims of unfair special treatment
"This amendment provides unfair special treatment to employers with employees represented by a union," said Allen, a worker foe. "The prohibitions can be waived" in those cases, "giving unionized federal contractors a significant advantage over non-union firms in the federal procurement process."
Jones's requirement "is a departure from the processes we use to prevent contracting with bad actors and would undermine our national security," Rep. Mike Rogers, R-Ala., added, with no proof of his claim.
The military bill also would write into law Democratic President Joe Biden's April 27, 2021, executive order raising the minimum wage for employees of federal contractors—such as fast-food chain workers whose eateries are on military bases or in the Pentagon's basement.
Progressive Caucus Chair Jayapal tried to set up an Office of Climate Change within DOD. Military leaders have often within the last several years called climate change a national security threat. A majority of the House didn't, this time. Jayapal lost 207-219.
Other amendments of interest to workers included:
House Rules Committee Chairman Jim McGovern, D-Mass., inserted a provision extending the State Department's annual Human Rights report—a country-by-country evaluation of freedoms, including worker rights—to the U.S. itself, using agency reports.
Chris Smith, R-N.J., told the Army Corps of Engineers to "conform with USDOL's regulations and guidance with respect to proper implementation and enforcement of existing laws regarding worker classification by federal construction contractors and subcontractors," an amendment summary says.
That's a polite way of telling the Corps to stop construction firms' misclassification of workers as "independent contractors," who are not covered by federal labor laws, including the right to organize, minimum wages, and overtime pay.
Ayanna Pressley, D-Mass., won her amendment expanding crisis counseling and mental health aid for first responders, such as Fire Fighters, to disasters. She introduced it as a stand-alone bill in February.
"Natural disasters and mass violence like the Boston Marathon bombing are disruptive and traumatic life events that can have a devastating impact on one's mental health—but far too many people who survive these tragedies can't access the critical mental health services offered by Federal Emergency  Management Agency," Pressley said then. "Our bill would help survivors of all disasters access these critical resources."
One of a batch of amendments by Rep. Adam Schiff, D-Calif., on human rights. demanded protecting journalists. That's been a cause for the News Guild even before Saudi Arabia's murder of Washington Post contributing columnist Adnan Khashoggi and the recent Israeli Army killing of veteran Palestinian-American journalist Shareen Abu Akleh, shot in the back of her head. She was clearly wearing a press pass and gear.
And Rep. Gerry Connolly, D-Va., inserted an amendment limiting U.S. arms sales to the Saudis until the kingdom comes clean on the Khashoggi murder.
Schiff's "amendment expands the scope of required reports related to violations of the human rights of journalists, requires the president to impose certain property- and visa-blocking sanctions on persons responsible for gross violations of the human rights of journalists, and prohibits certain foreign assistance to a governmental entity of a country if an official acting under authority of the entity has committed a gross violation of human rights against a journalist," a summary said.
Those provisions could particularly impact Saudi Arabian Crown Prince Mohammed Bin Salman, known as MBS. the CIA concluded MBS was responsible for Khashoggi's murder. Biden just finished a widely publicized—and panned—meeting with MBS, the oil-rich nation's de facto ruler. Biden said he discussed Khashoggi's murder. He didn't say what MBS replied.
"It's good to see that President Biden raised the murder of Jamal Khashoggi with Saudi Crown Prince Mohammed Bin Salman," the kingdom's de facto ruler, responded News Guild President Jon Schleuss. "Now he must hold the Saudi government accountable."
Schleuss's predecessor, Bernie Lunzer, demanded Biden's predecessor, Donald Trump, get answers from MBS about Khashoggi's murder. But Trump cozied up to MBS, selling him more arms–and never even acknowledged the News Guild's demand.
Alexandria Ocasio-Cortez, D-N.Y., won her amendment telling the Labor Department to bar federal contractors from asking job applicants about criminal history and have DOL probe violators. Criminal history frequently prevents workers of color who have served their time from getting good jobs when they get out.
Derek Kilmer, D-Wash., removed the 180-day delay veterans now undergo when they seek health care jobs at Veterans hospitals. He said hiring them more quickly would help the vets themselves and help reduce the current shortage of VA workers, a key cause for both the Government Employees (AFGE) and National Nurses United.