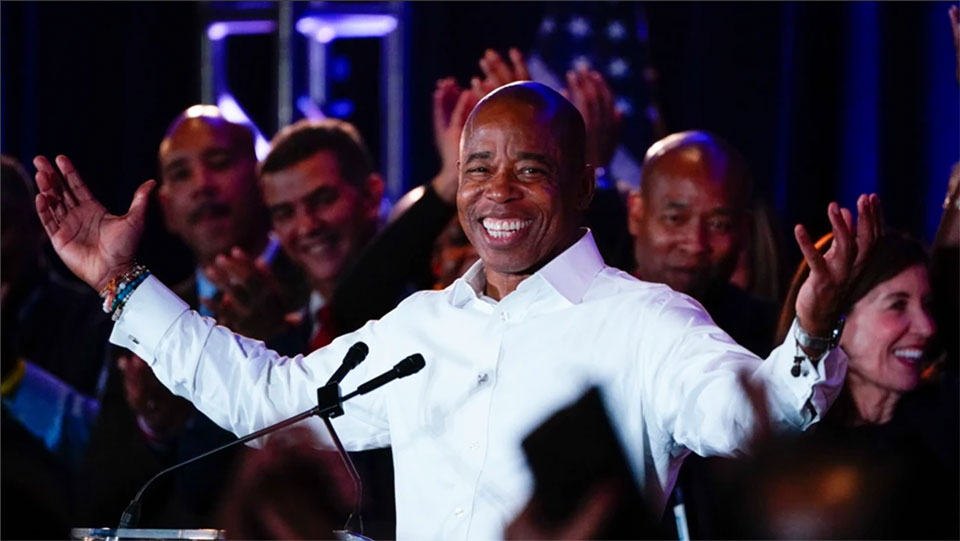 Recent New York State municipal election results were a mixed bag. For the most part, labor and progressive organizations maintained their dominance of city legislators and executives. There were some setbacks, most notably in Buffalo's mayoral race. Elsewhere, the Trump Republican Party gained ground in some suburban areas. This article covers New York City, Albany, and Long Island.

New York City
Democratic Brooklyn Borough President Eric Adams handily defeated Republican Curtis Sliwa and will become the city's second African American mayor. The vote result, 67 percent to 29 percent, mirrored opinion polls and gave progressive and democratic movements a sigh of relief. Previously, Black and Puerto Rican Democrats nearly always lost to white Republican candidates. Seven other candidates collectively won 4.7 percent of the vote.
On election night, Adams indicated an inclusive approach. He said, "It doesn't matter if you are in Borough Park in the Hasidic community, if you're in Flatbush in the Korean community, if you're in Sunset Park in the Chinese community, if you're in Rockaway, if you're out in Queens, in the Dominican community, Washington Heights — all of you have the power to fuel us."
He had the overwhelming support of the city's labor movement. Sliwa, the founder of the vigilante Guardian Angels, was an outsider to the GOP structure and never picked up any steam during the race.
While on the New York Police Department, Adams led the Grand Council of the Guardians, a Black officers' fraternal organization that was critical of the union and undemocratic police practices. He retired after 22 years and won election to the state senate, then later ran for and won the Brooklyn borough presidency.
His centrist and often contradictory positions tangled some liberals and progressives in knots. Perhaps State Sen. Alessandra Biaggi put it best by saying she looked "forward to supporting his vision when we find common ground, and challenging him where we disagree."
Two progressives who know Adams well won the other two highest city offices. Jumaane Williams, a friend of Adams's for years, was re-elected as the Public Advocate. The new Comptroller is Brad Lander. Both, with many progressive and labor endorsements, won their races with nearly 70 percent of the vote.
The other force to move things in a progressive direction is the City Council, continuing to be dominated by the Democratic Party and a growing progressive and social democratic trend. As of now, it holds 44 seats to four Republican and three too close to call—District 19 (northeast Queens), District 43 (southern Brooklyn), and District 47 (abutting District 43 to the south). An increase for the GOP, but still not your grandfather's city council. It is certainly the most progressive ever, dominated by labor- and progressive-backed liberals and social democrats. It has more women of all racial and national groups, and more African Americans, Latinos, and Asians, and Asian Americans than ever before. Nearly all races were decided in the June primary, with only a few up for grabs.
There were two District Attorney races. Alvin Bragg won in Manhattan and will be the first Black person to hold that office. In Brooklyn, incumbent Eric Gonzalez was unopposed. Both had the support of many progressive and liberal organizations, though there was some division in the Manhattan primary election.
Vanessa Gibson will be the first Black woman to serve as the Bronx Borough President. The office is mostly ceremonial but often leads its holder to higher powers. In Brooklyn, Antonio Reynoso won the borough presidency with progressive backing, and Mark Levine won the office in Manhattan. All three come from the City Council. Queens's incumbent Donovan Richards, who was the first Black person to hold that seat, won his reelection. All four are Democrats.
The lone Republican stronghold is Staten Island. (Democrats occupy only one of its three city council seats.) Former Congressman Vito Fossella, endorsed by former Pres. Trump, won that borough's presidency. It is yet another American political comeback story. In 2008, Fossella was arrested for a DUI, at which time it became known that he had a second family. The last time a Democrat held the office was 1989.
Albany
Incumbent Mayor Katherine Sheehan easily won her third term, taking 64 percent of the vote in a three-way race. She was endorsed by, among others, the New York State Nurses Association.
In this firmly blue city, Democrats maintained total control of the Common Council. In three wards, candidates with Working Families Party support won elections—Sonia Frederick (Ward 1), Meghan E. Keegan (Ward 9), and Thomas Hoey (Ward 15). Frederick, the Council's second Latino, grew up poor in the Finger Lakes region and was the youngest councilor when appointed to her seat in 2019. Citizen's Action endorsed her back in June. Keegan vows to make city financial decisions "through an equity lens." Hoey, an elected vice president of the Professional Faculty of the United University Profession, likewise fights inequality. "Giving tax breaks to the downtown wards … while sacrificing the outer wards to a growing problem of crumbling infrastructure and abandoned housing is unfair and simply wrong," he said.
Unopposed and backed by the WFP were Derek Johnson (Ward 2), Gabriella A. Romero (Ward 6), Violetta De Rosa (Ward 7), Owusu Anane (Ward 10), Alfredo D. Balarin  (Ward 11), and Deborah Zamer (Ward 14). Citizen Action also endorsed Romero, De Rosa, Anane, and Balarin. Romero comes out of the Black Lives Matter movement, and De Rosa has been an advocate for equality in education.
The Albany County Central Federation of Labor and the county's Legislative Black Caucus endorsed Anane, too. The son of Ghanaian immigrants, his legislative efforts include waiving civil service exam application fees in certain cases, supporting urban farming, and favoring energy efficient city lighting. Balarin, the son of Peruvian immigrants and the first Latino on the Council, has been an advocate for youth and families.
There were three contested Common Council seat elections without WFP involvement—Wards 3, 5, and 12. In Wards 4, 8, and 13, candidates were unopposed and did not have WFP endorsements.
Perhaps most notable was ballot Proposal 7, which significantly increased the Community Police Review Board's authority and investigation powers. A coalition of the WFP, Citizen Action, individual labor leaders, the NAACP, and others worked hard for its passage. On election day, it won more votes (8,589) than did Mayor Sheehan (7,942).
Long Island
In purple Nassau County, Democrats controlled every major office before November 2. But only 260,000 votes were cast, down from 700,000 in last year's presidential race. There are nearly 90,000 more registered Democrats, but apparently, many of them stayed home.
Democrats lost the races for County Executive and District Attorney. Democrat incumbent Laura Curran lost to Bruce Blakeman, 48 to 52 percent. Curran had the financial edge, and internal polls favored her, according to State Democratic Party Chairman Jay Jacobs.
Last year, the Democratic-dominated state legislature eliminated cash bail for nearly every criminal offense except violent felonies. Though a backlash restricted the changes, conservatives used the issue to overshadow all discussion of criminal justice. The election for Nassau County district attorney was no exception.
The seat was open since the Acting DA Joyce Smith did not run. (She was picked in June after Madeline Singas was appointed to the state Court of Appeals.) The Republican candidate, Joyce Smith, focused nearly exclusively on bail reform. State Sen. Todd Kaminsky trumpeted his moderate credentials. He voted for the original bail reform but also for its later restrictions. Regardless, he fell far short in the contest, losing by 20 points. Democrats also lost the election for comptroller and county clerk.
In Suffolk County, the eastern portion of Long Island, incumbent District Attorney Timothy Sini lost to his GOP challenger, Ray Tierney, 43 percent to 57 percent. Bail reform was turned into the major issue is that race, too.
Statewide Ballot Proposals
There were five statewide ballot proposals. Three of them dealt with voting and districting reform, all of which were favored by most democratic and progressive organizations. Number 1 would have frozen the number of state senators, included undocumented immigrants in the population count of legislative districts, and ended prison gerrymandering. (Prisoners are counted in the populations of where their prisons are located, thus boosting typically rural and mostly white areas.) It failed, 56 percent to 44 percent.
Proposal number 3 would have allowed the state legislature to pass a same-day voter registration law. That failed, 58 percent to 42 percent. Number 4 would have allowed the legislators to pass a no-excuse absentee voting law, and that also failed, 56 percent to 44 percent.
In New York City, labor unions and social change organizations formed an impressive coalition to push for those three proposals. But the Democratic Party did little, unlike the Conservative and Republican parties. The Conservatives spent $3 million on television and radio ads, arguing the proposals were akin to corruption. Republicans sponsored a "Just Say No" tour and reached 40 counties in 10 days.
Proposal 2, which passed 69 to 31 percent, would amend the state constitution to establish the right to clean air and water. The fifth proposal passed 62 to 38 percent. It expands the number of cases that the NYC Civil Court can hear, from claims of the present level ($25,000) to a higher level ($50,000). Advocates hope this will take pressure off the state Supreme Court.