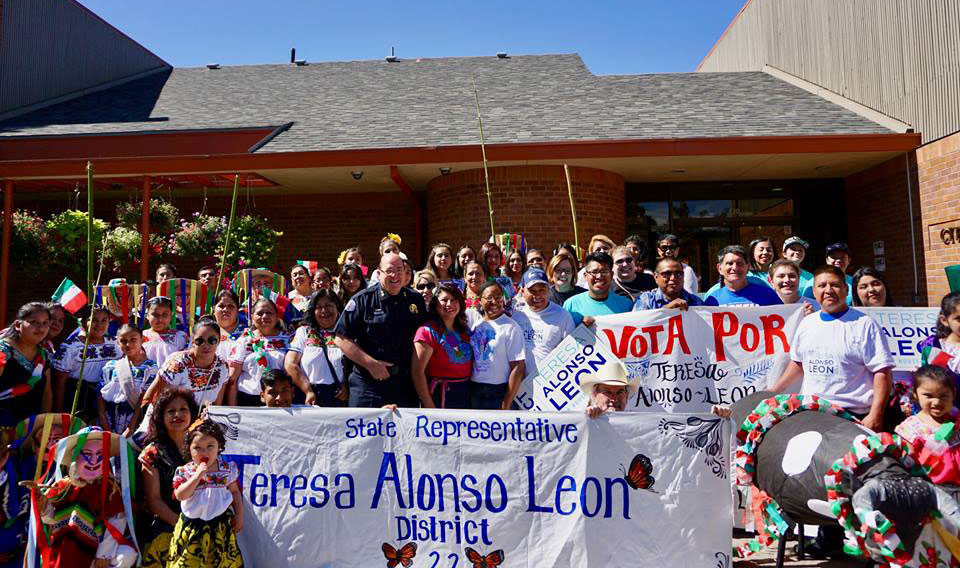 WOODBURN, Ore. – Teresa Alonso Leon became a United States citizen in 2012, and only a year later won appointment to the city council in this agricultural town of 26,000. She had achieved much by that point, having graduated from Western Oregon University and having earned a master's degree from Portland State, but even better things were about to happen.
Alonso Leon won a seat in the Oregon House in 2016, beating a long-time Republican politician and becoming the first immigrant Latina elected to the Oregon legislature. Her district is not a majority Democratic district so a special effort was required. Community solidarity and an alliance of labor, immigrant rights activists, local small businesspeople and others built that win and will be repeating it in November. Alonso Leon serves as vice chair of the House Higher Education and Workforce Development Committee and on the Health Care and Human Services Committee as well. She has prioritized education, healthcare, and civil rights as her leading issues.
The Trump win in 2016 has had a particularly bad effect on Willamette Valley towns like Woodburn where immigrant workers are employed in agriculture and in tree planting.
The Pineros y Campesinos Unidos del Noroeste (PCUN) union has been fighting for farmworkers since 1977, having come into existence in part in response to raids carried out by the Immigration and Naturalization Service. PCUN has made progress over the years in the form of winning some rights and protections for Oregon's farmworkers. The union helped by setting up Radio Movimiento (KPCN, 96.3 and on Facebook), helped win changes that boosted the success rate at Woodburn schools and helped elect  Alonso Leon and other progressives. But the Trump win has also caused many people to leave the region out of fear that they will be caught by ICE and deported. Woodburn experienced a notable loss of population and businesses when Trump won and ICE raids began.
PCUN and other organizations partnered to win so-called "sanctuary status" in Oregon in 1987. Oregon law effectively limits the use of state and local law enforcement resources to enforce federal immigration laws if a person's only offense is being in the U.S. without papers. The real strength of the law is that it has helped decrease racial profiling and has given immigrants needed protections in union organizing campaigns, in pursuing their educational and career goals and in meeting every-day needs like getting housing and purchasing a car.
Over the past two years, immigrant rights groups in Oregon have been successful in getting local inclusivity measures passed in many municipalities. A bill in Oregon designed to win driver's cards for undocumented people was defeated in 1988. The fight for the bill and PCUN's experience in local politics brought about the formation of Accion Politica PCUNista (APP), a group that has raised the level of political organizing and awareness in the Woodburn-Salem area.
APP helped win passage of a school bond levy in Salem recently and has been at the center of progressive political campaigns which build power for working-class people, particularly people of color.  The priority now is to defeat Ballot Measure 105, which aims to end Oregon's sanctuary status protections.
Oregon's immigrant rights, labor, and civil rights groups kicked off a joint campaign against Ballot Measure 105 on July 28. Causa Oregon kicked off the statewide campaign with mobilizations in strategically important cities. In Salem a multiracial and multigenerational activist crowd filled the offices of Latinos Unidos Siempre (LUS) for an orientation on the measure and decided to reach out to 105 local businesses and swap meets in the Salem, Keizer, and Woodburn areas with posters opposing Measure 105.
Causa, LUS, APP, the American Friends Service Committee/Portland Immigrant Rights Coalition, and the Mid-Willamette Valley Rapid Response Collective were at the center of the effort, with support coming from staff and leaders of the Salem-Keizer Education Association (SKEA) and SEIU Local 503 and from members of the Democratic Socialists of America, the Communist Party, and other organizations. LUS worked especially hard to bring young people of color into the effort. At the end of the day, more than 105 businesses had been contacted, and more than 50 local businesspeople had allowed anti-105 posters to be displayed in their businesses and had signed on to publicly support the campaign.
When PCUN and immigrant rights activists determined that the Woodburn-Salem area would be an important area for ICE raids they mobilized quickly. One part of this effort has been doing basic training with immigrant communities about their civil and legal rights and organizing people to resist ICE and support immigrants and all victims of racial profiling. Another part of this effort has been working to defeat anti-immigrant ballot measures, support pro-immigrant legislation, and elect leaders who support immigrant and human rights, prioritize education and human services, and fit into the labor and civil rights coalitions.
In addition to Teresa Alonso Leon, the list of progressive candidates in the Willamette Valley includes Deb Patterson, Shelaswau Crier and Mike Ellison. A third part of the mobilization effort has involved supporting Woodburn's immigrant-owned and immigrant-friendly businesses and raising the profile of the town with the incredibly successful annual Woodburn Fiesta.
This year's Fiesta had people-friendly politics on display. Alonso Leon's campaign partnered with the Shelaswau Crier, Bill Burgess, and Barry Shapiro campaigns in putting together a contingent to march near the front of the Fiesta parade. This contingent included music and traditional dancers and a beautifully decorated truck which won first prize. Members of APP, leaders and members of SKEA, community activists and leaders, and the lead staff person from Rep. Diego Hernandez's office all joined in.
Hernandez's advocacy for immigrant and labor rights and his call to abolish ICE have made him a hero in western Oregon's immigrant and working-class communities. Before the parade took off some local elected officials and Woodburn city police made a point of having their photos taken with Alonso Leon, a measure of changed power relations in Woodburn. The crowds lining the sidewalk were fully supportive of her and cheered as the contingent passed. Crier, Burgess, and Shapiro are not as well known in Woodburn, but the Fiesta parade helped change that.
The parade also included many traditional and folk dances and music, Mariachi bands, Mexican flags, classic cars, at least one local union, and supportive local businesses. The Fiesta became a show of Latinx unity and cultural resistance. Teresa Alonso Leon drove this point home when she joined her family in the traditional purépecha dance at the Fiesta.
Alonso Leon's opponent is a second-string Republican who sits on the Salem School Board and is known for her pro-gun advocacy.
Crier is a gifted policy analyst and legal scholar, African American, and a former university professor running for a seat on the Marion County Commission. She has a tough race because her Republican opponent has deep pockets and the support of the other commissioners. He also has a terrible record on labor and on workers' comp issues and cannot match Crier's expertise in key policy areas such as education and land use. Bill Burgess is also running for a seat on the County Commission. Burgess has a liberal and working-class background and years of experience as a public official. Barry Shapiro is running in the Oregon House of Representatives District 18 general election as a progressive Democrat. None of the Republican candidates marched in the Fiesta parade.