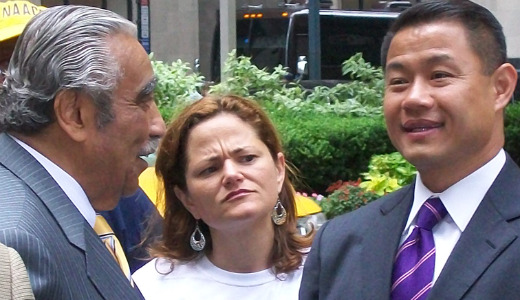 NEW YORK – Though this city's fiscal year 2011 budget, one of the most austerity-driven in recent memory, has just been completed and only came into effect July 1, a group of 12 City Council members is already preparing for the fight around next year's budget, which promises to be even more difficult.
While the council, along with the city's labor movement and other organizations, was able to stop some of Mayor Michael Bloomberg's most draconian proposals, the budget included some of the biggest cuts to city services ever enacted. But the council's new Progressive Caucus fought for revenue-enhancing measures that would have forced Wall Street and the rich to pay their fair share into the city's coffers, instead of balancing the deficit on the backs of working people as this year's budget does.
"We understood that we were probably not going to achieve that in this legislative session," Melissa Mark Viverito, co-chair of the caucus, told the People's World. But she said she and her colleagues would keep up the fight for next year, and vowed to keep the battle "ongoing by building up the pressure and to really continue keeping [the caucus's proposed revenue options] a central conversation point for this budget cycle. We really understand that the next budgeting cycle is going to be even worse than this one."
The caucus proposed, among other things, a small surcharge on residents who make over $250,000 per year, and another on those who earn more than $500,000 annually – an average of $1,000 extra per year in taxes for each person making more than a quarter of a million dollars. Of course, those on the lower end of that scale would pay far less. Also part of this proposal was the elimination of all city income taxes on people making $40,000 yearly or less. The caucus estimates that this tax plan would raise about a billion dollars annually.
Another proposal would place a fraction of a percent tax on each stock transfer that takes place in the city; potential revenues from this move could raise $1-2 billion.
During the run-up to the budget deadline, the Progressive Caucus put these ideas forward, and worked with labor, the NAACP, religious organizations and community groups to hold a huge march on City Hall demanding that Wall Street pay the city's deficit. Still, most realized that, given that many of the caucus's proposals required action from Albany, they weren't likely to be enacted in time for the budget deadline.
Even though the budget is settled, a number of issues that arose in the debate around it have not been settled. Bloomberg originally wanted to axe thousands of teachers, but the UFT, the teachers' union, was able to push Bloomberg to drop the plan. Now the mayor is withholding pay raises from teachers in ongoing contract negotiations.
"We want to keep the conversation going," Viverito said. "We want there to be a buzz," She said the Progressive Caucus wants the prospect of taxing the rich to be part of the conversation going into next year. "We want it to be something that the media talks about, asks questions about. We want that to be kind of common language and common discussion and that's what we're doing."
Photo: Councilmember Melissa Mark Viverito, co-chair of the Progressive Caucus, center, talks with Rep. Charles Rangel, left, and New York City Comptroller John Liu. (PW/Dan Margolis)