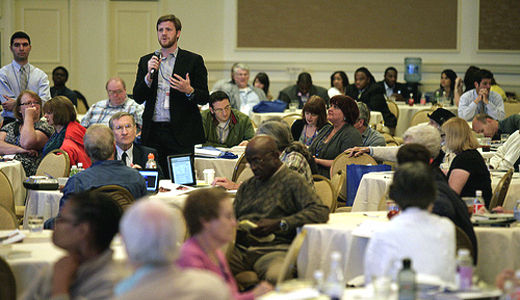 WASHINGTON – In the first 18 months of the Obama presidency, national health care reform was passed, SCHIP was expanded, the Lilly Ledbetter Fair Pay Act was passed, and the Recovery and Reinvestment Act created or saved millions of jobs. Additionally, millions of working families received tax relief and got tax credits towards the purchase of a new home or car, and the Credit Cardholders' Bill of Rights was passed. Furthermore, we are on the verge of passing the most sweeping financial reform legislation since the New Deal.
That's what many speakers said to the 1,000 progressives, union members and community activists at Campaign For America's Future conference, "America's Future Now!", June 7, in here in Washington, D.C.
Arlene Holt Baker, executive vice president of the AFL-CIO, pointed to the pro-people accomplishments of the Obama administration and progressive movement. At the conference, the "great debate" centers on the role of progressives in the Obama era.
In one of the many conference workshops Holt-Baker pointed out, "We need to have our finger on the pulse of the American people, of working people."
Political strategist Celinda Lake talked about the "mood of the public." She said, "People want a sense of direction. The recession has settled in on the state and local levels. Things are getting worse. Americans have their back against the wall."
According to Lake, "The public believes that big banks and corporations have benefitted from current policies. People are angry, and there is a very anti-corporate dimension to the anger."
However, she added, "Voters still want change, progressive change. They want someone to address their economic concerns."
"This is a very fluid moment," Karen Nussbaum told participants. "We have to compete with the right-wing message machine, especially at people's front-doors."
Nussbaum should know. Her organization, Working America, represents over 3 million people.
She said, "We have 25,000 conversations a week with people, 100,000 conversations a month, and 1 million conversations a year. We talk to people about solutions. They are open to alternatives, and they want to be part of an 'us' that has a different point of view."
Working America currently has active canvass programs in eight states, including Arkansas, Colorado, Minnesota, Nevada, New Mexico, Ohio, Oregon and Pennsylvania. Seventy percent of their members define themselves as moderate or conservative; 33 percent own guns; 33 percent are weekly churchgoers; and 82 percent are active voters. For Working America, educating and mobilizing middle-of-the road swing voters is central to long-term electoral success.
Nussbaum added, "If you don't struggle for the hearts and minds of working people, you lose."
With the mid-term elections just months away, it is more important than ever to begin to communicate directly with voters, she said.
Photo: Participants discuss progressive strategies in the Obama era at Campaign for America's Future's "America's Future Now!" conference, June 7, in Washington DC. (OurFuture.org/Flickr)