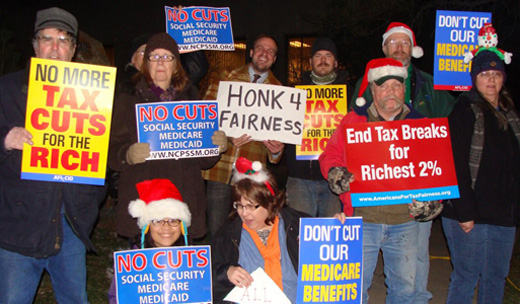 With less than two weeks until the Bush tax cuts die and harsh automatic cuts to the human safety net kick in, the GOP is insisting that there can me no "fiscal cliff" deal unless Democrats agree to cuts in Social Security, Medicare and Medicaid.
"They are holding the most vulnerable people in America hostage," declared Roger Hickey and Robert Borosage this morning in a statement they issued on behalf of the Campaign for America's Future. "There are two words to say to that: No deal."
As media reports about a "compromise" deal circulated this morning the nation's small business owners added their voices to the demand that lawmakers not cave to Republican demands.
Lawmakers received letters this morning signed by more than 2,000 small business owners telling them to "extend middle class tax cuts but let breaks for higher earners expire."
The letter said that more consumer demand, not lower budget deficits, is at the top of small business owners' wish list this holiday season. The letter asked lawmakers not to hold the middle class tax cuts hostage to cuts for those in the top two tax brackets, which include only three percent of small businesses and two percent of all Americans.
"I gladly signed the letter to let politicians know that the most important thing for my business right now is ensuring my customers have the means and the confidence to continue using my services," said Trish McCabe, owner of Feng Shui By Design in Winter Park, Fla. "Every small business owner I know makes most business decisions based on consumer demand. If that demand isn't there because our customers don't have as much spending power, that's going to hurt us all."
In a separate letter sent today to the White House, more than 75 small business owners from Western states urged protection of public lands during and after the fiscal cliff negotiations, "as these natural assets are essential to small business' financial success and that of local economies."
According to news reports today a budget deal is shaping up that includes ideas strongly opposed by labor and its allies. The deal floated in the press includes the "chained CPI," a backdoor method of actually cutting Social Security benefits for both current and future recipients.
The chained CPI cuts benefits 3.7 percent for the typical 75-year old, 6.5 percent for an 85 year old, and 9.2 percent for 95 year olds.
According to the Washington Post, the Obama administration, to break GOP intransigence, has put out to House Speaker John Boehner, a number of offers including limiting the tax hike on the rich to households earning more than $400,000, the chained CPI to reduce the cost of Social Security and an unspecified increase in overall spending cuts. In addition, the reports say, the administration's offer includes dropping its demand for the payroll tax cut extension. The same report says the administration is not yielding on its insistence upon $80 billion in new spending on infrastructure and unemployment benefits.
Boehner and top Republicans have quickly rejected, at least publically, even those compromises. Boehner is demanding a one-to-one ratio between tax hikes and spending cuts, and Republicans argue that the latest proposal from Obama doesn't meet that demand, partly due to the president's insistence upon new infrastructure spending and an extension of unemployment benefits.
Boehner told his conference today that he will move to a "Plan B" on the fiscal cliff that would involve the House voting on legislation to extend the tax rates on all income below $1 million, allowing rates on people making more than one million to go from 35 percent to 39.6 percent.
Progressives are not at all happy with any plan that cuts Social Security, Medicare or Medicaid benefits.
"This is not America's deal," wrote OurFuture.org's Richard Eskrow, this morning, in response to the press reports of compromises floated by the administration. "Our leaders in Washington heard from the voters last month. They may need to hear from them again."
Justin Ruben, speaking for MoveOn.org, said his organization will encourage Democrats to block any such bargain. "If such a deal were proposed by the president and the speaker, MoveOn members would expect every Senate and House Democrat to do everything in their power to block it," Ruben said.
Pulitzer Prize-winning economist Paul Krugman stopped short of completely nixing a deal that included changing the way cost of living adjustments are made to Social Security.
Those changes are not "nearly as bad as raising the Medicare age, for two reasons," he said. "The structure of the program (Social Security) remains intact, and unlike the Medicare thing, they wouldn't be totally devastating for hundreds of thousands of people, just somewhat painful for a much larger group.
"Oh, and raising the Medicare age would kill people," he said. "This benefit cut (the chained CPI), not so much. But is this rumored deal better than no deal? I'm on the edge."
Another cut to Medicare being trial ballooned by Republicans includes "means testing" whereby higher-income seniors would pay more for the program.
"Higher income workers already pay more for Medicare," said Jackie Tortora, speaking for the AFL-CIO. "Medicare Part B has been means tested since 2007."
"Additional means testing would undermine the social insurance nature of Medicare and ultimately raise costs for middle-income seniors who depend on it," said the National Committee to Preserve Social Security and Medicare, in a statement recently. "If means-testing results in Medicare become increasingly unfair to higher-income beneficiaries, they may opt out and purchase their own policy on the private market. The departure of higher-income beneficiaries, who tend to be younger and healthier, would increase overall costs and reduce public support for the program."
Photo: National Committee volunteers gather in Billings, Montana in front of Senator Jon Tester and Senator Max Baucus' offices to show support for Social Security, Medicare, and Medicaid. Facebook page.