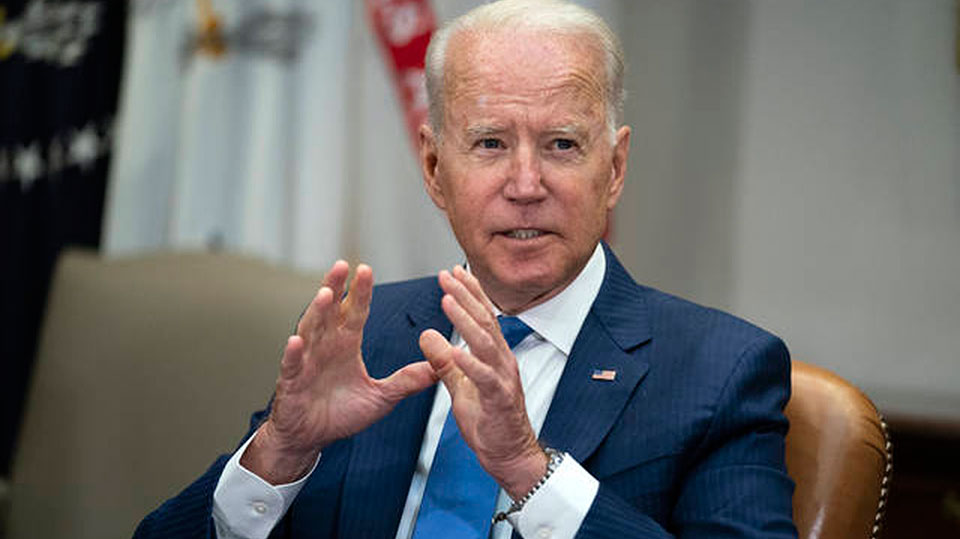 WASHINGTON—The Democratic-run U.S. House may have passed a major voting rights bill on a party-line vote, but progressive groups aren't letting Democratic President Joe Biden off the hook.
Instead, they tramped to Lafayette Park, just in front of the White House, on August 25 to demand he force voter protection and voting rights expansion through a balky evenly split U.S. Senate.
Marshaled by People for the American Way, the NAACP, and the League of Women Voters, several hundred people gathered in the newly reopened park to declare "STEP UP JOE," in a large sign made of big single letters.
The issue is particularly important to workers, women, voters of color, young voters, and people with disabilities. Right-wing Republicans, most of them white nationalists, and backed by corporate interests, have filed more than 400 voter suppression bills in 48 states and approved repressive laws in 15.
Texas, the second-most populous state, which is on its way to becoming #16—piling even more restrictions on those it already had—is a particularly hideous example.
The white GOP majority and white right-wing GOP Gov. Greg Abbott are imposing their repression on an electorate that is 39.7% Latino/Latina, 12.9% Black, and 41% white only.
But the crowd in front of the White House worried about the whole U.S., not just Texas.
"Our democracy is in crisis," declared League of Women Voters CEO Virginia Kase Solomon. "Voters are under an attack like we haven't seen since the days of Jim Crow.
"President Biden guaranteed to make voting rights a priority but we have yet to see him use the full power of the executive branch" to turn that into a reality, she added.
"We have pleaded. We have asked politely. And we have received no joy" from the Oval Office, NAACP President Ben Jealous declared, before announcing leaders of the demonstration would undertake peaceful civil disobedience at its end. After denouncing "corrupt politicians" in Texas, Georgia and Arizona in particular "who give it (office) to themselves," he too challenged Biden.
"Joe, you sounded the alarm. Now answer it. What Jim Crow taught us is that the only answer to state-level voter repression laws is federal-level voting rights law."
That meant House passage of the John Lewis Voting Rights Advancement Act, HR4, which lawmakers there achieved the evening of the demonstration on a 219-212 party line vote. All Democrats voted for it, and all Republicans voted against it (see separate story).
But it also means getting the measure through the evenly split Senate, over unanimous Republican opposition, prepared to talk the measure to death via a filibuster. That's where Biden comes into the picture, Solomon explained.
Want him to use his influence
As a senator for 36 years, and a former chair of the Judiciary Committee, Biden not only knows how the Senate works but has special influence there, she said. He also has a long and strong track record of shepherding civil rights bills through.
Now it's time for Biden to do it again, Solomon said, even if, to do so, he must convince Senate Democrats to eliminate the filibuster, the onerous rule which lets a minority of 41 senators block anything. In the past Southern white racists and nationalists used it to block civil rights legislation.
Now, Southern white Republicans, marshaled by GOP leader Mitch McConnell, R-Ky., use the filibuster to block civil rights and voting rights bills, and plan to use it to block the Lewis Act.
That measure would restore federal or judicial "preclearance" of all voting legislation—repressive or otherwise—in states, cities, and local governments with histories of voter discrimination.
If Republicans "removed the filibuster as an obstacle to packing the Supreme Court with far-right conservatives, then Joe Biden can remove it to protect our democracy," Jealous declared.
What the crowd did not mention, but assumed, is that Biden could use his Senate expertise and familiarity to swing away from it the two recalcitrant Democrats, Kyrsten Sinema of Arizona and Joe Manchin of West Virginia, who still support the filibuster.
Jealous did have one good piece of news for the crowd, even before that evening's House vote: That morning, North Carolina Supreme Court Judges threw out a state law barring past felons who had served their sentences from once again registering to vote.
The state elections board promptly said it would start registering them. The ruling aids an estimated 56,000 people, many if not most, voters of color in a state whose white GOP legislative majority, several years ago, passed a voter repression law in 45 minutes.