"It ain't how hard you hit…It's how hard you can get hit and keeping moving forward." – Rocky Balboa
It was supposed to be UFC Fight Night 128 in Atlantic City between Leslie Smith and Aspen Ladd April 21. But something happened. Smith's opponent came in weighing 1.8 pounds over the 135-pound limit for UFC Women's Bantamweight.
"I apologize to my opponent Leslie Smith, the fans, and the UFC," wrote Ladd on Instagram. "I missed weight by 1.8 lbs due to certain female circumstances. Regardless, it's not an excuse, we consulted with the doctor and a decision was made not to continue cutting weight."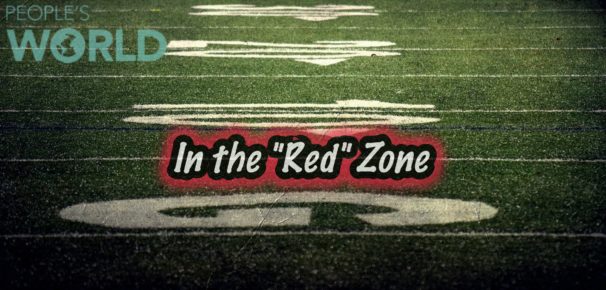 With officials canceling the bout, Smith, who was on a two-fight winning streak and ranked a top-10 fighter, proposed to still take the fight if the UFC extended her contract deal. The UFC said: "No deal."
They opted to pay Smith both her show and win money—ending the contract without offering a new one or even entertaining the idea of entering into negotiations.
After becoming a vocal UFC fighters' union advocate and interim president of Project Spearhead, the fighters union co-founded with Al Laquinta and Kajan Johnson, Smith knew that retaliation by the UFC for union activity was possible.
"It's my opinion that what the UFC did was illegal," Smith told People's World. "Because they have created a situation where it encourages a climate of fear where the other people in the UFC on the roster are going to be fearful of publicly organizing and standing up for their rights.
"By creating a climate of fear, that violates federal law," she said. "That's the whole point of the National Labor Relations Board and the laws that are in there."
Current federal labor law prohibits employers from interfering with workers who exercise their rights to form, join, or assist labor organizations from collectively bargaining or from working together to improve terms and conditions of employment.
Project Spearhead is working to do just that: improve working conditions for fighters and give them an equal voice at the bargaining table.
What makes this interesting is that the UFC generally does not always give fighters show money and win bonuses if they do not compete—especially when that decision lies solely with the fighter. It's also strange that the UFC considered Smith's payout money was a contract buy-out, too.
"I am surprised," Smith said of the UFC parting ways with her. "I think that it opens up an examination of how they feel about my activities in organizing the fighters recently. I think with this unusual behavior, we have to ask what are the circumstances leading to this?"
Smith said she could not take the fight after the UFC offered her $62,000 total because it would "go against everything she has talked about as a labor leader."
The fight now goes from the octagon to the courtroom, as Project Spearhead and Smith are taking legal action against the UFC for illegal retaliation for union activity. New York labor attorney Lucas Middlebrook, counsel for Project Spearhead, will be working with her on the unfair labor practice case.
A win for Smith and Project Spearhead could lead the labor board determining that UFC fighters are direct employees not independent contractors.
"I guess in a way I was almost hoping that Project Spearhead would be significant enough for them to be a little bit worried about it," Smith said. "But then the fact that they did this unprecedented thing, where they bought out my contract so that I wouldn't be around anymore, kind of shows that they do think Project Spearhead is pretty significant."
Despite not being able to officially join the union because she's no longer a UFC fighter, Smith is still "100 percent" behind Project Spearhead's union push.
"The important thing now is to make it so that other fighters don't have to take the fall," Smith said. "They don't have to do anything publicly in order to protect themselves right now. All they have to do is sign authorization cards. That's it. Nobody will ever know. The National Labor Relations Board will never release their names."
Deadline for filing union cards with the board for an election is February 12, 2019.
If you would like to support Leslie Smith and Project Spearhead in their fight against the UFC please click here for their GoFundMe page.