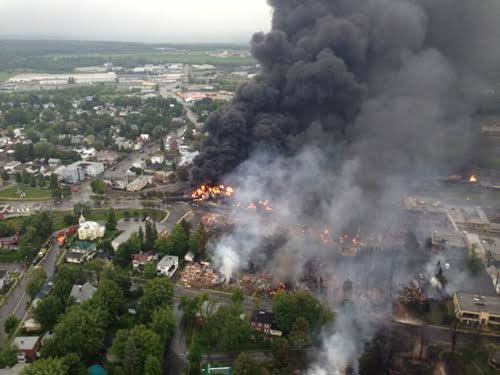 LAC-MÉGANTIC, Quebec (PAI) – A settlement with actual and economic victims of a fiery oil train crash in downtown Lac-Mégantic, Quebec, two and a half years ago still leaves the train's engineer and dispatcher, both Steelworkers, facing trial.
That's because several of the higher-up entities responsible for the conditions that led to the crash have escaped prosecution, for one reason or another, their supporters point out.
The settlement, announced Dec. 22 by Robert Keach, the bankruptcy trustee for the now-defunct Montreal, Maine & Atlantic Railway, will give $460 million (Canadian) to families of 41 of the dead and to economic victims of the crash. The families get one-fourth of the total, and $460 million Canadian is $330 million in U.S. dollars.
The disaster occurred when, while engineer Tom Harding was off the parked train, it broke loose, headed downhill, jumped the tracks, crashed, exploded, burned and virtually destroyed downtown Lac-Mégantic. The disaster killed 47 and ruined businesses in downtown.
The Lac-Mégantic oil train crash and explosion brought public prominence to the danger of heavily loaded oil trains passing through cities and towns around North America, and led to anti-oil train protests by Railway Workers United and allied environmental groups https://www.peoplesworld.org/environmentalists-railroad-workers-protest-oil-trains/ . RWU is a coalition of rank-and-file union train workers, including Teamsters and Smart-UTU members.
"We are very pleased we will be able to fund the trust before the holidays, and that distributions will reach the families as soon as possible next year," Keach said. Some 24 companies, including the MM&A, oil companies and other railroads, will fund the payments.
But that still leaves Harding facing 47 counts of criminal endangerment causing death. If convicted, he faces life in prison. Also facing trial, set for April, on the same counts are dispatcher Richard Labrie and former MM&A manager of train operations Jean DeMaitre. Harding and Labrie are members of Steelworkers Canada. All three have pleaded not guilty.
Four other former MM&A employees pleaded not guilty in November to violating Canada's Railway Safety Act and the Fisheries Act. If convicted, they face a $50,000 fine, six months in jail, or both. Former MM&A President Robert Grindrod is one of the four.
Higher-up officials, responsible for the policy that left only Harding working the train, were omitted. That drew the ire of supporters of the workers, and of his union, Steelworkers Local 1976.
Métallo (Steelworker), the magazine for USW District 5, which includes Harding's local, said the Canadian federal government bears responsibility for the Lac-Mégantic disaster by letting freight trains run with 1-person crews and not enforcing safety laws and measures.
"Adding insult to injury," its article said, the government is trying to lay the blame on "two ordinary workers, members of USW Local 1976, who face serious criminal charges."
Photo: Police helicopter view of Lac-Mégantic, the day of the derailment. Sûreté du Québec, CC1.0