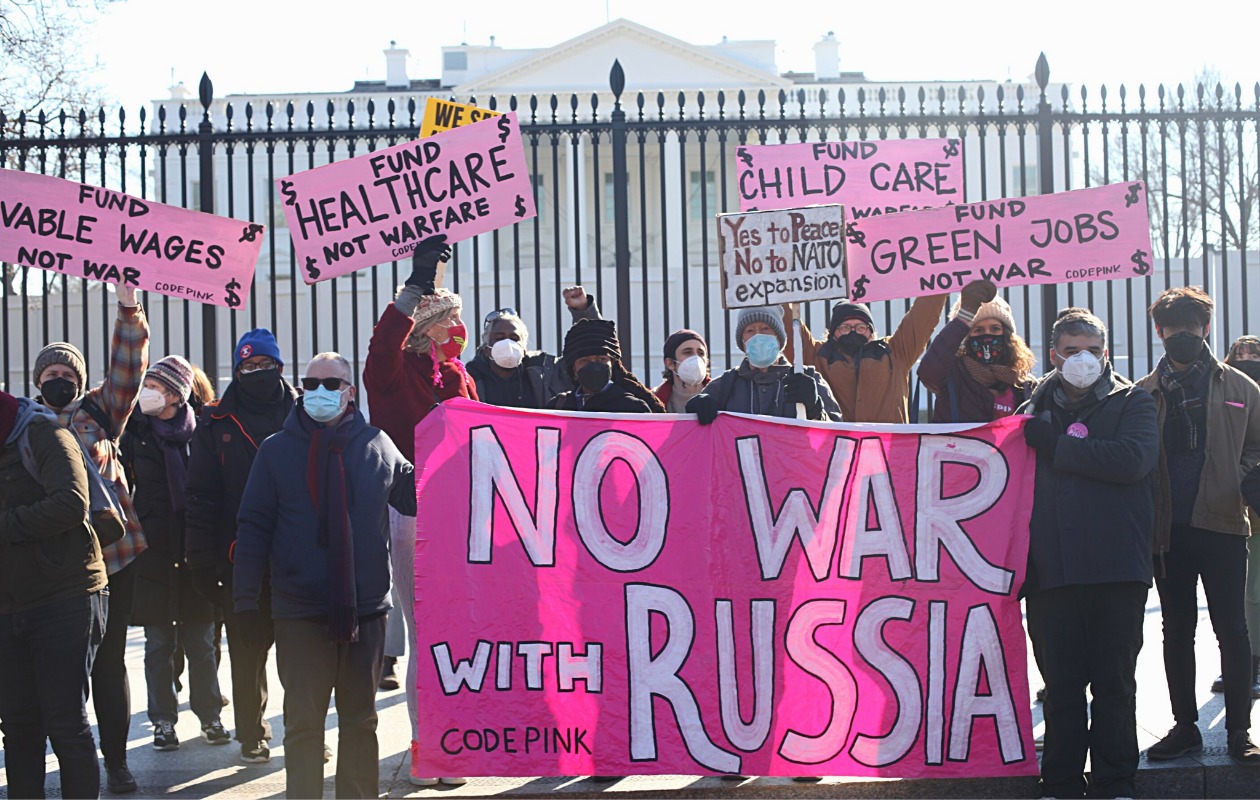 WASHINGTON—U.S. imperialism and the greed of military contractors are behind the rising tensions between the Biden administration and Russia over Ukraine, leaders of some 100-plus protesters in front of the White House, in the frigid cold, said on Jan. 28.
"The majority of the American people do not want war," declared Olivia DiNucci of CODEPINK, the anti-war group which organized the demonstration. She said conversations she has had with people in many states, coast to coast, confirm that assessment.
War spending "disproportionately harms Black, brown, and low-income workers," added DiNucci. Meanwhile, she said, a prime military contractor, Raytheon, "is already telling its stockholders this'll be a banner year.
"Do not let Raytheon make a killing off killing."
The protest was the first of what CODEPINK says will be a series of events in D.C. and nationwide.
Holding a handmade sign at the White House protest that read, "No to war, no to barbarism. Socialism is better," Candace Wolf explained, "capitalism and imperialism need war to push their agenda."
The point of the protest is to jumpstart the U.S. peace movement and try to stop what seems to be an inexorable march by President Joe Biden, the hawks in his administration, and both parties in Congress towards confrontation and ultimate war with Russia over Ukraine.
It also came as the U.S. rejected Russian proposals to defuse the confrontation, led by requiring Ukraine to stay neutral and not try to join either NATO or the European Union.
Unfortunately, the long-time reasonable Russian demand that NATO cease its expansion to the east and not swallow up Ukraine and place offensive weapons in that country right along its border has been ignored for years. The U.S.-led NATO alliance only began paying attention after Russia placed troops on its border with Ukraine last April. Those troops were placed on Russia's own territory, where they have remained since.
Some progressive lawmakers have begun to speak out against pro-war moves in Congress that involve bills in the Senate and the House approving additional money and offensive weapons for Ukraine.
Whether Biden will pay attention is another matter. "Have we not learned from Afghanistan and Iraq?" DiNucci asked.
Reps. Barbara Lee, D-Calif., and Pramilya Jayapal, D-Wash., both said, in a joint statement, that they oppose any new deployments of weapons to the region. Such actions will only raise tensions and increase the possibilities of a miscalculation that can lead to war, they said.
"We have to make sure we don't escalate tensions," Jayapal added when speaking on television Friday morning. "We are endangering the negotiation which we should let play out when we approve these additional troop deployments," she said. "Let's not rush into another war," she declared.
Jayapal also said she opposed threatening Russia with sanctions. "Sanction threats now also endanger negotiations and can lead to a war that we don't want," she said, adding that "in any case, sanctions hurt the people of countries involved much more than they hurt leaders."
She took aim at legislators willing to vote for sending in troops "without really knowing what is going on. Military action can always be taken quickly," she said, "but should never be taken before we give diplomacy and negotiations time to work."
Her assessments have played out on the ground. Negotiations are taking time. Two days ago, the Biden administration said it was making new proposals to Moscow, but the Russians have responded that the U.S. proposals don't address the key concern that Ukraine cannot become part of NATO.
In addition, the Russians want U.S. and NATO troops out of the Baltic and other states that were part of the old Soviet Union. Negotiations continue even as the U.S. makes a steady series of announcements about sending additional troops to Eastern Europe and continues to threaten Russia with sanctions. Russia, meanwhile, says it will never be the one to start a war by invading Ukraine, leaving open, however, its right to respond to any "provocations." It's all indicative of the danger Jayapal and Lee warn about.
In Ukraine itself, meanwhile, the government has played down the crisis, saying there are no special signs that Russia is about to invade. Reports from journalists on the ground indicate that Ukrainian people themselves seem to be going about their business as usual, not preparing for any imminent attack.
Endangering negotiations and the peace, Biden has moved 8,500 troops from Western Europe eastwards to near the Ukrainian border, in addition to U.S. troops already in the right-wing-led country. He also plans to move as many as 50,000 more soldiers to Eastern Europe.
Biden and his team declare Russia to be an immediate threat to Ukraine, even though some U.S. allies in Europe are more reticent and Ukrainian officials themselves are split between hawks clamoring for aid—such as the nation's ambassador to the U.S.—and others saying the situation is relatively calm.
The D.C. protest was punctuated by frequent chants of "No war with Russia! Disband NATO!" referring to the U.S.-led alliance of 27 nations, some of them once Warsaw Pact allies of the former Soviet Union. As far as the protesters were concerned, NATO is now a front for U.S. militarism.
Hand-drawn signs, besides Wolf's, played on the same theme of preventing a shooting war in Ukraine, which, as several speakers said, could pit the world's two most heavily armed nuclear nations, the U.S. and Russia, against each other and produce a calamity.
"Yes to Peace, No to NATO Expansion," read CODEPINK's big pink and black banner, hung on the White House fence. "Fund child care, not warfare," said a smaller CODEPINK sign. "Fund livable wages, not wars," another added. "Negotiate, don't escalate," said a third.
But it isn't just Ukraine, several speakers emphasized. "This is business as usual" for imperialists, elites, military contractors, Democrats, Republicans, and the mainstream media which go along with their line, said Rafiki Morris of the Black Alliance for Peace.
"They've been mad at anyone who said 'We have the right to govern ourselves.'"
Others traced the history of U.S. intervention in Libya, Syria, Africa, the Middle East, Iraq, and Afghanistan.
In addition to fingering the corporate interests behind the escalation, speakers repeatedly demanded the diversion of military spending to domestic needs. Several repeated the point that since the al-Qaeda attacks on New York and Washington on Sept. 11, 2001, some $21 trillion in taxpayer dollars have been pumped into the Pentagon.
"We should rethink 'national security,'" CODEPINK's DiNucci concluded. "I've talked with thousands of people, and they've said livable wages, affordable housing, and green jobs" is real national security. And they add the greatest threat to security "is the climate crisis."
C.J. Atkins contributed to this story.