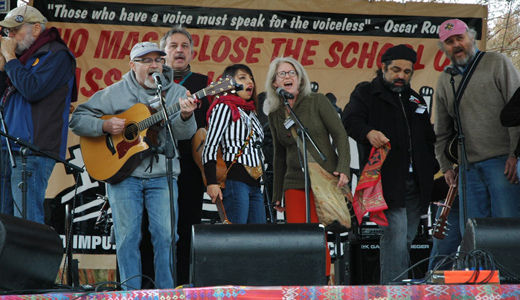 FORT BENNING, Ga. – The year 2014 marks the 25th anniversary of the murder of a 16-year-old girl, her mother, and six Jesuit priests by School of the Americas (SOA) trained soldiers in 1989 at the University of Central America. An annual demonstration, this year Nov. 21-23, has taken place at the gates of Fort Benning in Columbus, Ga since 1990.
Peace activists, trade union allies, immigrant rights advocates and other human rights activists converge to demand justice for those killed by graduates of the SOA (renamed Western Hemisphere Institute for Security Cooperation in 2001) and call to shut down the Stewart Detention Center, a private prison used to hold undocumented immigrants in rural Southwest Lumpkin, Georgia.
Stewart has the highest deportation rate (98.5 percent) in the country. Stewart Detention Center is operated by Corrections Corporation of America (CCA), the country's biggest private, for-profit prison corporation.
Saturday, Nov. 22 began in Lumpkin with a three-part vigil with speakers and musicians. After a nearly two-mile march, the vigil finished at the entrance to the Stewart Detention Center with participants hearing stories of those who have been directly impacted by U.S. immigration policy, followed by more live music. Speakers emphasized the connection between militarized U.S. foreign policy, forced migration and the U.S. immigrant prison system.
Participants then made their way to Columbus, Georgia and the gates of Fort Benning. Upon arriving at Fort Benning early Saturday afternoon, activists proceeded to walk to the gates of the base. The procession of about 1,000 included street theater, giant parade puppets, and musicians and ended at the stage set at the gates of the base. The day ended with live music and workshops at a nearby convention center.
People participating in the demonstration, many carrying white crosses bearing the names of victims, said they wanted to show their contempt for a system that trains professional killers who think nothing of trampling on the rights of both Americans at home and people overseas. Many were aware that protesters overseas, doing nothing more radical than the ones demonstrating in Fort Benning, have paid with their lives.
Photo: A music session takes place at the School of the Americas training center. Earchiel Johnson/PW