OAKLAND, Calif.—Among protesters who joined the 30-some demonstrations across the U.S. on June 1, opposing the Trump administration's recently announced policy of forcibly separating immigrant children from their parents at the border, were hundreds who gathered in front of the offices of Alameda County Sheriff Greg Ahern in downtown Oakland.
The choice of location was no accident: Immigrant rights activists have long claimed that Urban Shield—the police anti-terrorist attack training program Ahern started in 2007—has also been a venue for training law enforcement personnel to aid Immigration and Customs Enforcement (ICE) agents in anti-immigrant raids. (Following widespread and repeated protests, the Alameda County Board of Supervisors voted earlier this spring that Urban Shield's operations must be thoroughly revamped starting next year.)
Among speakers who addressed the crowd in both Spanish and English was Lourdes Barraza, Immigrant Defense Organizer with Mujeres Unidas y Activas, a San Francisco Bay Area organization building community power for social and economic justice. Barraza knows first-hand the wrenching effects of family separation—her husband, Fernando Carrillo, was detained for six months until the broad coalition Barraza led won his release early in April.
"We are here to demand that this administration stop separating families … they have to stop tearing children away from their parents, parents away from their children," Barraza told the crowd. "So now we are here in front of the Alameda County Sheriff's office because of their complicity in the detentions and deportations aggravating family separations and escalating the pain in our immigrant communities."
Poignantly bringing to life the family's pain over her father's detention was Barraza's teenage daughter, Isabela Carrillo. "Being so close and yet so far from a family member is the hardest," she said. "Seeing them locked up and not being able to touch them, seeing them sad and knowing there's nothing you can do at all," she said. Desperation and fear take over, she said, "until you realize you're not alone." Organizations like Mujeres Unidas y Activas and the others joining in the demonstration "make you feel like you have a whole army standing behind you and helping to reunite your family."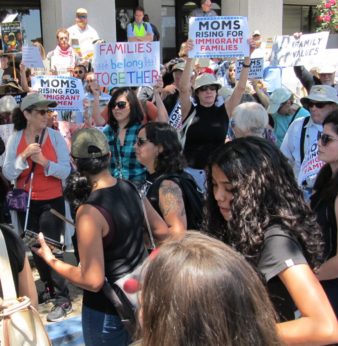 The devastating way the Department of Homeland Security is enforcing family separation was highlighted by Xochitl Oseguera of Moms Rising!, who cited the Department of Homeland Security's recent testimony to Congress that 658 children had been torn away from their parents in just 13 days. "I want to make this very clear," she said. "Separating families is inhumane and does not keep people safer. Instead, it's costly, it creates extreme trauma for children, it's unnecessary and it's cruel."
Lucas Solorzano of Causa Justa/Just Cause—a Bay Area organization linking working-class communities to fight for social and economic justice—said his organization is working to build sanctuary neighborhoods "so we can defend our neighborhoods block by block."
Another perspective was offered by Tammy Lee, of Hand in Hand, which focuses on "dignified and respectful" working conditions for domestic workers, many of whom are immigrants. The daughter of Korean immigrants, Lee said that as a mother, she is troubled each school day as "our kids put their hands over their hearts, saying 'liberty and justice for all' while immigrants they know and love are targeted with hate and fear. We know all too well it's in the child's and everybody's interest to keep families together."
Also addressing the crowd were Rabbi Dev Noily of the Kehilla Community Synagogue in neighboring Piedmont, who pledged her congregation's support for the fightback against separation, and Malena Mayorga of Alameda County Immigrant Legal and Education Partnership, who urged participants to take down, and use if necessary, ACILEP's hotline for immigration-related emergencies.
The State of California, Alameda County, and the City of Oakland have all declared themselves "sanctuary" jurisdictions, as have many other California communities.