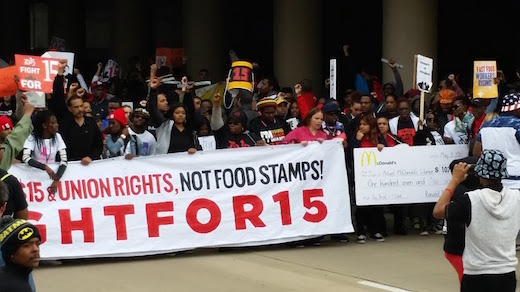 OAK BROOK, Ill. – Surrounded by corporate office buildings, high-end shopping malls and major expressways, fast food workers from around the country marched to McDonald's headquarters here May 20 demanding $15 an hour and a union. The colorful banners, boisterous marchers and festive atmosphere livened up the sterile and austere setting. Police on bicycles lined the wide suburban street as workers, ministers and community activists chanted "$15! $15!" Two helicopters hovered over the warren of parking lots, plazas and malls as security guards made sure private property was not breached.
One bus of Chicago marchers, which had at least a dozen senior citizens on board, discharged its passengers in front of the headquarters of Hub Group, a multi-billion-dollar transportation management company, only to be met by red-faced executives barking at the racially diverse group of riders to get back on the bus. "This is private property!!!" one man bellowed. "You cannot be here." Pointing to one of his colleagues yelling at another group of bus riders, he said, "You know who that is? It's the CEO's son!"
One could not help but think, "Welcome to the class struggle in the 21st century."
For all the attempted intimidation, the demonstrators answered with a single-minded determination to send a message to McDonald's on the eve of its stockholders meeting: People are fed up with poverty wages.
Besides nearby Chicago, buses and participants came from across the country, including Pittsburgh, Pa., St. Louis, and Kansas City, Mo., Madison and Milwaukee, Wis., Minnesota New York and North Carolina.
Andrew McConnell, 33, a McDonald's drive-thru cashier in Kansas City, Kansas, has eight children and works more than one job. He said they live week-to-week. "It's very, very difficult," he said. "You have to find what you are going to do one week versus what you are going to do another week. You can't ever get it all done at the same time and that's part of the problem."
McConnell challenged the idea that paying $15 an hour would raise food prices. He pointed to the fast food giant's profits, which are more than $1 billion per year. He said, "They don't have to raise the price of food to give the workers what they owe us," adding that "every year the price of food goes up anyway."
Another corporate argument is that if they raise wages to $15 it will push teenagers out of the job market. But McConnell noted, "There are 35 million low wage workers in America and not all of them are teenagers. The majority of them are over the age of 27. [We] can't go find better jobs. We have to make the jobs we have better jobs." A 2012 Economic Policy Institute study backed up McConnell's numbers: 26 percent of the U.S. workforce (35 million) earn less than $10.55 an hour.
That sobering fact contrasts with another hair-raising statistic: The annual income of the 400 wealthiest individuals in the United States is equivalent to $97,000 an hour, according to billionaire Warren Buffett. In a New York Times article that makes the case for taxing the rich at higher rates, Buffett wrote that this "group's average income in 2009 was $202 million – which works out to a 'wage' of $97,000 per hour, based on a 40-hour workweek."
As the march turned down McDonald's Drive for a rally in front of the hamburger giant's corporate offices, the Rev. William Barber, architect of the Moral Monday Movement in North Carolina, marched behind the lead banner which read, "McDonald's: $15 and union rights, not food stamps #FightFor15."
Income inequality is a "deeply moral" issue, he said. Low-wage workers should be able to "enjoy the fruits of their labor."
These workers are "changing the conversation from minimum wage to living wage," Barber said. "This movement can penetrate systemic racial and economic injustice."
Barber compared the fight for higher wages and a union to other transformative movements in U.S. history. "These young people are as important as SNCC [Student Nonviolent Coordinating Committee], this movement is as important as the abolitionists," he said. Along with winning essentials like jobs and health care, winning $15 an hour and union rights would be a "third Reconstruction," he added.
The Fight for 15 campaign announced Thursday that McDonald's workers had delivered 1.4 million petition signatures to the company's annual shareholder meeting calling for $15 an hour and union rights. In addition, four major public pension fund officials urged the company to curb "buybacks," a recent and widespread corporate practice of distributing profits among shareholders instead of investing in the company's long-term growth and improved wages for employees. McDonald's is also under U.S. government and global scrutiny for a variety of violations, including tax evasion and abusive labor practices, the campaign said.
Photo: Earchiel Johnson/PW