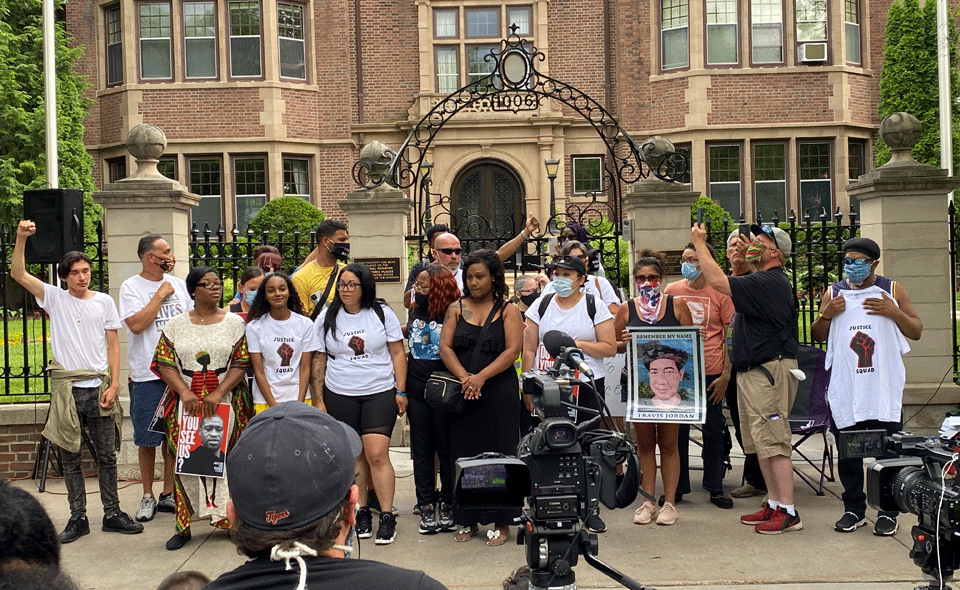 MINNEAPOLIS — Daily protests continued in the Twin Cities last week to keep the pressure on state and city officials and lawmakers to act to stop police violence.
Family members whose loved ones were killed by police officers gathered outside the residence of Minnesota Gov. Tim Walz, June 24. An estimated 2,000 protesters joined them to demand the legislature reconvene after officials failed to pass any legislative demands for police reform.
The Republican-controlled senate chose to adjourn, instead of considering bills passed by the House, where the Democratic-Farmer-Labor Party is in the majority.
To legislators and the governor, protesters shouted, "Do your job!"
During the protest, members of a dozen families who lost loved ones described their grief and anger. Not one officer was indicted in those deaths. In the wake of the rebellion after the murder of George Floyd, they are raising the demand that their cases be reopened.
Family members wore t-shirts naming themselves the Justice Squad, which they also wore during lobbying at the legislature.
They are demanding changes in state laws, including a state ban on choke holds, creating robust police oversight councils with subpoena power and stronger language requiring officers to intercede when another officer is using excessive force.
An all-too-typical case is that of Travis Jordan, 36, who was killed by Minneapolis police officers in November 2018. A friend, Paul Johnson, related the events that ended with Jordan being killed outside Johnson's home. Jordan suffered with mental illness and was having an "episode," as Johnson described it. Two MPD officers arrived and immediately pulled their guns, standing some 20 feet away from the front door of Johnson's home.
The officers repeatedly demanded Travis come outside. They also knew he was holding a knife, said Johnson, "so why were they demanding he come outside?" Johnson asked. "They also knew he was alone in my house where he couldn't hurt anyone."
Johnson said the officers' actions exacerbated a situation involving an already anxious, distraught person. A friend who made the 911 call told the operator that Jordan was suffering a breakdown and may be suicidal. Yet, according to the 911 transcript, when asked, the caller said that Jordan was not a danger to anyone else.
Officers continued to demand Travis step out of the house. At one point, he stepped out, shouting, "Let's do this," as heard on the body camera footage released after the investigation—an investigation that ended with no indictments. Officers shot him dead just a few steps from the front door. "Why did they not use a taser?" Johnson asked.
The City of Minneapolis use of force ordinance reads in part, "MPD employees shall only use the amount of force that is objectively reasonable in light of the facts and circumstances…." Yet, in this case deadly force was the first choice.
State law, which Minneapolis adheres to in this ordinance, is sufficiently vague on the use of deadly force. It is often cited as a reason for not indicting an officer. It reads as follows: "The amount and type of force that would be considered rational and logical to an 'objective' officer on the scene, supported by facts and circumstances known to an officer at the time force was used."
This language and numerous precedents have allowed officers to use deadly force if a person has a knife, a rock or a metal bar. In recent years two people were killed by police who possessed the latter two. Both killings were deemed justified use of deadly force, even though, as in Jordan's case, officers were a considerable distance from the individual.
Sumaya Aden represented her family, whose brother, Isak Aden, 23, was killed by police on July 2, 2019, in Eagan, Minnesota, a suburb of the Twin Cities. Sumaya dropped out of college shortly after her brother's death to fight for justice.
In decrying the lack of action by state and local officials, she said, "This is all politics and they are playing politics with our lives."
Sumaya pointed to Minnesota Attorney General, Keith Ellison, as one among many "playing politics." She recalled that when Ellison was running for attorney general in 2018 he visited Somalian mosques, including her family's, where he took a photo with her brothers. "He went around asking for our votes and got our votes. And now my brother who he took a picture with is dead." Ellison "hasn't done a thing about it," she said.
Dakota County Attorney James Backstrom, whose office was the investigating agency, declined to indict any of the five officers involved. "It is our conclusion that it was objectively reasonable for these five police officers to subjectively believe that Aden posed a deadly threat to other officers at the scene," according to the statement issued by his office in November 2019.
The squad car and body camera footage was released shortly after and was reviewed by Ellison along with John Harrington, the Commissioner of Minnesota Department of Public Safety. Afterward, Sumaya said, Ellison called her family to say, "I am sorry there is no way this should have been justified."
"I am sorry is not bringing my brother back, it's not putting his killers behind bars, not helping my family grieve," she told the protesters gathered. Aden's family is demanding the case be reopened and put in the hands of an independent prosecutor. To press their case, the family and supporters are holding a protest in Eagan on July 1, Somalia Independence Day, and a day before the one-year anniversary of his murder.