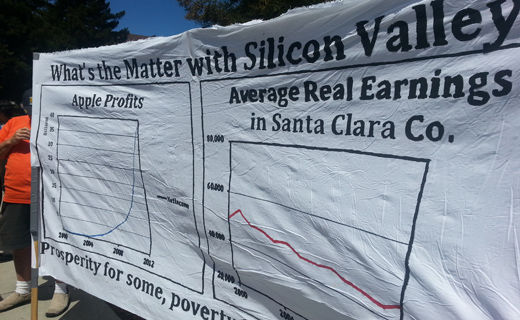 CUPERTINO, Calif. – "Hey hey, ho ho, union busting's got to go" rang out across the Apple "campus" here June 23. Union and community activists called on the iconic computer and smartphone manufacturer to push for fair treatment of security workers by subcontractor Security Industry Specialists (SIS), based in Culver City. Apple, along with Google, eBay, and other leading tech firms have contracted out their security services to SIS.
Apple is booming, but security guards working for SIS can barely make ends meet, especially here in Silicon Valley, which has some of the highest housing prices in the nation. Santa Clara County has one of the highest median income in the U.S. – $91,000 – but one-third of the households here don't have enough income to meet basic needs. A typical security guard with SIS earns $16 an hour and usually gets, at most, 30 hours of work a week, and no benefits – not nearly enough for basic living expenses in an area where average rents for a small apartment range around $2,000 a month.
While Apple, Google, and other high-tech giants boast record profits, the cost of basic necessities for a family of four in Silicon Valley rose by nearly 20 percent between 2008 and 2012 – while average workers' wages declined over the same period by three percent.
According to the Service Employees International Union (SEIU), which already has 35,000 private security workers organized, SIS has responded with fear and intimidation to workers' efforts to form a union. At its last meeting, the South Bay Labor Council AFL-CIO gave strong support to the security workers' struggle. The solid turnout of unionists at the June 23 rally, especially from the California School Employees' Association (easily visible in their blue T-shirts), shows that labor is ready to take on the tech giants in Silicon Valley and the firms to which it contracts out.
Photo: Henry Millstein/PW