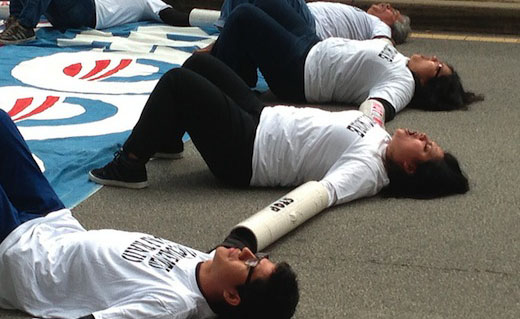 CHICAGO – Twelve undocumented Chicagoans were arrested May 29 as they blocked morning rush hour traffic to demand that President Obama stop deportations. They have all been subsequently released.
The 12 brought traffic on Michigan Ave. to a standstill as they sat down in the street around a banner with the number 400,000 painted onto it. That is the number of people scheduled for deportation this year, they noted, under White House quotas. The banner, which read "400,000, not one more deportation," was spread out in the street in front of the Hilton Hotel, where the president spoke later in the day at a fundraiser.
That afternoon fundraiser drew scores of other immigrant protesters and more than 100 allies who rallied across the street from the hotel.
At the Hilton rally, as at the civil disobedience actions in the morning, demonstrators demanded an end to deportations which, they note, are proceeding at a record pace even as Congress wrestles with the issue of immigration reform.
"Plans and promises of immigration reform are not enough," said Stephanie Camba, 22, one of the 12 arrested, as she sat in the street on Michigan Ave. "While Congress is talking about passing immigration reform, I'm scared that my own parents will be one of the 1,100 who are deported every day. The president can't be a bystander in reform when he could stop our suffering and stop deportations with the stroke of a pen."
Camba was born in the Philippines in 1990. Her family left there in groups, starting with her grandparents, older sister and aunt and eventually all of them, including her parents, ended up in the United States.
She said that missing from the current debate on immigration is adequate discussion of what causes people to migrate from country to country in the first place. "We have to talk about the uneven economic opportunities across the world, many of which have been tied to U.S. foreign/economic policy. Immigration is a complex narrative that cannot be boiled down to terms like 'legal' and 'illegal.'"
At least one of the protesters arrested yesterday has already benefitted from one of Obama's actions. Ireri Unzueta Carrasco, 26, is a recipient of the president's Deferred Action for Childhood Arrivals (DACA). "It doesn't make sense to keep deporting people that could qualify for immigration reform. We want our families to still be here when a path to citizenship opens. We're calling on the president to give our parents and everyone in our community the same relief he gave us."
Unzueta Carrasco was born in Mexico City and has lived in Chicago since she was 10 years old. She is the co-founder of the Immigrant Youth Justice League, one of the groups sponsoring yesterday's demonstrations. In 2012 she graduated from the University of Illinois at Chicago with a masters in Latin American and Latino Studies.
Speakers at the evening rally outside the Hilton highlighted the cases of two Chicago residents facing immediate deportation.
Lourdes Moreno Castro, one of the two, is a mother of four who was wrongfully arrested after another driver backed into her car. She is eligible for prosecutorial discretion but instead ICE has issued her a deportation order for today, May 30.
The second case is that of Octavio Nava Cabrera who was pulled over in front of his house in Melrose Park for allegedly running a stop sign two blocks earlier. Those charges were later dropped but ICE agents surrounded his house three weeks later and took him to the Dodge County facility in Wisconsin where he has been detained for over a month.
The pain and anguish suffered by his family has been enormous, speakers at the rally said. They said his young son is a U.S. citizen and that his younger brothers need him too. The activists hope that public support for him could help convince ICE to return him to his home.
"Lourdes and Octavio are just two examples of the 1,100 deported every day while Congress debates," said Camba. "We need the President to use his executive authority to expand the relief he granted some Dream-eligible youth to the rest of those who could potentially be included in reform."
Photo: Demonstrators perform civil disobedience, calling on President Obama to suspend deportations, Chicago, May 29 (via National People's Action).