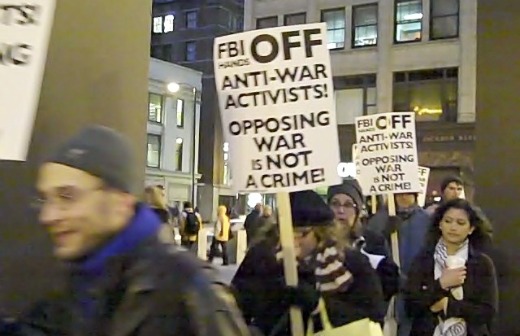 CHICAGO – Alarmed by the blatant fishing expedition and government intimidation of antiwar activists, more than 100 protesters held an emergency picket line at the Dirksen Federal Building here on Dec. 6. The picket line was called after hearing three more peace and justice activists were subpoenaed to appear before a grand jury seeking evidence of "material support for terrorism."
According to the recent Supreme Court ruling, "material support" could include giving legal advice or other nonviolent and lawful services.
The Center for Constitutional Rights has condemned the laws and says "these material support provisions violate the First Amendment as they criminalize activities like distribution of literature, engaging in political advocacy, participating in peace conferences, training in human rights advocacy and donating cash and humanitarian assistance, even when this type of support is intended only to promote lawful and nonviolent activities."
"We know this is just an attack on the peace movement," said attorney James Fennerty. "These people go and visit Non Governmental Organizations who are funded by the United Nations and some countries in Europe. What's the crime in that?"
Fennerty warned the subpoenas are a threat to the First Amendment and freedom of speech and association.
Many of those subpoenaed are involved with the Palestine Solidarity Group-Chicago, Students for a Democratic Society, the Twin Cities Anti-War Committee, the Colombia Action Network, Fight Back! newspaper, the Freedom Road Socialist Organization and the National Committee to Free Ricardo Palmera.
Sarah Smith, 24 years old, was one of the new activists subpoenaed to testify about a trip she took last summer to Israel and the Occupied Territories. While a high school student, Smith was recognized by Crain's Chicago Business as one of the city's 100 most influential women for her desire to travel widely and deep curiosity in other cultures.
Her father, Stan, read a statement she wrote in which she recounted her trip, the aim of which was to get a first hand view of life in the Occupied Territories. Smith, who is Jewish, went with two Palestinian sisters from Chicago, both of whom were also subpoenaed.
"You'd think that Palestinians and Jews going to Israel and the Occupied Territories would be something the Administration would be encouraging," she wrote. "Instead we are now being ordered to appear before a Grand Jury."
Stan Smith angrily denounced the subpoenas and called upon authorities to apologize to his daughter.
"It is indeed a sad occasion when people can't get together to protest without being threatened with a subpoena, said Matt Brandon, secretary-treasurer of Service Employees International Union Local 73, who delivered solidarity greetings on behalf of the union. "It once was the labor movement; it once was the Civil Rights movement. And now it's the peace movement. It's any movement where all people come together."
"We believe in equal rights for all. SEIU will not stand by and watch as people are targeted, dragged from their homes and their belongings are searched and seized. We'll be with you until the end." he said.
In addition to SEIU, those subpoenaed have received hundreds of messages of support and donations from unions, community, religious, peace and justice organizations. Delegations have visited members of Congress, some who are outraged by the raids and subpoenas.
Stephanie Weiner, who along with her husband, Joe Iosbaker, had their house raided by FBI agents in September, and were then subpoenaed. She reiterated the new subpoenas were aimed at frightening, intimidating and dividing the peace and justice movement. She said those subpoenaed were not just active in the peace movement, but included labor and community activists.
Speaking on behalf of the The Committee to Stop FBI Repression, Weiner urged supporters to contact their elected officials, Attorney General Eric Holder and U.S. Attorney Patrick Fitzgerald and condemn the use of the grand jury to repress the anti-war and solidarity movements. Fitzgerald's telephone number is 312-353-5300.
On Dec. 9, two more activists were subpoenaed, bringing the total to 19 who have been called before a grand jury since September. The activists, who have a history of engaging in solidarity with the people of Colombia and Palestinians in the Occupied Territories, have all said they will refuse to testify. They now risk being jailed for the life of the grand jury, even though none have yet been charged with any crime.
Photo: (John Bachtell/PW)