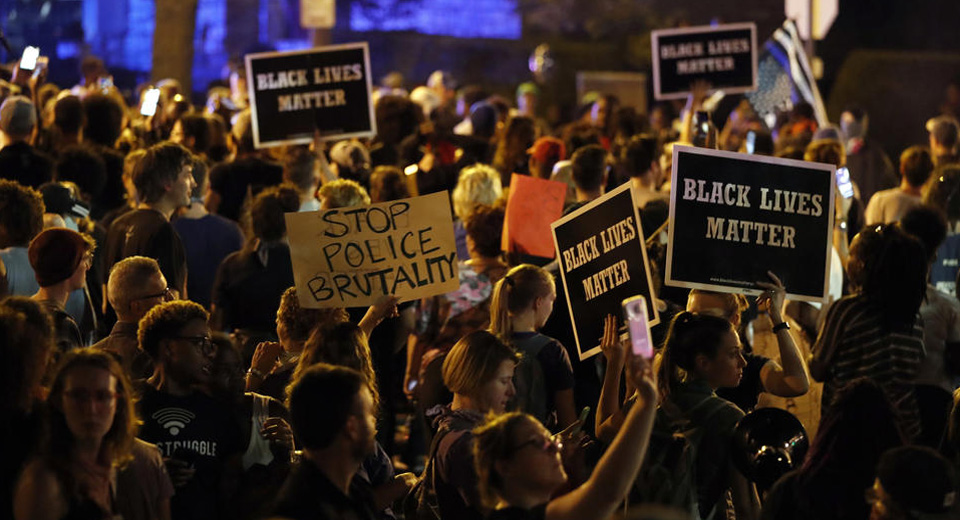 ST. LOUIS—It was a weekend of unrest here, as thousands of activists took to the streets in response to the acquittal of ex-St. Louis police officer Jason Stockley.
Stockley, who was charged with first-degree murder and armed criminal action in the 2011 killing of Anthony Lamar Smith, 24, was found not guilty on all charges by Circuit Court Judge Timothy Wilson, Friday, Sept. 15.
Stockley fatally shot Smith nearly six years ago following a car chase over a suspected drug deal at a restaurant parking lot. Video footage from police dashboard and restaurant security cameras played a central role in the case for both the prosecution and the defense. In one video, Smith was seen backing into a police vehicle and speeding away, knocking a pistol from Stockley's hand in the process.
Stockley fired several shots at Smith's car before he and his partner returned to their vehicle to pursue him. Court documents revealed that during the mile-long chase, Stockley commented to his partner, "We're killing this motherf***er."
After ramming into Smith, both officers exited their vehicle and fired several shots into Smith's car. Stockley claimed he saw Smith reaching for a gun. Immediately after he shot Smith, video showed Stockley return to the police SUV, dig through a bag, and then return to Smith's car.
Stockley is then seen climbing into the driver's seat after Smith is removed. The .38 caliber Taurus revolver that was found in Smith's car, according to police reports, contained only Stockley's DNA, not Smith's. Also found inside the car was a bag of heroin.
The verdict
The ex-officer's bench trial ended Aug. 9, and for over a month community activists, clergy, and some elected officials anxiously awaited the verdict—many assuming that Stockley would be cleared of all charges.
In his verdict, Judge Wilson wrote, "in reaching a decision in this case the Court is bound by the Code of Judicial Conduct, and specifically, Rule 2-2.4, which provides that a 'judge shall not be swayed by partisan interests, public clamor or fear of criticism," in response to the pressure of community members and activists demanding a conviction.
The 30-page verdict summarized the timeline of events, testimony of witnesses, and weighed the arguments presented by the city and defense attorneys.
Community activists and leaders brought attention to a controversial statement contained in the judge's decision, which they felt showed Wilson's bias, as he wrote: "Finally, the Court observes, based on its nearly thirty years on the bench, that an urban heroin dealer not in possession of a firearm would be an anomaly."
In reaching the decision, Wilson wrote:
"No one promised a rose garden, and this surely is not one. Missouri law requires that the trier of fact be firmly convinced of the defendant's guilt in order to convict…this Court, as the trier of fact, is simply not firmly convinced of the defendant's guilt."
Several days before the verdict, Missouri Republican Governor Eric Greitens activated the National Guard as a precaution to the potential protests and released a public statement on the action.
"As Governor, I am committed to protecting everyone's constitutional right to protest peacefully while also protecting people's lives, homes and communities," Greitens said. "Taking the steps to put the Missouri National Guard on standby is a necessary precaution."
Chronology of a weekend of protest
Friday – 10:00 a.m.
Several dozen activists gathered outside the Carnahan Courthouse Friday morning following the verdict and began a march through downtown St. Louis. Holding signs and chanting, they marched to the St. Louis Metropolitan Police Department Headquarters and continued down to the America's Convention Center.
"If we don't get no justice, then they don't get no peace!" could be heard echoing throughout downtown as many businesses and government buildings had been closed and barricaded in anticipation.
Protesters continued their march back to the courthouse, and took over the entire street. By mid-afternoon, close to 300 people were outside.
Around 1:00 p.m., around 100 riot police arrived in two city buses and began lining up on opposite sidewalks, surrounding activists in the street between them. Tensions ran high as activists faced off with police, and around 2:45 p.m. reports started appearing that said police were using pepper spray and forcefully pushing people back.
Fox-2 News captured a terrifying moment that showed an elderly woman in a red top being knocked down violently by police, who then push aside individuals trying to help as officers continue to walk over her. She was arrested and charged with "interference" for not complying with police orders. Several dozen protestors were hit with pepper spray, and thirteen were arrested in total.
7:00 p.m.
Hundreds of protestors moved the march and demonstration to the upscale Central West End part of the city and proceeded through the streets to the 64/40 highway where they were blocked by police from entering. Activists marched back down into the restaurant section of the neighborhood where they engaged in a six-minute sit-in to remember lives lost at the hands of police.
10:00 p.m.
Activists marched through residential areas before gathering outside St. Louis City Mayor Lyda Krewson's house, demanding she address residents in regard to the verdict.
About 45 minutes later, the front widows of the house were broken, and police quickly responded by declaring the demonstration an "unlawful assembly" and began pushing activists back.
Smoke grenades and tear gas was later used against activists by police. Several dozen were trapped inside the Central Reform Congregation Synagogue for hours, as police surrounded the area.
By the end of the evening, 32 activists were in jail.
Check out Al Neal's live video and photo coverage of the St. Louis protests on Instagram.
Saturday
A few hundred activists flooded the West County Center mall in De Peres, a St. Louis suburb, around noon and forced the shopping center to shut down temporarily before leaving with plans to reconvene in the evening.
7:00 p.m.
Chanting "Black Lives Matter" and "It is our duty to fight for our freedom," close to 1,000 activists descended onto the Delmar Loop in University City, an area known for its restaurants, stores, and music venues.
Activists took to the streets peacefully, staging a six-minute "die-in" in the intersection of Delmar Blvd. and Skinker Blvd., before continuing their march past Washington University, through residential areas, and returning to the Delmar Loop.  By 9:00 p.m. protest organizers ended the demonstration and asked activists to head home.
The scene only turned violent hours later as police moved in, and several stores were damaged in the chaos.
Interim Police Chief Lawrence O'Toole confirmed that 10 officers were injured during the protests.
Sunday – 3:00 p.m.
Gathering outside of St. Louis Police headquarters, around 300 activists began the third day of protests by taking over and occupying the streets out front. Marching back and forth in front of police headquarters, activists chanted, "Anthony Lamar Smith" as drums maintained the tempo, going silent only for another six-minute planned "die-in."
At 4:45 p.m., activists marched up Olive St. and headed towards the Saint Louis University campus, where they called on students to "get out of the dorms and into the street." Their march continued back down to police headquarters where they once again took over and held the streets. Organizers ended the demonstration around 7:00 p.m.
Shortly after the announcement, as activists began to leave, police moved in and attempted to arrest three African-American protesters. Activists still at police headquarters moved towards the arresting officers before they entered an unmarked police cruiser and reversed, at high speed, through the crowd. Several ran after the vehicle and police in riot gear began moving in.
Protest organizers and elected officials began negotiating with police, while activists moved back and watched from a distance. There was no confirmation that those in custody were released.
As the sun set, police began to push activists out of downtown St. Louis, and it was reported that officers began to scatter activists in an effort to separate, corner, and detain. Violence again erupted as police dispersed the remaining protesters with the use of pepper spray and rubber bullets.
Police shut down most streets leading into the downtown area by 10:00 p.m., and several hundred riot police lined the streets and sidewalks. As police continued to move in on protesters and bystanders, it was reported that they used pepper spray on people who had peacefully surrendered. Officers clad in full armor were reportedly heard chanting, "Whose streets? Our streets!"—appropriating a refrain usually used by protesters.
A live-streamer, known as Rebelutionary_Z, who was out Sunday night, recorded police, prior to his arrest, pepper-spraying individuals who were sitting down—some with their hands up. (Begin watching at 41:19 minute mark.)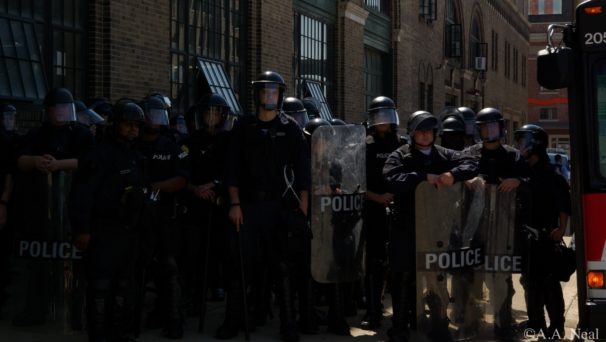 Monday
At 1:15 a.m., Krewson and O'Toole held a press conference addressing the late-night violence.
"For the third day in a row, the days have been calm and the nights have been destructive," Krewson said. "This is unacceptable. Destruction cannot be tolerated."
O'Toole confirmed that 80 people were arrested and said, "I'm proud to tell you the city of St. Louis is safe and the police owned tonight… We're in control. This is our city and we're going to protect it."
More demonstrations are planned Monday, beginning with a 7:00 a.m. silent march in downtown St. Louis.