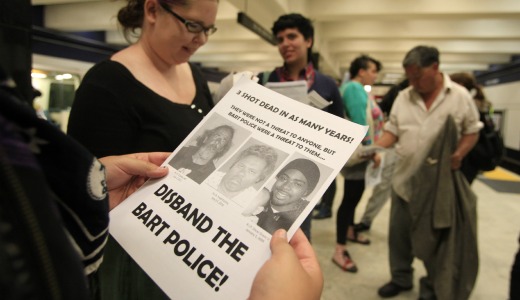 A firestorm of protest has erupted over the Aug. 11 action by Bay Area Rapid Transit (BART), which shut off cell phone and wireless access to some San Francisco stations for several hours in anticipation of a protest over BART police' killing of a homeless man last month.
In the end, the protest didn't take place.
Civil liberties organizations are blasting BART's actions as a violation of the right to free expression and a state senator called on the Federal Communications Commission to investigate. A BART board member voiced her concerns, and an online activist group is calling for a new demonstration Aug. 15.
Noting that mobile devices are used all over the world to protest against repressive regimes, and governments that shut them down are criticized for violating rights to free speech and assembly, Rebecca Farmer of the American Civil Liberties Union of Northern California questioned BART's authority.
"Are we really willing to tolerate the same silencing of protest here in the United States," she asked.
Some confusion exists over whether BART itself cut off the access or whether it asked cell phone carriers to do so. Either way, the San Francisco-based Electronic Frontier Foundation's Eva Galperin said on EFF's website, "BART officials are showing themselves to be of a mind with former Egyptian President Hozni Mubarak," who shut down cell phone service in Tahrir Square in response to peaceful protests earlier this year.
State Senator Leland Yee, D-San Francisco, said in a statement, "I am shocked that BART thinks they can use authoritarian control tactics."
Yee said the action not only violated free speech rights but was "irresponsible and compromised public safety." He called on the BART board to act immediately to prevent a repeat, and said he would urge the FCC to investigate "this appalling incident."
BART Board member Lynette Sweet told KCBS that BART doesn't "have the right to be this type of censor. In my opinion, we've let the actions of a few people affect everybody. And that's not fair."
The incident followed the July 3rd shooting of a homeless man, Charles Blair Hill, after he allegedly rushed a BART officer and his partner with a knife at BART's downtown San Francisco Civic Center Station.
A July 11 protest at the same station tied up service during the evening rush hour and resulted in the closing of the station. Many protesters were arrested.
Pointing out that it is illegal to demonstrate on a BART train or platform, BART responded that "A civil disturbance during commute times at busy downtown San Francisco stations could lead to platform overcrowding and unsafe conditions for BART customers, employees and demonstrators." It called the temporary, selective disruption of cell service "one of many tactics to ensure the safety of everyone on the platform."
The online activist group Anonymous is calling for a new protest at the Civic Center Station on Aug. 15.
The incident reminded many of BART's actions after the fatal shooting of unarmed passenger on New Year's Day 2009. Then, BART police tried to confiscate cell phones of passengers who recorded the shooting, though several videos were made public and played an important role in mobilizing mass protests.
Photo: A protester reads an instruction sheet before a demonstration began at the Civic Center BART station in San Francisco, July 11. Authorities closed down the train station where demonstrators gathered to condemn the fatal shooting of a man by transit police during a confrontation. About 100 protesters came together on the same platform at the Civic Center/UN Plaza station where 45-year-old Charles Hill was shot dead by Bay Area Rapid Transit police July 3. (AP Photo/Eric Risberg)