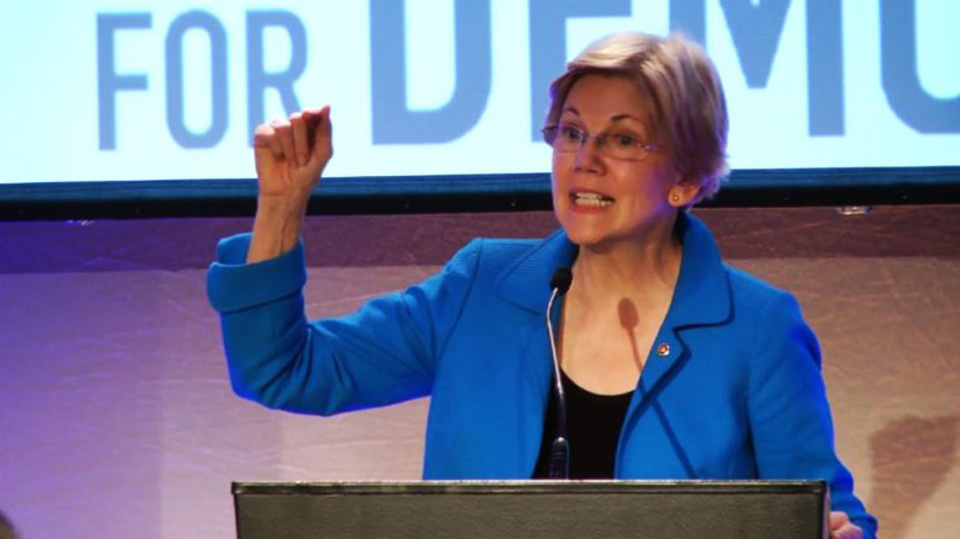 WASHINGTON – Senate leader Mitch McConnell might have miscalculated yesterday when he ordered Sen. Elizabeth Warren, D.-Mass., to shut up, sit down, and quit presenting evidence that Donald Trump's nominee for attorney general, Sen. Jeff Sessions, R.-Ala., is a racist.
Warren was reading written testimony given by Coretta Scott King back in 1986 urging that Sessions' bid to become a federal judge be rejected.
King prevailed at the time and Sessions was rejected, but for pointing this out yesterday, McConnell accused Warren of "impugning another senator," which runs counter to Senate rules. He was upheld by a party-line vote of 49 to 43 and Warren is now barred from speaking at all during the debate over Sessions' confirmation.
However, McConnell's move to silence criticism of Sessions didn't work, and ultimately he was forced to let other senators pick up where Warren had left off.
According to the Politico online newsletter, "almost instantly, social media propelled the episode into a national storyline … rather than quieting Warren, the episode sparked a dispute over arcane Senate rules and only served to elevate her cause."
The New York Times reports that "Within hours of being shut down on the Senate floor, Ms. Warren read the letter from Mrs. King on Facebook, attracting more than two million views — an audience she would have been unlikely to match on C-Span, if she had been permitted to continue speaking in the chamber."
Furthermore, the Senate received thousands of e-mails protesting McConnell's action. Democrats began using #LetLizSpeak on Twitter and posting copies of King's letter on their own Facebook pages.
And T shirts and sweat shirts saying "She Persisted" sold like hotcakes when an online clothing website, RedBubble.com, began selling them.
When McConnell first tried to silence Warren, she could not believe she was being stopped from reading a letter by Coretta Scott King. She continued reading.
That's when McConnell invoked Senate Rule XIX, which prohibits debating senators from ascribing "to another senator or to other senators any conduct or motive unworthy or unbecoming a senator."
Nobody remembers when it was last used.
It was not used in 2015 when Sen. Ted Cruz, R.-Texas, accused McConnell of lying "over and over and over again."
Nor was it used last year when Sen. Tom Cotton of Arkansas described the "cancerous leadership" of Sen. Harry Reid, the former Democratic Senate leader.
And it was not used when Sens. Cruz, Marco Rubio R.– Fl, and Paul Rand, R.-Ky., tried to shutdown the government rather than pass a budget that included funding for Planned Parenthood. At that time, the three senators literally cursed out all their colleagues as "sellouts" and worse.
Last night, Rubio defended McConnell's shutting down Warren by saying that the Senate is a place where "decorum" prevails."
The letter Warren was reading was sent by King to the Senate Committee on the Judiciary protesting Sessions' being nominated to serve as a federal judge. It said, in part:
"The irony of Mr. Sessions' nomination is that, if confirmed, he will be given life tenure for doing with a federal prosecution what the local sheriffs accomplished 20 years ago with clubs and cattle prods. Twenty years ago, when we marched from Selma to Montgomery, the fear of voting was real, as the broken bones and bloody heads in Selma and Marion bore witness. …
"Mr. Sessions has used the awesome power of his office in a shabby attempt to intimidate and frighten elderly black voters. For this reprehensible conduct, he should not be elevated to our courts."
King was referring to the fact that in 1985, as Assistant United States Attorney in the Office of the United States Attorney for the Southern District of Alabama, Sessions prosecuted three African American community organizers, including Martin Luther King Jr.'s former aide Albert Turner. The defendants, known as the Marion Three, were acquitted of all charges by a jury after three hours of deliberation.
Read King's whole letter here.
After McConnell forced Warren to stop her speech, other Democrats tried to have King's letter placed in the Senate record. The Republican majority refused.
They objected again when Sen. Kamala Harris, D.-Calif., asked that Warren be allowed to resume participating in the debate. Again, Republicans refused.
However, after many hours of being deluged by thousands of angry Americans, McConnell allowed Senator Tom Udall, D.-N.M., to continue reading King's latter.
After Udall, Senators Sherrod Brown, D-Ohio, and Bernie Sanders, I-Vermont, also read the letter. Like Udall, Brown and Sanders were not reprimanded.